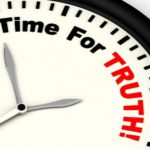 The following post is by MPFJ staff writer Travis.  Travis is a customer blogger for CareOne Debt Relief Services, and also appears weekly at Enemy of Debt.  Travis candidly shares his personal journey to pay off $109,000 of credit card debt and the tips he's learned along the way. As a father and husband he provides a unique perspective on balancing debt, finances, and family.
"Honesty is the best policy."
I've heard this phrase a million times, but apparently my cable company didn't get the memo.
In preparation to move into our new home several years ago, I called our cable company to inform them of our move date.  They assured me that they would activate the service at our new address one day before they turned it off at our old address to avoid any kind of interruption of service.  The account would simply switch addresses, with the addition of activation fees for the new location.
I thought for a moment to argue the activation fees, but the excitement of moving into our brand new home far outweighed my need to question my cable company's business practices.
The first bill came, and it was obviously not the same amount that I had been paying.   I just assumed that it had to do with the activation fees, and other things they likely didn't tell me about regarding the location change of my account. I had too many other things to worry about at the time, so I just paid the bill.
When the second bill arrived, I assumed the amount due would be the normal amount I was used to paying.   To my surprise, it was actually significantly lower.  I examined the bill line by line and discovered that they were not charging me for cable internet. By looking online, I found that they hadn't charged me for it the previous month either.
I heard that voice in my head repeat the phrase, "Honesty is the best policy!" so I called my cable company and told them what had occurred.   They corrected the mistake in their system, and confirmed that my next bill would include charges for my cable internet service.
Unfortunately, that's not the end of my story.
When bill number  three came, it was sky high.  My mind raced as I poured through the pages of the bill.  They certainly did charge me for cable internet that month, plus the two previous months.  I hadn't expected them to do that, but it seemed reasonable since I did indeed use the service. So I wrote out the check and paid the bill, and expected month four to be back on track.
 Wrong.
Month four's bill featured broadband charges for BOTH our old address AND our new address.   It would take three more months to get my bill 100% accurate and to be refunded what they had overcharged me.  We were in our new home for 8 months before we received a correct cable bill.
Looking back at the ordeal, I certainly don't regret calling to correct the initial mistake.  I couldn't in good conscious accept having broadband service and not paying for it.  If I could do it all over again, I would have handled it slightly differently:
I would examined the first bill and caught the mistake immediately
I would have asked questions to ensure I knew what they were going to charge me for after the mistake had been uncovered.
I honestly don't know how I could have avoided the double charge.
I do wish I would have played the "What are you going to do to make this right?" card after they screwed up my bill as a result of me being honest.  My wife certainly would have, but my negotiating skills are not as finely tuned as hers.
How about you readers, have you ever had a situation where being honest ended up seemingly not being worth it?  How did it turn out for you?
Share your experiences by commenting below! 
Image courtesy of Stuart Miles / FreeDigitalPhotos.net