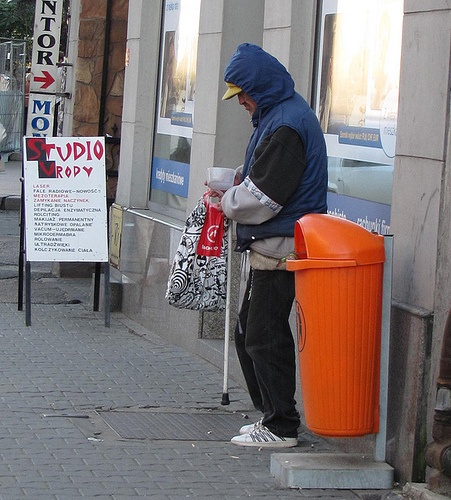 Every day on my drive home from graduate school, I get on the local bypass for a few miles and then take the exit to where I live. If it is during rush-hour, there is inevitably a 5 minute wait at the light because the traffic gets backed up from the ~40,000 University employees heading home for the day.
At the very bottom of the off-ramp, gaining a stadium-seating viewing from the 70 cars waiting at the stoplight, is almost always someone begging for money. "Anything helps, gets cold at night, God Bless," or "US Army Veteran, anything helps," their signs read.
Personally, I have only witnessed cars at the stoplight giving money to the beggar on 1-2 occasions, so pretty rare considering that I go by there every day. However, this got me thinking – just how much do people requesting money on the street or performing on walking malls make? Is it not much money at all, or is it something pretty high, like $30 per hour?
Ideally, if I had more guts, prior to writing this post I would have personally posed as a beggar and been able to provide some first hand account knowledge. However, I decided against doing that, so we'll just have to go with what I could find online and from other people's experiences.
How Much Money Do Beggars / Panhandlers Make?
First, let's take a look at what I could find about a consensus for how much beggars can make:
A 2013 South African study found that beggars could make the equivalent of $18 per day begging in South Africa.
A 2008 report stated that some Oregon beggars outside a Wal Mart make $100k per year / $300 per day.
A beggar in Oklahoma City, OK makes $60k per year, or $30 per hour average.
An actual homeless person who runs a Blogspot blog stated that he makes between $15-$30 per hour, but it is usually closer to $15 per hour on average. In addition, he mentions that it is very un-steady income, meaning that sometimes, he can beg all day and only make $60.
Another article reported that they talked to several local beggars who said they would make the equivalent of $13 per hour.
As we might expect, there is obviously a lot of variability in to how much one can make begging. If you were highly manipulative, intelligent, and simply posing as a beggar, you could likely figure out a way to optimize your facade and make a ton of money. However, this would come at a cost of your dignity and morality.
Overall, I would say that a reasonable estimate for how much can be made in begging / panhandling is $15 per hour, which is about $30,000 per year and more than graduate students in my engineering department make.
How Much Do People Make as Street Performers / Busking?
Now, let's move on to a related topic – seeking a general feel for how much street performers make. We've all seen these folks before – whether they are people dressed up on Times Square who take pictures with tourists for tips, to magicians, to people singing and playing musical instruments.
When it comes to street performing, I do have a little bit of personal insight in to how much can be made. One of my friends said he has played a musical instrument on the local pedestrian mall and made about $30 in 45 minutes. That's pretty good if you ask me!
Listed below are some other related reported figures I could find:
In Vegas, some of the street performers dressed up like Gene Simmons and a Storm Trooper make the hourly equivalent of  between $60,000 – $200,000. Quite impressive!
Another article reported that street musicians earn between $30-$40 per hour.
Unlike begging, street performing seems like it is more lucrative and likely less mentally degrading. From the figures above, it seems to be realistic to make $30 per hour doing this if you are committed to it. However, I can imagine that the income is very unpredictable, and likely can be frustrating.
How about you all? Do you see many beggars and/or street performers in your area? If so, how much money do you think they make? Is it close to the figures mentioned in this article?
Share your experiences by commenting below! 
***Photo courtesy of http://www.flickr.com/photos/kulmalukko/5397742256/sizes/m