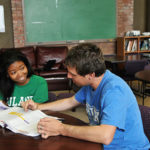 The following is a post by MPFJ staff writer, Kevin Mercadante, who is a professional personal finance blogger, and the owner of his own personal finance blog, OutOfYourRut.com. He has backgrounds in both accounting and the mortgage industry.
If you need to make extra money, one of the best ways to do it is as a part-time tutor.
This is a business you can start that will require no upfront capital, in addition to the fact that it plays into your natural skills and talents.
The income that you can earn as a part-time tutor can be very generous too. Where I live, tutors who work with high school students charge anywhere from $30-$50 per hour. You wouldn't have to work too many hours, in order to make a decent part-time paycheck with that kind of hourly rate.
What to teach
This is probably the single biggest obstacle to anyone who is considering tutoring. But, it is best resolved by choosing the subject were you have the most aptitude and interest.
Choose a subject where you are particularly strong. Math, science, and writing seem to be the perennial favorites. In fact, there will be a stream of students that you can tutor in those subjects. Others include foreign language, history and even certain specialty subjects.
Music is another popular subject area for students. This can involve everything from singing to the various musical instruments. If you have any talent with a particular instrument, you can tutor students who are learning to play, and need help beyond the training they are getting in school.
Moving beyond academic subjects
When it comes to tutoring, don't think strictly in terms of school-age students. There are adults looking for training in a variety of different subjects. Many adults learn better in a one-on-one situation, than in a group setting like a classroom. And they will be willing to pay you to provide that one-on-one training.
Subject areas can be vocational. If you can teach business topics, like bookkeeping, administration, bill collecting, basic computer usage, public speaking, sales, and the various popular software programs for business, you may find clientele in the business world.
There can also be a market for personal tutoring. Teaching English as a second language is one very large possibility. An entire industry is building up based on this very subject. You can also teach a foreign language that you know – French, Spanish, Korean, German, or any one of a number of Asian languages.
Music and musical instruments are another area where you can become a tutor for adults. Many adults begin learning a musical instrument late in life, and need someone to work with them closely in order to master it.
What to charge
Earlier, I provided the pay range for tutors in my area, but you'll have to test your local market to determine exactly what the range is. Check websites for tutors in your area, as well as the classified ads and Craigslist. You may have to call in on some ads in order to find out what their rates are, as many will not list them in the ad itself.
You can also check with local schools and ask for flyers that could provide more information. Once again, it will be worth making a few phone calls speaking to tutors themselves to find specifically what they charge and also what services they provide.
Where to find clients
If you are looking to tutor students, finding clients can be as easy as contacting the schools in your area. Decide what age group you will specialize in – elementary school students, high school students, or even college students. Contact each of those schools to let them know you are available for tutoring. Prepare a one-page flyer that will explain your services, and even your rates. You may decide to leave your rates out, and have the issue discussed when a prospective student calls you.
If you're going to tutor in the adult/business market, finding clients will be more complicated. Definitely advertise on Craigslist – the ads are free, and a lot of people go to that site now that local newspaper classified advertising is fast disappearing.
You may also want to create flyers that you can place in senior citizen centers, grocery stores, Laundromats, apartment complexes or anywhere that will allow you to post them. If you're looking specifically to provide services for businesses, you may have to find a way to contact them directly. This may mean contacting them through their websites, or even calling to offer your services.
If you are prepared to invest some money on the marketing side, you can even do a direct mail campaign. Mail your flyer out to businesses in your area that are likely to need your services. It will cost you for stationary and postage, but you will be approaching a very specialized market with a relatively high level of response.
Converting it to a full-time venture
If you can begin building a business as a tutor on a part-time basis, there really is potential to convert it into a full-time venture. This can be particularly true if you can tutor into a business niche. It's often just a matter of finding enough clients, and increasing the number of billable hours that you spend each month tutoring.
Once you get your marketing going, you can begin getting a substantial amount of referral business if clients are satisfied with your work. Between continued marketing efforts and ongoing referrals, you may be able get enough business to start doing it full-time. And since the marketing will be running essentially on automatic pilot, you'll be free to perfect your craft as a tutor, and to concentrate your efforts in giving the best performance that you can. That will lead to still more referrals.
Not everyone is cut out to be a full-time teacher in a school, but many people have the qualifications and talent to become a personal coach – which is really what a tutor is.
If you have a passion for being a tutor, jump in and get started. Push it hard, and you could be launching an entirely new career for yourself, as well as a business venture that would give you much greater control of both your time and your income.
How about you all? Have you ever considered tutoring as a business venture?
Share your experiences by commenting below! 
***Photo courtesy of http://www.flickr.com/photos/tulanesally/3349979270/