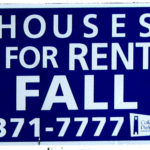 The following post is by MPFJ staff writer, Catherine Alford. Cat is a freelance personal finance writer who blogs at www.BudgetBlonde.com. 
All around me, friends and family members who are my age are buying houses, but there's just no way I'm ready for that yet. I'm actually a little bit jealous of them because houses mean putting down roots and getting nice and settled in life.
However, even though I'm craving some stability, I would never take back the experiences I've had over the past two years. Moving to the Caribbean was the opportunity of a lifetime, and it's completely changed my life in more ways than one. Now that this journey is coming to a close, it's time to look towards the future, leave the apartment we've called home for so long, and move on to a different life.
However, we are definitely still going to rent, probably for about 10 more years, and here's why:
1.    We're Moving Too Much
Like I said previously, in just a few months, my husband and I are moving back to the United States. Then, a few months after that, we are moving to a totally new city. We have no idea what that city that will be, but his medical school will notify us 4 weeks ahead of the move date. We'll live in that city for two years, and then my husband will do residency interviews. Again, we won't know where we'll be living until match day (where 4th year medical school students find out where they will be completing their residencies.) Then, we'll move again for 3-4 more years and possibly again if my husband wants to do a fellowship.
Not only is that a crazy amount of school and training, but it's a lot of moving. The housing market, although it's getting stronger, is still to delicate for me to be interested in making an investment and hoping to sell in just two years. Even during the height of the real estate boom, houses still needed a few years to really, truly appreciate enough to make a profit.
2.    We Want to Make a Huge Down Payment
When I buy a house, I want it to be a really comfortable financial decision. I don't want to agonize over closing costs or fixing a water heater or buying a new roof. I want to have enough money saved to put more than 20% down. Also, I do not want to take out such an enormous loan without a massive savings account that's there for emergencies.
Plus, if you think about it, we've already purchased a big, imaginary house with my husband's medical school loans, and we're really going to have to concentrate on paying off the $300,000+ that we've accrued. While some people will pay off mortgages at that price, we have to pay off my husband's education before even thinking about taking out an amount that big again.
3.    Landlords Handle the Difficult Tasks
Being married to someone in the medical field is much like being married to a police officer or a firefighter. Their schedules are crazy and hard to predict. If there is something that needs to be fixed in the house, chances are my husband won't be able to help me. For that reason, it's extremely convenient to rent because a landlord is responsible for all of the big repairs. Sure, we are helping them build their investment without making one of our own. However, they would be giving us much needed peace of mind, something that we desperately need during this hectic time in our lives.
4.    It Makes It Easy To Explore & Move
Even though there are many downsides to moving constantly, it can also be fun and exciting. Renting, although there are contracts, is much less permanent than buying a home. If a new work opportunity came up or my husband wanted to do a fellowship across the country, we could pick up and do that. In many ways, I feel like owning a home weighs you down and prevents you from freely pursing many opportunities. I'm sure there is a great feeling of ownership when you have a piece of Earth to call your own, but for right now, I'm craving the ease and flexibility of a rental.
I truly hope to be a homeowner one day, even though it will be many years down the road. Still, I look forward to finally picking the city that we'll call home for many years and either finding or building our dream home. I'm still a little jealous of the path that many of my friends have taken in terms of home ownership. Yet, even though their path looks nice and safe, I'm also kind of enjoying my bumpy ride.
How about you all? Do you currently rent? Or, if you are a homeowner, what are some things that you love and hate about it?
Share your experiences by commenting below! 
***Photo courtesy of http://www.flickr.com/photos/csessums/4589510413/