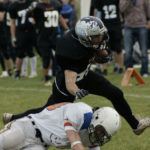 This is a post by MPFJ staff writer, Jeff. Jeff writes about sustainable living and finances at his website, Sustainable Life Blog. Jeff really enjoys traveling with his wife as much as he can, to wherever he can.
College football season is in full swing, and if you're a big fan of the sport, it's easy to spend a lot of money at the tailgates, attending games, or getting jerseys from your favorite team. Don't forget the constant donations that your university is calling you about, costs during college football season can really add up.
Watching college football is one of my pastimes (second only to college basketball), but sometimes, it can get a bit expensive with all of the watch parties, big games, and attending the game at your alma matter.
There are plenty of ways to cut down some costs, and still enjoy the game with your friends. So with bowl seasons coming up, here's a few great ways to cut costs.
1. Host game watch potlucks – One of the greatest ways that I have found to still enjoy all of trappings of a game watch party is to have a game watch potluck. Invite all of your friends over for the game, and ask them to bring some game time snacks. You'll have to do a bit of planning to make sure that you dont end up with 100 hot wings (Unless you want 100 hot wings). I always try and get people to get some chips and dip, veggies for the non-meat eaters, and hot wings. Get some great snacks in and enjoy the game.
2. Game day specials – Lots of bars in college towns or places that are affiliated with universities typically have specials for game day. Some offer buy one get one free beers, some offer discounted food and there are tons of other types of specials for game days. Taking advantage of those specials will help you save money and enjoy the game
3. Group ticket purchase – If you're looking to actually attend the game, you can typically get discounted group tickets, as well as some special service. For the college in my state, regular tickets are $38 if you buy them for 1 person but the group discount will give you tickets to the game for $29 per game. Its always fun to watch the game live, and is an easy way to save money – just make sure that you don't buy too much stuff at the game.
4. Attend a watch party –  Usually my friends and I switch days that we host the parties, so we don't always have to clean, provide party supplies and all the other incidentals that come with hosting a party. Since we have a good group of 5-6 couple friends, so each person gets a chance to host a watch party for one of the games.
5. Set a gambling limit – Some of my friends bet on games every week, and usually do OK, but sometimes they get taken because they picked wrong. I learned last year to set a limit for how much you're willing to risk gambling and only bet that each week. My limit for the entire NCAA basketball tourney last year was $40, and I ended up winning $320. It was a good day, but I would have been fine losing $40.
These are a few a of my favorite ways to save some money during the college football season.
How about you all? How do you save money during the college football season?
Share your experiences by commenting below!