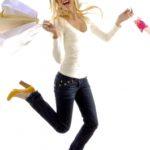 The following post is by MPFJ staff writer Travis.  Travis is a customer blogger for Care One Debt Relief Services, and also appears weekly at Enemy of Debt.  Travis candidly shares his personal journey to pay off $109,000 of credit card debt and the tips he's learned along the way. As a father and husband he provides a unique perspective on balancing debt, finances, and family.
Most people are very interested when I tell them I am a secret shopper.  They are intrigued by the possibility of making some easy money.
But, when I tell them that the average secret shopper job pays about $15, their eyes glaze over with disinterest.
The most frequent complaint from people when they first look into secret shopping or have even tried it once or twice is that it's not worth the time and effort. Sure, there is the occasional financial institution visit that pays $45, or the very infrequent free night in a hotel, but most of the jobs are pretty low paying.  There are some tricks, however, that can make secret shopping very much worth the time and effort.
1. Don't Drive Out of Your Way
Almost all the shops I do are in close proximity to places I visit often anyway such as my place of employment,  the mall, or the Walmart where I shop for groceries.  When I first started, I would drive all the way across town to do a job at a fleet and farm store.  Between the 90 minutes it took out of my day, and the gas needed to drive there and back it just wasn't worth it.   I never make a special trip to do a secret shop.
2. Group Shops Together
The services I use give me several dates to choose from for each shop.  I will coordinate several shops (even across different services) in the same area on the same day.  For example, last month I did a shop at a nutrition store and a medical scrubs store on the same day that were in the same shopping plaza.  It's right next to my place of employment, so I just did them on my way home from work.  Two shops, one location, zero extra drive time.
3. Seek Bonuses
When shops are not picked up, some services will offer bonuses.  Recently there was a job at a cell phone store that paid $18.  When it didn't get picked up by the due date, a $2 bonus was offered.  After a few days it was increased to $5, then $10, then came the Holy Grail of secret shopping:  the "make me an offer" email.  My offer to do the job for a total fee of $35 was accepted.  I could have gone higher, as I saw the last location increased to a total pay of $60 before it got picked up!
4. Incorporate Shops Into Your Life
There's a buffalo wing restaurant and sports bar near our home that my wife and I like a lot.  They also happen to be registered with one of the secret shopping services I use.  If I see a shop available, I'll schedule it for a Friday and make it part of a date night.  Time with my gorgeous wife AND get the dinner for free?  It doesn't get any better than that!
This month I will be paid $105 for the four jobs I did last month.  I spent about an hour in the stores, and another hour entering the shop data into their website.
That's over $50 an hour.
How about you all? How does Secret Shopping sound to you now? Have you ever tried it?
Share your experiences by commenting below!
***Image courtesy of imagerymagestic / FreeDigitalPhotos.net