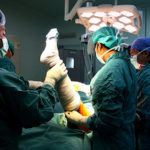 The following is a post by MPFJ staff writer, Kevin Mercadante, who is a professional personal finance blogger, and the owner of his own personal finance blog, OutOfYourRut.com. He has backgrounds in both accounting and the mortgage industry.
Even if you have health insurance, you can still be saddled with medical debts after a major procedure.
It can run anywhere from a few hundred dollars to many thousands, to even tens of thousands. If you have no health insurance coverage at all, they can easily hit six figures. As a rule, you can't make them go away, but you can settle your medical debts for less than what the providers are asking.
Here are five ways that you can work to at least reduce your medical debts.
Review your insurance payments
Anytime you have any kind of medical claim, and especially a big one, you should always carefully review all the documents to make sure that all insurance payments have been properly made. This is a tedious job, no doubt about it, but you have to match provider bills with insurance payments, and make sure that each is paid.
Never assume this to be the case – both medical providers and insurance companies make mistakes on a regular basis. It is entirely likely that certain payments have either been denied without your knowledge, and also that some charges may have been double-billed. Look for any such occurrences, and as soon as you discover them you need to call both the provider and the insurance company and force the issue.
When it comes to insurance payments, you have to be your own best advocate.
Offer to settle for less than the full amount owed
Assuming that all of the bills have been properly paid by insurance, you can offer to settle any remaining balances for less than the full amount. Medical providers will often do this in an effort to collect outstanding payments as quickly and easily as possible.
You can do this simply by contacting the medical providers finance department and proposing a settlement for less than full amount. There will be a give-and-take process, so you need to be prepared. Offer less than you are ready to settle for, knowing that the provider will naturally seek a higher amount. You want to negotiate the balance as low as possible, but it will likely be higher than your initial offer.
Two things to keep in mind in trying this approach:
The provider will want the money as quickly as possible, so don't even make the offer unless you have the cash to settle.
All agreements of the lower amount must be confirmed in writing before you send any money.
On that last point, negotiating a lower settlement amount is a business transaction. With any business transaction, all agreements must be confirmed in writing. Verbal agreements won't hold up in court.
Set up a payment plan with the lowest payment possible
If you don't have sufficient cash to settle a balance due for less than the full amount, the next best approach is to set up a payment plan. Fortunately, most medical providers will do this without much resistance. They just want to get paid, and will work out a payment agreement in order to make it happen.
But just like settling the debt for less, setting up a payment plan is also a negotiated event. That means you should always offer a lower payment than you are prepared to pay. The medical provider will likely counter with a higher monthly payment – after all, they want get paid as quickly as possible. Expect to meet somewhere in the middle, and that amount should be a payment you can comfortably afford to make.
Once again, make sure that your agreement is confirmed in writing before sending any payments.
Throw yourself on the providers mercy!
As extreme as this sounds, I actually mean just that. If you have a medical debt that is impossibly high based on your finances, you need to contact the medical provider and let them know as soon as possible. Sometimes they will work with you, sometimes they won't. But it's always worth a try.
If your financial situation is really is poor, and you can document it, the medical provider just might deeply discount the debt, or even forgive it completely. Not only do providers occasionally recognize severe hardship cases, but if it is evident that they will never be paid they might just write off your debts so that no more time and effort is wasted.
Admittedly, it's a long shot – but one well worth trying if there are no other options.
If the debt is too large – that's what bankruptcy is for
Speaking of options, if the debt is clearly unserviceable, and you can't get any sympathy from the provider, you may have to consider filing for bankruptcy. Let's say that you make $50,000 per year, you have a family support, no substantial savings – and a $100,000 medical debt. What are the chances that you will ever pay that back?
If the situation is that obviously lopsided, filing for bankruptcy may be the only alternative. In fact, excessive medical debt is one of the most common reasons why anyone files for bankruptcy.
Hopefully, you have decent health insurance and can work out other options. Bankruptcy will of course negatively affect your credit for many years to come, so it should be held only as a last resort.
How about you all? Have you ever had to deal with a very large medical do? What did you do to settle it, or did you completely pay it off?
Share your experiences by commenting below!
***Photo courtesy of http://www.flickr.com/photos/phalinn/8116034974/sizes/n/in