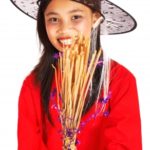 The following post is by MPFJ staff writer Travis.  Travis is a customer blogger for CareOne Debt Relief Services, and also appears weekly at Enemy of Debt.  Travis candidly shares his personal journey to pay off $109,000 of credit card debt and the tips he's learned along the way. As a father and husband he provides a unique perspective on balancing debt, finances, and family.
My daughter walked through the front door with a disappointed look on her face. 
She had just  returned from a trip to a nearby Halloween costume shop with our next door neighbors and was unhappy that she had not been able to find a costume that she liked.
She didn't let it keep her down for long, however.
She knew she wanted something that had a hood, and looked kind of like a witch. She also had an idea where to look based on where we had purchased costumes in years past.  As I passed by her sitting at the breakfast bar with our laptop, I could see she was scouring the internet for new costumer ideas.  Every few minutes, she would give me a progress report as to what she was up to.
Price comparing: For each costume she liked, she searched websites of all the nearby stores she could think of that may carry costumes to find where the costume was cheapest.
Reviews:  She read reviews of each costumes to find out what other customers were saying about the product.
Extras:  When she had settled on a specific costume, she noticed some small print next to the associated picture stating that not all the items shown were included with the costume.  She found similar items that could be purchased and added them up so we would have an accurate grand total of the price of her desired costume.
When she had completed her research, she approached my wife and I with information regarding what costume she wanted, where we should purchase her costume, what items would need to be purchased, and a total cost of all the items.  She also presented reasoning based upon the reviews as to why she believes she would be happy with the costume.
We didn't ask her to do such thorough research, but were pleasantly surprised that she did.  When I asked her why she went through such great lengths to nail down her costume specifics, she gave me the following reasons:
She wanted to make sure she got a great costume that she liked
She knows we're very busy, and didn't want to waste our time or hers going from store to store simply looking for a costume.
She knows we're on a budget and wanted us to get the costume as inexpensively as possible.
As our kids grow up, we're trying to teach them the tools to to financially savvy and responsible adults.  One one hand, it's surprising that an eleven year old would have the presence of mind to do all of these things.  On the other hand, these are activities she sees her mother and I do frequently when we're investigating making a purchase.  Kids learn things not only by direct instruction, but also very much by watching what we say and do.
How about you all? Are you setting a good example for your child through your financial decision making? What planning steps did you take this year in figuring out/purchasing your Halloween costume?
Share your experiences by commenting below!  
Image courtesy of Stuart Miles / FreeDigitalPhotos.net