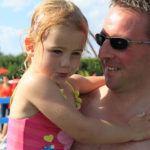 The following post is by MPFJ staff writer, Catherine Alford. Cat is a freelance personal finance writer who blogs at www.BudgetBlonde.com. 
Just a few weeks ago, I got the surprise of my life. I went in for a routine ultrasound after getting a positive pregnancy test, and my husband and I found out we were having twins! We had planned and hoped for a baby, but getting two was pretty exciting and shocking all at the same time! It didn't take me long to realize that at 26 years old, I'd be a mom to two kids, not just one!
I thought a lot about the perfect time to have children for my family, and I realized that being 26 (almost 27) when they are born just seemed to work out perfectly for us. Do I wish we had more financial stability? Yes. Do I wish we had less student loans? Yes. However, we've learned so much about our finances and being responsible over the past few years, and I think we're ready for this next adventure!
Pros:
1.      Peak Energy and Fertility
Just recently, I read that a woman's peak fertility is between the ages of 16-28, so I had some concerns about waiting until I was in my 30's to have kids. Many women safely have them during that time every single day, but I am a worry wart, and I wanted to make sure I could have a family when I wanted without running into fertility problems later. Another perk is that when you are in your mid-20's, you are young and have a lot of energy to chase around a toddler (or in my case, two!) Your body bounces back faster according to some moms too.
2.      Lots of Time to Re-Enter the Work Force
Because many women are just starting their careers in their mid-20's, they likely won't be stepping away from or giving up high profile careers just yet. While many women in their 30's successfully balance both their work and home lives, they have extra challenges to contend with and sometimes find it hard to gain acceptance about their new role as a mother. When you are in your mid-20's you might have similar challenges, but many women in this age group often report feeling more comfortable with taking longer maternity leaves and even staying at home with their children for a year or more. At that age, you have a lot of time to re-enter the work force at a later date and "catch up" to where you were before.
3.      You'll Still Be Young When They Go To College
If you have kids in your mid-20's, you still have a ton of years ahead of you when they go to college. You'll miss them for sure, but you'll also have a lot of energy and youth on your side to head on trips with just your spouse while your kids are buried in their college textbooks.
Cons:
1.      Financial Instability
While not all people in their 20's experience financial instability, it is the time where people tend to make financial mistakes, figure out their relationship with spending, and hopefully start saving for retirement. Most people in their mid-20's are still relatively fresh out of college. They only have a few years of work experience and might still be paying back loans. Additionally, depending on the industry, they might not be in a high pay grade just yet and might have to put in extra hours to prove that they are worthy of promotions. All of these things combined make many people wait until they are in their late 20's and early 30's to have their first baby.
2.      Halted Travel Plans
Many people say that they want to see the world before having their first child. They are often able to start traveling in college during spring break or on a study abroad trip. However, having a baby in your mid-20's can sometimes put at least a temporary halt to extensive travel experiences. While I do plan to travel with my children, as I want them to become good at it, I won't be making any international trips for quite some time.
3.      Tendency for Lifestyle Inflation
One of the first things I noticed when I got pregnant and started talking to other pregnant women is that so many of them wanted to buy a new car. One of them was even adding on a room to her house! I think when many people get pregnant with their first child, they instantly think they need to upgrade everything to fit in with a cultural mold.  Furthermore, when people are in their mid-20's, it's harder to resist some of these temptations. While I'd love a new car, I know we can't afford it, and I'm lucky to have a fully paid for safe vehicle for my kids to ride in, even if it is 12 years old!
Ultimately, there are many pros and cons to having kids in your mid-20's. For us, it was a good decision, one that worked well with our current phase of life and my husband's time frame with school. He will be in between semesters when our twins are born and thus will have a solid month to help me get used to their arrival. We thought through a lot of pros and cons and tried hard to choose the right time for us to have a baby. I really think that's all anyone can do: exactly what's right for them and their families!
How about you all? When did you have your first baby? Do you wish you would have waited until you were a bit older?
Share your experiences by commenting below!
***Photo courtesy of http://www.flickr.com/photos/houghtonbird/9601034003/s