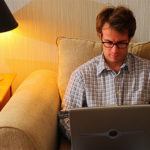 The following post is by MPFJ staff writer, Kelly Gurnett. Kelly runs the blog Cordelia Calls It Quits, where she documents her attempts to rid her life of the things that don't matter and focus more on the things that do. You can also follow her on Twitter and Facebook.
Many people dream of working from home—where "working from home" means "watching TV in my PJs while the rest of the world is suited up in cube land."
But, the realities of telecommuting (if you work for a company) or freelancing (if you work for yourself) are, as with any dream, never quite as lovely as you imagine them. Granted, working from home has its fair share of perks. But a job is still a job, and any major life change will have its pros and cons.
For anyone considering making the switch, here's an overview of both sides, from someone who's done it for the past few years.
Since this is a financial blog, I'll take a look largely at the monetary implications of working from home, but I'll also cover some other considerations which can sometimes play just as important a role in your decision as the financial ones.
Savings
Commuting costs. If you take public transit to work, you'll save a pretty penny. If you drive, you'll save lots and lots of pennies. In addition to the cost of a car in general (we went down to a one-car household when I started working from home full-time), you also save on related costs like gas, parking, tolls, and extra wear and tear.
Clothing. When you report to an office 5 days a week, you're going to want a decent-sized wardrobe to keep you from recycling outfits too often. You also need the various add-ons that go with it, like bags, shoes, accessories, etc.
When you work from home, you can pare your closet down drastically. All you need are a couple go-to power outfits for video conferences and the occasional trek into an office for a face-to-face meeting. Depending on how high-maintenance your work clothes are, this could also save you a bunch on dry cleaning.
Food. Many of us succumb to convenience food when we're doing the 9-5 grind. We grab a coffee at Starbucks when the office coffee is sub-par. We grab lunch out with coworkers because we didn't have time to pack something that morning. We take part in things like Happy Hour because darn it, we've earned a few nice cocktails after putting in a week on someone else's clock.
When you work from home, you have much more say over your own hours, giving you the freedom to explore things like making a fresh salad or wrap for lunch and brewing your own cents-a-cup coffee. (Eating healthier can also add to the long-term savings of less medical bills!)
Office parties, fundraisers, and other peer pressure purchases. You may have no idea who Mabel in Accounting is, but when she retires, you'll look like a heel if you don't contribute to her farewell gift and cake. You may have more wrapping paper than you'll go through in a lifetime, but when Bob comes around with a picture of his daughter's softball team in their adorable little uniforms, you feel compelled to buy a roll or two just to be nice.
No more when working from home. The only people you have to worry about buying gifts for are your own friends and loved ones.
Childcare costs. While working from home with little ones isn't easy by any means, telework is a staple of stay-at-home moms for a reason: it saves the astronomical cost of daycare, lets you spend more time with your family, and lets you earn some money on the side (while still getting your laundry and errands done).
Costs 
Taxes. If you work remotely for a company and enjoy "employee" status, you can skip this one. But many work-from-homers are self-employed freelancers or subcontractors, and they face the wrath of the employer/employee double-tax (you're your own boss and your own worker, now) and the stress of quarterly tax payments.
Here's a good rundown of what you can expect tax-wise, but I highly recommend you seek the help of a CPA, especially when you're just starting out. Mine helped me realize that for every dollar I bring in as a freelancer, a full 1/3 of it should be stowed away in a savings account to cover those quarterly payments when they're due. Had he not warned me at the start of my first taxable year, I would have been very unpleasantly surprised come payment time.
Health care. As with the above, this won't apply if you're lucky enough to be covered by a company. Otherwise, bear in mind you'll now be responsible for your own healthcare costs. At the time of writing, the state healthcare exchanges are still new enough it's hard to tell how they'll impact health care options, but the bottom line is, you'll still be paying out of pocket for coverage you may have once gotten through an employer.
Operational costs. Higher utility bills from being home all day. A nicer computer, faster internet connection, and maybe a webcam for those video conferences. When your home is your business, your monthly bills are going to be higher than they'd be if you were away at the office 40 hours a week. You'll also likely wrack up some startup expenses to get yourself up to speed.
The good news is that many of these things can be written off on your taxes, especially if you have a dedicated room at home that serves as your office (not your office/kids' playroom/den). Again, consult with a CPA for your specific situation.
Non-Monetary Considerations
No commuting time (or pain and suffering). Imagine instead of fighting your way through rush hour traffic twice a day, you could spend that time working away at your computer so you could get more done by lunch time. Imagine also that you live in a wintry city like my own hometown of Buffalo, New York, and the thought of not having to scrape off 3 feet of ice and snow at 7:00 in the morning takes the sting out of quite a few of the above costs.
Increased concentration/efficiency. Away from chatty coworkers and overbearing bosses, many people find that working from home lets them enjoy a level of productivity (and peace and quiet) they could never achieve in an office environment.
This means you may be able to get a full day's work done by 3:00 instead of 5:00, giving you two more hours for whatever you please. It means you can structure your day around your usual 3:00 slump so you can tackle tougher tasks when you're at your best. It also means you can potentially bring in more income by being able to get more done in those 40 hours than you would have at the office.
Less personal contact/accountability. If you're a social butterfly who gets bored and lonely after a few hours by yourself, working from home may not be for you. You also need to be disciplined and dedicated to get your work done on time with no one peering over your shoulder to see how it's coming along. It takes a certain type to work from home, and if those two warnings make you nervous, you may not be that type.
More flexibility. If your kid gets sick and has to stay home from school, it doesn't derail your day completely. If you get sick and need to make a doctor's appointment, you don't have to worry about squeezing it in before or after work (or having to make up time for leaving early)—you can happily accept whatever the next available appointment is.
If you are disciplined and dedicated, you can pretty much structure your days however you please, which, for many who choose the work-from-home path, is worth more than money could buy.
How about you all? Do you work from home? What others pros/cons have you experienced?
Share your experiences by commenting below! 
***Photo courtesy of http://www.flickr.com/photos/benmcleod/116671073/