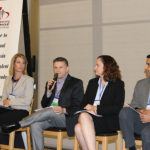 Welcome to this week's Carnival of Personal Finance, a weekly listing of the top personal finance articles around the blogosphere in the following categories – taxes, money management, investing, career, debt, frugality, credit, economy, finance, real estate, saving, and budgeting.
I hope you enjoy the posts and that you can stop by My Personal Finance Journey on my non-carnival days as well!
Listed below are this week's top 3 editor's picks. Congrats to the three winners! Some truly great articles here!
1. Emily from Evolving Personal Finance presents Talking to People Who Are Different from You about PF, and says, "I got into a FB altercation over the use of credit cards, and it forced me to realize that I probably don't know my friends as well as I thought I did."
2. Ray from Squirrelers presents It's All About Supply and Demand With Earning Income, and says, "While I'm a big proponent of education and advanced degrees, it doesn't guarantee more money than one without such a background. For better or worse, it's important to remember supply and demand!"
3. Roger Wohlner from The Chicago Financial Planner presents Five 401(k) Investing Tips for This or Any Market, and says, "The Dow Jones Industrial Average has hit something like 30 new highs this year alone, the S&P 500 is near record levels as well. Twitter just went public and Obama Care will go into full swing in 2014. What does any of this mean to you as a 401(k) investor? Here are five 401(k) investing tips for this or any market environment."
And, listed below are the best of the rest!
Nell from The Million Dollar Diva presents 5 Things You Might Be Doing to Sabotage Your Savings Goals, and says, "Having trouble getting ahead with your savings? You might be sabotaging your efforts without even realising. Here are 5 financial sabotuers that might be keeping you from reaching your goals."
Donna Freedman from Surviving and Thriving presents 21 uses for a dead gift card, and says, "What do we do with all these plastic rectangles, especially since the impending holidays probably mean even more gift cards coming our way? We get creative. Or silly. Or both!
Kay from Green Money Stream presents Are You Making These 4 Frugal Living Mistakes?, and says, "When first embarking on the path to frugal living, some people have difficulty distinguishing the forest from the trees and perhaps "try too hard" to be frugal. Here are some rookie mistakes to avoid."
Daisy from Suburban Finance presents Is Your Car an Asset or a Liability?, and says, "Banks will consider your car an asset when they are assessing whether or not to grant you a loan, but is your car really an asset? Just because you can sell something does not mean it's an asset."
Sean Smarty from Growing Money presents How To Invest With $500
DPF from Digital Personal Finance presents Someone Tell Me: Why Do People Take Out Long-Term Car Loans?, and says, "For many people a car truly is a need rather than a want. However, this doesn't mean we need to buy an expensive car that requires long-term debt. Why do people do this anyway?"
Madison from My Dollar Plan presents 31 Movie Gift Ideas for Kids, and says, "Movies can make a great, affordable gift for kids this holiday season!"
Jason Hull from Hull Financial Planning presents How Much Does Missing Your Budget By $200 Affect You?, and says, "If you miss your budget by $200 per month, how much does that affect your chances of running out of money when you retire? It's more than you think. In this article, I ran 10,000 future stock market simulations to look at the effects of having just a little less money set aside to see if you ran out of money before you ran out of heartbeats."
Harry Campbell from The Four Hour Work Day presents Why I Picked my Day Job Over the Four Hour Work Day, and says, "I started this site because I know that one day I want to work for myself and I think four hours a day is the ideal work day for maximum efficiency and happiness. I will never understand people that kill themselves at their day job: working long hours, weekends and overtime solely for the money. And that is why they're doing it, what other reason could there be? I would rather work less, spend less and live more as this site's tagline would suggest. The world that we live in has so much to offer and I can't think of one good reason why I'd want to spend a majority of my day cooped up inside a cubicle."
Harry Campbell from Your PF Pro presents A Tribute to the Greatest Chipotle Article of All Time, and says, "When I first started this site almost two years ago it was with the intention to discuss topics like saving for retirement and investment strategies. But I quickly realized that those articles were pretty boring to read and to write. That's why you see articles today ranging from travel hacking to saving money at Chipotle. The latter has actually become one of the most popular articles on my site and today it has over 5,000 total views."
PK from Don't Quit Your Day Job… presents Is the Stock Market Overpriced? Part II, and says, "This is part II of a series I'm hosting on market valuation. This entry's claim to fame? The fact that probably half the planet knows the adherent – a man named Warren Buffett. So, how does Mr. Omaha judge the stock market?"
Eric from Narrow Bridge Finance presents 3 Areas Not to Overlook as You Financially Prepare for Next Year, and says, "Whether you believe it or not, we are just a short seven short weeks or so from ringing in 2014. If you're like me, you may feel like this year has flown by and the prospect of a new year is a bit on the nutty side. While it is crazy, I like to be prepared and the impending new year is a great reminder that it's a perfect opportunity to look at how we can financially prepare for the dawn of a new calendar year."
Jon from Novel Investor presents 2014 Federal Income Tax Brackets, and says, "The federal income tax brackets are a fickle thing. Between political meddling and inflation, something changes every year. Of course, that streak is alive and well going into 2014."
Miss T. from Prairie Eco Thrifter presents Making the First Pro-Graduation Pay Check Count, and says, "You've studied, passed exams, graduated and now you have scored your very first job. Congratulations! Don't let it all go to your head though, it's really important to know how to make your first post-graduation paycheck count, so here are some tips."
Pauline from Reach Financial Independence presents Til "Debt" Do Us Part: Are You Financially Ready to Get Married?, and says, "David Moran of Finance for Your Future helps you to determine if you are financially ready to get married."
Pauline from Make Money Your Way presents From having £12 and a suit to buying a property in 6 months!, and says, "Ben Edgson, the owner of workfromhomeblog.net shared his experience from having £12 and a suit to buying a property in 6 months!"
Money Beagle from Money Beagle presents It's Been Two Years Since Our Refinance, and says, "A look back (by the numbers) at our mortgage refinance of two years ago."
saverspender from Save. Spend. Splurge. presents What's the most money you've ever spent on a piece of clothing?, and says, "It's interesting to know how much people spend on clothing, especially what the most expensive item in their wardrobe is! "
TTMK from Tie the Money Knot presents Money and Neighbors, and says, "When it comes to our finances, there are many types of people that can influence them: spouse, parents, employer, even friends. How about neighbors?"
Mrs PoP from Planting Our Pennies presents FPL On Call – Discounts On Our Utility Bill, and says, "The PoPs finally enrolled in the FPL On Call Program, a way to get discounts on the electric bill without having to buy any new energy saving appliances."
Andrew Dickow from Finance Penguin presents Is your startup struggling? Let's talk about it. Seriously., and says, "Tips for Startups."
Well, that wraps up this week's Carnival edition! Next week's carnival (#439) is scheduled to take place on November 18th, 2013. Be sure to submit your articles for next week's edition, using the following handy submission form.
Also, if you're interested in hosting a future edition of the Carnival of Personal Finance, you can apply using this form.
***Photo courtesy of http://www.flickr.com/photos/learningexecutive/726892925