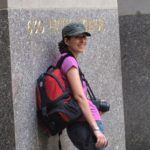 Today, in the ongoing Reader Profile Series, we're getting to know MPFJ.com reader and commenter, Dojo, from the sites, Dojo Blog and ByDojo. Let's all give Dojo a big round of applause for sharing her life with us and listen to her story. Enjoy!

Also, if you're interested in sharing your own financial story/journey with us in a reader profile of your own, just shoot me a quick email, and we can get the ball rolling!  
1. Please Tell Everyone a Little Bit About Yourself (Background, Education, Family Situation, etc).
I'm a 35 year old woman, who studied to become a teacher, worked for 10 years as a radio DJ and for the past 4 years is running her own business in web design (a passion that's been consuming her since 2002). In my case, life proved that you won't always end up as you planned, but you can still make it, if you're open to change and willing to work.
On a personal level: I recently got married (we've been together for 11 years) and have been pregnant for 6 months, expecting a baby girl (which is exactly what I wanted, so it makes me feel happy and lucky at the same time).
2. Describe Your Current Financial Situation (Who Works in Your Family, How Your Income Is, Your Expenses, etc).
Back in 2009, both me and husband remained jobless.
I lost my job when the radio station closed down and he gave up his job, after seeing the work conditions weren't as good as before and after getting sick and tired of having everybody take advantage of him. He's a civil engineer and it's been really hard for him lately with many construction sites and all the stress from such a job.
We relied on some of his savings, plus he sold some of his coins (he has a pretty nice collection), while I also started freelancing full time as a web designer and taking it more seriously than before. It wasn't too easy, but we did manage it. I was also in debt (paying for my car), but the payments stopped in March 2012, when my car was paid off completely.
After 3 years of extensive travels (staying in NYC for 6 months at our friends), we decided to become 'family people' and he opened a business in the city (he's doing the heating system's mandatory 2 year checks – as they are here in Romania). It was pretty costly to set up (the gas analyzer and having him / the company certified cost us quite a lot), not to mention it's slowly picking up speed, but it's still OK.
We can live comfortably from my income and he's also bringing money as much as he can. We're both debt free and plan on keeping it that way.
Our income is around $30K/year, which is pretty OK for my country. We do pay a lot in business taxes and the regular expenses (mostly his side of the business, since he needs all kids of certifications), but are still left enough money to live comfortably and also save some money.
3. What Are the Current Financial Challenges You Are Facing (Saving, Paying Off Debt, Student Loans, Merging Finances After Being Married, etc)?
The biggest challenge now is to have our girl come to this world (I'm paying for my birth at a private clinic and it's pretty expensive for the regular income here) and be well prepared for her. We also wouldn't want to stop traveling (even if not for 6 months at a time) and need to save money for immediate emergencies and also for our retirement.
The retirement/pension system here is almost 'dead', so we'll probably live on the money we saved only. Not such a great perspective, but we'll make it.
I'm not 100% thrilled with our savings at this moment, but it's true we did have many things to take care of. My pregnancy also cost us quite some money, but it will be soon over and we can get back to a more predictable budget.
4. What Are Your Plans for the Future (Retire Early, Build Your Career, etc)?
In both our cases, the goal is now to grow our small businesses. He needs to get more clients (which fortunately started happening after 8 months of pretty small income), while I'm constantly working on building my portfolio and client base for my web design business.
I'm also trying to develop my blog and start earning some 'residual' income from it, too.
We're clearly far from being able to retire, which is still OK, since we're not that old anyway. I'd love to be able to work for many years (even after hitting the retirement age), since I love my 'job' a lot and don't feel it like 'work' anyway. We'll see … There's a lot between now and those years, especially having to raise our daughter and try to provide her with a good life and education.
5. What's Your Best Piece(s) of Financial Advice and/or Your General Philosophy on Personal Finances?
What really worked for us was to find out which things make us truly happy. For these, we always paid good money (travels come to mind), while we could save money from other things that are not important to us. We're frugal in many aspects, but know what makes us happy and pay for it.
We also want to remain debt free and save for anything we want to own. It's not a very easy thing to do, but with consistency and drive, we'll make it.
One of the most important advice we can give would be to live bellow your means and NOT feel bad about it. We constantly have people tell us that  with the money we earn, we should dress like this and do that. We both have similar goals in our lives and don't care about how 'cool' we look or not in other people's eyes. What matters most for us is to build a strong financial foundation, not keep up with the Joneses.