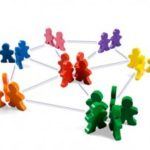 The following post is by MPFJ staff writer, Shondell of Call Me What You Want, Even Cheap. She blogs about her recent car loan and mortgage pay off and a whole bunch more. Check out her blog right here.
Networking is an amazing concept that can change your whole way of thinking about what it truly takes to succeed in business and your career.
Networking is a practice that will introduce you to knowledgeable and stimulating allies you didn't even know you had. Networking is also a complex process of developing and using contacts for advice, information, and moral support as you pursue your business and career goals. In the end, networking with like-minded individuals can trigger a chain of events that can ultimately lead to a large-scale phenomenon.
Unconditional Support
Networking can change your life in so many ways you would not even begin to imagine.
When you network with people who share your dreams and ideas, you benefit from much more than meaningful conversation. You enjoy the support of people who understand what it takes to realize your aspirations and where and why you might need support. You get this unconditional support that can urge you to become a published author or a successful retailer, it doesn't really matter.
All that matters is that networking can help you follow those career and business paths that you may have otherwise abandoned out of fear of failure. Many established professionals and business owners credit networking for their success and appreciate the encouragement they've received from like-minded individuals. They are aware that they might have not flapped their wings and arrived where they are today without that support.
Shared Knowledge
Networking is the best activity that one can indulge in as an entrepreneur or career person. It is the activity that promotes shared knowledge and ideas, which allows you to see things from a different perspective whether you discuss your point of view or ask for feedback. Networking is the motor for expanding your knowledge and learning from those who have already been where you are today. In this respect, networking facilitates connections with people who have once shared the same drive and passion that you have today and are willing to help you overcome and avoid the pitfalls they have already experienced. That eventually helps you pursue your goals with even more passion and realize your dreams faster.
Valuable Source of Information
Networking has changed the life of many individual professionals who have benefited from getting the right information at the right time. The course of many careers has been positively altered by networking that brings people together willing to share valuable information with other like-minded persons. Networking enhances a high percentage of new jobs, a lot higher than that generated by formally applying online or through some other venue. Networking is synonymous to new professional and business opportunities.
It is a practice very similar to brain storming where the spirit of competition complements a friendly ambiance. By the way of networking, new businesses are born and new jobs are created. It remains the best way to receive the right information at the right time and build a business or a career on it. How many times have you wondered what would your life have been if you had known about a certain business opportunity at the right time? You would have probably known about it if you had been networking with the right people.
Raising Your Profile And Confidence
Networking is a wonderful process that encourages talking to people you don't know and putting forth your best efforts to make a good impression constantly. That ultimately increases self-confidence, which is one of the most important attributes of a successful business owner or professional individual. It is the quality that helps you make connections and talk to people, essentially enhancing business growth. On the other hand, networking propels your profile in the right circles where your constant and visible presence builds your reputation as a reliable, supportive, and knowledgeable person. As you offer advice, information, and support yourself, you establish and nurture ever stronger relationships that will generate more leads and referrals. When people see you as a supportive and helpful person, you become the one person that comes to mind when they need what you offer.
Networking is a key activity for all business owners but it is crucial and vital for small business owners, new entrepreneurs, or professional individuals. It is an activity that enhances personal growth as well as business development while remaining fun at the same time. After all, small business and careers are all about networking, establishing and growing relationships, and eventually taking action. Climbing the career ladder or building a successful business takes a lot of time, energy, and drive. It is just wonderfully beneficial to have a network of like-minded people, friends, and associates that can keep you going and offer you the energy, information, and advice you need to pursue your dreams. As you surround yourself with people who share your vision, ambition, and drive, you stand more chances of having your entire life changed and move forward not only as a person but also as a group.
How about you all? What has networking done for you? What is your favorite strategy for networking?
Share your experiences by commenting below! 
***Photo courtesy of http://www.callmewhatyouwantevencheap.com/wp-content/uploads/2013/11/networking-300×200.jpg