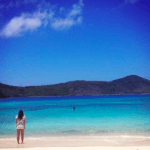 Today, in the ongoing Reader Profile Series, we're getting to know MPFJ.com reader and commenter, Michelle, from the site, Making Sense of Cents. Let's all give Michelle a big round of applause for sharing her life with us and listen to her story. Enjoy!

Also, if you're interested in sharing your own financial story/journey with us in a reader profile of your own, just shoot me a quick email, and we can get the ball rolling!  
1. Please Tell Everyone a Little Bit About Yourself (Background, Education, Family Situation, etc).
Hey! My name is Michelle. I am 24 and I live in a suburb of St. Louis, Missouri. I have undergraduate degrees in Business and Management, and I earned my Finance MBA in August of 2012. In July of 2013, I paid off $40,000 in student loans from my three degrees, and it felt awesome!
I recently left my day job, and now I completely focus on my online business. I worked as a financial analyst for over three years, and I originally thought it was for me. However, I started reading personal finance blogs and became increasingly interested in financial independence and being an entrepreneur.
Now that I am able to work from anywhere (all I need is my laptop), I have had a major travel itch. We are in the midst of planning a two month trip for 2014, and we hope to increase that in the future even more.
I live with my significant other, Wes, and we have lived together going on seven years next Spring. We have two awesome fur-children who I would do anything for.
2. Describe Your Current Financial Situation (Who Works in Your Family, How Your Income Is, Your Expenses, etc).
Most of our income comes from my business. We used to both work day jobs, but both left them this Fall so that we could start doing some extensive travel and focusing on the business. Wes plans on going back to college in 2014, and has a side job flipping classic cars for the time being.
We both used to work a ton, and definitely made a good living working as much as we did. However, we came to the realization that life does not need to be all about money. We found ourselves spending more because we were making more, and it was just a viscous cycle that we were stuck in.
Our expenses are fairly low. They are around 30% of our total income, so we are saving a good amount each month. That is good though because with freelancing you never know when you will have a bad month.
Just a few years ago, our mortgage was around 30% of our total income each month, and now it is under 10%!
3. What Are the Current Financial Challenges You Are Facing (Saving, Paying Off Debt, Student Loans, Merging Finances After Being Married, etc)?
Our current financial challenge is making sure that the business has stable or increasing income each month. With freelancing, you just never know what may happen. We are trying to save as much as we can (without sacrificing having fun in life), so that we can be prepared for anything.
Another financial challenge is saving for long-term travel. We are going on a two month trip in 2014, but we would like to do an even longer trip eventually. Traveling is expensive since we do need to pay for someone to watch our home and our dogs. I still like having a home-base.
4. What Are Your Plans for the Future (Retire Early, Build Your Career, etc)?
My plans for the future are to reach financial independence, grow my business and to have a family. I never see myself fully retiring, but I would like the option to do truly meaningful work that I care about and when I want to.
My business has been growing great as well, and I can't wait to see where I am this time next year. We also want to have a family, although we have don't know when. Possibly within the next few years though!
5. What's Your Best Piece(s) of Financial Advice and/or Your General Philosophy on Personal Finances?
My best piece of financial advice would be to not give up on your goals. I know that sometimes you may feel like you will never get ahead, it may feel like you are drowning in debt, and so on. However, I do think that with hard work and a solid plan, that you can improve yourself and be better with your finances. Be realistic with your financial goals and you should be able to reach them.