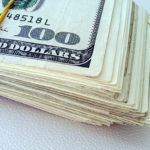 The following post is by MPFJ staff writer, Catherine Alford. Cat is a freelance personal finance writer who blogs at www.BudgetBlonde.com. 
Money making opportunities are in front of us every single day. We just have to be open to recognizing them. Whether you want to make some extra side cash or change careers altogether, its time to put your antennas up and find a way to make it happen.
Here's how:
1.      Be Open to Opportunities
All the Time
When I say be open "all the time" to opportunities, I mean that sometimes ideas and interesting contacts come to you outside of normal business hours. If you are the type of person who strictly works 9-5 and then switches directly into "off of work" mode when you walk in the door, it can be hard to grab up opportunities when you see them.
I can't tell you how many times I've secured different business contracts because I was in the right place at the right time, happened to see a tweet for a job opening at the moment it posted, or just happened to be sitting next to an interesting person on a flight.
You have to make it your mindset that you are looking for new ideas and new business opportunities constantly, and the more open you are, the more they will come.
I know it doesn't sound great from a family perspective, but I'm not advocating that you're on your phone constantly looking for ways to make money instead of spending time with your kids. What I am saying is that next time you drop off your son at a playgroup and talk to the other moms or dads, be open to having conversations about your business or interests because you never know where it will lead or who knows who in your community.
2.      Recognize a Need
If you work with people every day, whether online or in the "real world" as I call it, chances are you are going to get the same questions a lot and hear about the same problems.
For example, if you are a teacher and a parent asks you, "Where can I find a really good tutor for my son?" there's a money making opportunity for you right there. If you own a local store and a customer says, "I wish I could buy your products online so I don't have to come in the store," there's another. If you talk to a group of stressed out parents and all they want to do is find a way to have a date night in peace, think of how that can translate to a business opportunity for you or your teenage daughter, if she's interested in babysitting.
Conversations with people and normal everyday complaints often point to a wider problem that can be solved with a little ingenuity and elbow grease. Find the problem, brainstorm about the solutions, and you could find yourself in an entirely new career.
3.      Continuously Hone Your Skills
One of the big issues with all professionals is that we get kind of stuck in what we know. We like the comfort of our own industries and our own business contacts and our own lives. I'm guilty of the same thing.
Yet, if you're feeling a desire to make more money or to make a change in general, it's time to hone your skills. What is one thing that you've been wanting to learn? What is one program that's always interested you? Are you a blogger who finally wants to learn how to program (me! me!)? Are you a small business owner who wants to expand but doesn't know how? Have you always wanted to go back to school?
All of these changes and all of the new ideas that you can gain from them can lead to an incredible number of money making opportunities. If you go back to school and get your MBA, you could get a great education and make important contacts with your professors and fellow students. If you want to learn more about personal finance, just getting a stack full of new books at the library can be invigorating and fun and bring all sorts of unique perspectives about how to make the most of your money.
Regardless of what path you take and what you do, just remember to constantly hone your skills and stay aware of the types of skills that are desirable in your industry or the new industry you want to be in. Hirable skills mean more money making opportunities in the future.
Ultimately, I think that money making opportunities are around us all the time, every day. We just need to know our path and have a bit of direction so we're open to finding them.
I'm interested in new money making opportunities. Are you? Please share your thoughts in the comments below.
***Photo courtesy of http://www.flickr.com/photos/68751915@N05/6757871357/sizes/m/in/photolist-biaRHp-d8Zd