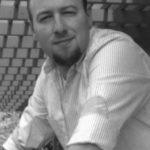 Today, in the ongoing Reader Profile Series, we're getting to know MPFJ.com reader and commenter, Robert, from the site, Beat the 9 to 5. Let's all give Robert a big round of applause for sharing his life with us and listen to his story. Enjoy!

Also, if you're interested in sharing your own financial story/journey with us in a reader profile of your own, just shoot me a quick email, and we can get the ball rolling!  
1. Please Tell Everyone a Little Bit About Yourself (Background, Education, Family Situation, etc).
My name is Robert Farrington and I'm the owner of The College Investor and Beat the 9 to 5.  I'm passionate about helping young people be smart about their finances, specifically when it comes to investing and getting out of student loan debt.  This really comes from my own situation.
I hustled through my undergraduate education by working full time and doing odd jobs.  This helped me avoid student loan debt.  I also went back to get my MBA, but only did it because my employer paid for it.
In my day job, I'm a retail manager.  I love my job and the people I work with, but being in retail is tough on my family.
I'm married and my wife and I just celebrated the birth of our first child.  This has led me to my next goal in life – beating my nine to five job to become a full time entrepreneur.
2. Describe Your Current Financial Situation (Who Works in Your Family, How Your Income Is, Your Expenses, etc).
I would describe our current financial situation as being in a massive saving phase to achieve two closely related financial goals.  Goal one is to make enough money for my wife to stay home with our baby.  Goal two is to have enough to retire by 35.  Not that we will retire, but we want to have enough to be able to.
A third goal, but not totally financial, is to be able for me to work from home on my entrepreneurial endeavors.
Right now, both my wife and I work full time, and I also side hustle.  You can find out more about my side hustle income by reading my Income Reports.
For our expenses, our biggest expense is our house, since we live in Southern California.  Beyond that, we enjoy dining out, and then the baby.  My biggest surprise in my expenses was that the baby was relatively cheap – so many bloggers talk about kids being expensive, but I haven't found that to be the case.
3. What Are the Current Financial Challenges You Are Facing (Saving, Paying Off Debt, Student Loans, Merging Finances After Being Married, etc)?
The biggest challenge we're currently facing financially is to make enough to support my wife not working.  The goal is to be able to live off of my income and my side hustle income so my wife can stay home.
A part of this is that we don't want to cut expenses.  Instead, we want to grow our income.  So, the biggest thing that is going to define our success is whether I can continue to grow my side income.
4. What Are Your Plans for the Future (Retire Early, Build Your Career, etc)?
The key plan for the future is for my wife to stay home in the next 18 months.  Then, within 7 more years, be able to have enough to retire.  The way we are going about this is by maxing out our savings.
We max our IRAs and our 401ks each year, but we also invest in a taxable account.  The reason for this is that if we do retire early, we can't really touch our retirement accounts without paying a penalty.  So it makes sense for us to stash money away in a traditional brokerage account as well.
5. What's Your Best Piece(s) of Financial Advice and/or Your General Philosophy on Personal Finances?
My general philosophy on saving money and investing is that you have to pay yourself first, and you have to hustle.  Nobody in this world will take care of you better than you will take care of yourself.  This means saving a lot, being mindful of your expenses (but at the same time understanding the choices you make with your money and what you value), and being self-sufficient.
I don't plan on anyone – a company, the government, etc. – to take care of me when I'm older.  We're saving now to be well off later.  We have a lifestyle we want to live, and understand that this requires money.  We like a bigger house in Southern California.  We like to vacation in Hawaii.  We don't want to change that.
Instead, we build our financial lives around achieving these goals and priorities.