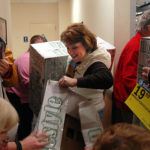 The following post is by MPFJ staff writer, Catherine Alford. Cat is a freelance personal finance writer who blogs at www.BudgetBlonde.com. 
Wow, I forgot how crazy the holidays get here in the States! Why were there three Christmas aisles at every store in October? It's so overwhelming to me, and I feel like I have some fresh perspective on the American holiday season having been out of the country for two years.
If there's one thing I learned from living in the Caribbean for so long, it's that we just don't need a lot to be a happy. We don't need a lot of Christmas junk. We don't need 5,000 decorations, and we don't need to go wild at a Black Friday sale. In fact, you couldn't pay me to go to a Black Friday sale (okay, okay, if somehow my baby cribs go on sale for $50 a piece, I will go. It's very unlikely, but hey, I have to buy two cribs since I'm having twins, so have mercy on me!)
All that said, there are a lot of ways that we can avoid crazy holiday spending this year AND next year! Here's how:
This Year
1.      Only Buy For Your Family and Your Best Friend
Holiday gift giving is so awkward. Inadvertently, someone will send you a Christmas gift, only to find out that you didn't have one already purchased for them. To those people, just simply say thank you. I know it's hard but you don't need to waste money on a pile of "just in case" gifts to give to people. Just say, "Thanks! That's so thoughtful!" and send them a thank you note. Remember, most gifts are quickly forgotten as the months go by. Plus your coworkers already have 42 scarves each, so buy gifts for the people closest to you and don't fret about the rest!
2.      Bake Your Heart Out
One inexpensive way to get through the holiday season and send some awesome gifts out into the world is to bake! Most people would absolutely love a loaf of homemade bread or Christmas cookies. This is great for aunts and uncles, grandparents, and other people who already have more material items than they could possibly need!
3.      Give the Gift of Experience
One thoughtful gift you could give is a card that has a completely written out plan for how you're going to spend the day together with someone. So, if you wanted to spend more time with your sister, you could give her a card that says, "Eligible for one girls night sleepover just like when we were kids." Then, make sure to actually pencil it in your calendar! I feel like so many people give the gift of "coupons" for a date night and things like that but never use them! So, give the gift of thoughtfulness and actually follow through!
Next Year
4.      Save As You Go
It would be hard to save up for Christmas for this year, so let's start fresh for next year. If you know that you spend a certain amount on the holidays, go ahead and start putting aside that money every month. It will feel so great to be proactive and have a nice savings account ready to go. This will stop you from overspending and it will also prevent you from going into credit card debt just because society tells us it's the season of giving.
5.      Buy Throughout the Year
I am always thinking ahead for Christmas and birthday gifts. If I see something I think my sister would like and it's a good price, I will go ahead and buy it for my sister, my two sisters-in-law and maybe even my mom and mother in law too. In the past, I've given the women in the family jewelry, organizers, monogrammed towels, lotions, etc. and I've thought about most of them way ahead of time. It just makes things much less stressful when you have it all planned out.
6.      Adopt the "4 Gift Rule" for Kids
It might be hard for kids to adjust to fewer gifts at first, but if they are awesome gifts, I bet they won't care. I love the "4 Gift Rule" which stands for "Something you want, something you need, something to wear, something to read." Come on; you know your kids are going to get a million gifts from their grandparents, aunts, and uncles, so don't spoil them too much at home!
Of course, these aren't the only ways to beat the crazy holiday spending this year and next so I want to hear from you!
How about you all? Do you always have a big Christmas celebration or a small one? Do you buy lots of gifts to family and friends or make them yourself? Would your kids be upset at only getting 4 gifts?
Share your experiences by commenting below! 
***Photo courtesy of http://www.flickr.com/photos/bethcanphoto/3065695690/sizes/m