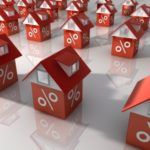 The following post is by MPFJ staff writer Travis.  Travis is a customer blogger for Care One Debt Relief Services, and also appears weekly at Enemy of Debt.  Travis candidly shares his personal journey to pay off $109,000 of credit card debt and the tips he's learned along the way. As a father and husband he provides a unique perspective on balancing debt, finances, and family.
We built our home in 2004, at the tail end of the housing boom.  Mortgage lenders did creative financing to get borrowers into as large of a home as possible because with home prices skyrocketing, you could make money hand over fist by selling your home a few years later.
We were no exception.
Creating Financing
Our first mortgage is an adjustable rate mortgage (ARM) which stayed at a constant rate for the first 5 years, and then adjusted once a year, on July 1st.  Our second mortgage was set up as a 10 year interest only home equity line of credit.  This setup made our monthly payment as low as possible for the following reasons:
1.)    The fact that our first mortgage was for 80% of the home's appraised value allowed us to take advantage of a loophole to not pay Personal Mortgage Insurance (PMI).
2.)    The interest rate on our first mortgage (which was an ARM) was low
3.)    Our second mortgage was interest only
Mortgage Treatment
ARMs generally have a bad reputation, but to be honest ours has treated us very well.  After the initial 5 years when the rate remained constant, it has adjusted 5 times.  The first four adjustments actually decreased our mortgage interest rate resulting in a lower payment each year.  This year, the rate stayed constant at 2.875%.  In comparison, a 30 year fixed rate mortgage available through my bank according to their website is currently 4.375%.
The second mortgage is a different story.  While it has kept our payment low, we haven't paid any principal on 20% of the money we borrowed back in 2004.
The Refinance Question
Our ARM can adjust upward at most 2% in a single year, with a maximum interest rate of 9%.  Due to the way the rate is calculated, interest rates would have to go up quite a bit for our mortgage to increase the maximum.  However, economic indicators seem to indicate that the economy is on the mend, even if it is a slow recovery.  Which means mortgage interest rates, including our ARM, may be on the rise.
So we have decided to talk to a mortgage representative at our bank about refinancing for the following reasons:
1.)    While all mortgage rates are still very low relative to history, I don't want to wait until rates increase dramatically and the jump from what we have now to a fixed rate gets larger.
2.)    Our interest only home equity loan will soon be converted to a fixed rate loan that is at a higher rate than the typical 20 or 30 year mortgage.
It seems to me that we are in for a mortgage payment increase if we just let things continue down their current path.  The worst part is that the amount of increase is unknown until we get closer to the adjustment date of the first mortgage, and the conversion date of the second mortgage.
Uncertainty makes it very difficult to build a budget, and that makes me very nervous.  I'm done playing the market and hoping that the ARM adjusts in our favor.  It's time to lock in and know exactly where we're at.
How about you readers, have you refinanced recently?  Do you have an ARM?  Do you think the time is right to refinance?
Share your experiences by commenting below!