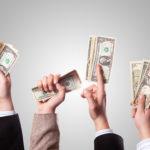 The following post is by MPFJ staff writer, Kelly Gurnett. Kelly runs the blog Cordelia Calls It Quits, where she documents her attempts to rid her life of the things that don't matter and focus more on the things that do. You can also follow her on Twitter and Facebook.
Every year, more and more people make the switch from doing their holiday shopping in-store to doing it online. And it's hard to blame them. With the crowds, the traffic, the lines, and the stress of shopping in-store, shopping cozily in your PJs can be hard to beat.
Not only is online shopping easy, quick, and on your own terms, but the ability to browse the entire Internet to find the best deals is enough to make many frugalistas start clicking away. But to really double-team the savings, you should also make use of the cashback sites that offer you rewards for doing the shopping you were going to do anyway. It just takes a couple more clicks to access a store through these sites rather than going straight to the store's website, and the savings can add up fast—especially during a heavy shopping season like the holidays.
So, start filling your stocking along with friends' and loved ones' by checking out the following popular cashback sites. There are enough cashback sites out there to make your head spin, but these are some of the biggies if you're looking for somewhere to start. Rather than overwhelm yourself with choices, it's usually best to pick a few sites you like and stick with those to build up your rewards.
One of the best-known cashback sites (you may have seen their commercials on TV), Ebates lists over 1,000 online retailers where you can receive anywhere between 1% – 25% of your purchase back in real dollars and cents. Many other sites use points that translate to certain amounts, which isn't as straightforward to understand when you're trying to figure out what you're really making for each purchase.
Ebates also sends you their famous "big fat check" every quarter with whatever amount you've accumulated to that point. It's not quite as convenient as receiving points you can transfer directly to PayPal, but it is fun to suddenly receive a check in the mail without even having to request it—especially if you've forgotten one is coming.
Similar sites: For other sites that give you back either a percentage of your spending or an equivalent number of points, which can be converted to a check or PayPal transfer once you reach a certain threshold, also check out:
If you're looking for something a little different, Swagbucks rewards you for a number of different activities. In addition to earning points (or Swagbucks) for shopping through the site's retailer directory, you can also earn points for doing searches with their toolbar, taking daily polls and surveys, watching videos, and finding special "Swag codes."
Swagbucks can be redeemed for a variety of merchandise in the rewards store, as well as for gift cards, gas cards and even charity donations. If you're looking for a site that gives you more ways to generate some free cash, Swagbucks is a fun option site to consider.
Similar sites: If you like the idea of sites that allows you to generate points for multiple activities, also see:
Want to skip the "hunting" part of bargain hunting and skip straight to whichever site has the best reward for whatever you're looking for? Try this site, which shows you 160+ popular stores' sites and where you on which site you find the best cashback reward for each. This site compares not only cash-back sites, but also rewards from credit cards and airline miles programs.
Similar sites: We all have different preferences when it comes to which interfaces we like best, so here are a few more options to choose from:
How about you all? Have you used any other cashback sites you'd add to this list? What do you like about them?
Share your experiences by commenting below! 
image:  http://www.flickr.com/photos/68751915@N05/6848823919