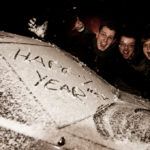 The following post is by MPFJ staff writer, Melissa Batai.  Melissa is a freelance writer who covers topics ranging from personal finance to business to organics to food.  She blogs at Mom's Plans where she shares her family's journey to healthier living and paying down debt.
The New Year is right around the corner.  Will you be among the millions of Americans to make New Year's resolutions?  If you do make them, do you keep them?
When I was younger, I always made lofty, ambitious New Year's resolutions, and, of course, I failed miserably.  Why?  Often my goals were unrealistic, and I didn't make any plans for how I would reach the goals I set.  I just decided sheer will would carry me through and change my behavior.
It didn't.
If this sounds familiar, why not try to make just one financial goal this year?  Make it one that is attainable but helps you change your behavior and improve your financial life.
Not sure what goal to set?  Here are a few ideas to get you started:
1.  Have a frugal fast.
The basic premise is that one week a month, don't spend ANY money.  You'll want to buy enough groceries to last the week and have your car gassed up before you start.  Then, that week if you're at work and your colleague asks you out to lunch, you'll need to decline.  If friends asks you out to a movie, see if they want to come over to your house instead and do something you already have available.
If a one week frugal fast is too much for you, in January, take just one day of the month to not spend anything.  In February make it two days.  In March, make it three days.  Continue doing this until you are having a frugal fast for a month.
To make it even more productive, estimate the amount of money you saved during the fast.  For instance, if you didn't go out with your colleague, you saved $15.  If you didn't go to the movies, you saved $10.  Add up all the money you saved and put that money in your savings account or apply it to your debt.
Little by little, you'll be changing your behavior and teaching yourself to say no to temptation and unplanned expenditures.
2.  Take the 52 Week Money Challenge.
You may have seen this idea floating around the web last December.  The idea is that each week you save one dollar more than you saved the week before.  So, week 1, save $1.  Week 2, save $2; week 3, save $3.  You get the idea.  It doesn't look like much, but by the end of the year, you will have saved $1,378.  If you don't currently have an emergency fund, you'll have a nice little one at the end of the year.
If you plan to take this challenge, consider joining Jeff Rose of Good Financial Cents' 52 Week Money Challenge.  Simply sign up, open a Capital One 360 bank account, have your money automatically deposited each week, keep track of your progress and send in a screenshot of your final balance at the end of the year, and you could win a matching $1,378.
This challenge is excellent because you learn to have discipline to routinely save.  Who knows, after you've met your goal and saved $1,378 in 2014, maybe you'll be able to save even more in 2015!
3.  Do some financial housekeeping.
If you have children, do you have your financial house in order?
Do you have life insurance?  If you don't, make this the year that you get it.  There are several online calculators that can help you determine how much life insurance you need to meet your family's needs.  A 20 year term policy is not that expensive, especially if you're fairly young and in good health.
If you do have life insurance, do you have enough?  Having some life insurance is good, but you want to make sure your family is properly covered.  My dad died right after his 38th birthday, and my parents had inadequate life insurance.  My mom had enough to pay off the small mortgage they had, but not much more than that.  Within a year of his death she had to go back to work full-time, and because she hadn't worked outside the home for 18 years, she had a difficult time finding a job with a living wage.  She continued to struggle for many years after that.  If you die unexpectedly, you don't want your spouse to struggle this way, especially when he or she is already grieving your loss.
Do you have private life insurance?  If you think you're covered because you have a free or low cost life insurance policy through work, I urge you to think again.  You could always develop a medical condition that makes you uninsurable or makes the price of life insurance out of reach.  If you leave your job or get let go, you would then be without life insurance.  A company policy is fine as a supplement, but make sure you get your own private life insurance policy, too.
Do you have a will?  If you don't yet have this document in place, make sure to do so in 2014.  No one likes to think of their demise, but don't you want to protect your children?  Life insurance can help support them until they are of age, and a will can help you make sure that your children will be raised by the person you've chosen, not by the courts.
Best of all, once you have life insurance and a will, you're done.  You don't have to think of these tasks again unless you need to buy more insurance or update your will.
4.  Learn to invest.
One of the best ways to grow the money you do have is through investments, but too many of us find investing intimidating.  If you don't want to learn how to do it yourself, find a good financial planner who can work with you and help you invest.
If you'd like to learn more about investing, there are plenty of ways to do so.  If you're a woman, you may enjoy the book, I'm on My Own and So Are You: Financial Security for Women by Judy Resnick.  This book contains a comprehensive chapter on investing that covers the basics in easily understood terminology.
Of course, there are many other investing books that you could check out from the library.
There are also investing courses online.  Morningstar offers 172 free investing courses on a range of topics including stocks, bonds, funds, and portfolios.  You must sign up for a free Morningstar account, and as you complete classes, you'll earn credits toward 60 days of Premium Morningstar for free.  Of course, this is just one of many free online investing courses available.
If you know someone who is passionate about investing, consider asking that person to mentor you.  Online classes are good, but supplementing with a mentor who can give advice and answer your questions will help you learn that much faster.  If you don't have a mentor, you can always read blogs like this one that discuss investing and investing strategies in depth.
So, which challenge will you take this year to improve your financial life? 
Remember that significant change begins with one single action.  The question is, which action will you take in the new year?  
***Photo courtesy of http://www.flickr.com/photos/felixmontino/4233020807/sizes/l/