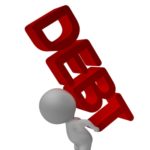 The following post is by MPFJ staff writer Travis.  Travis is a customer blogger for CareOne Debt Relief Services, and also appears weekly at Enemy of Debt.  Travis candidly shares his personal journey to pay off $109,000 of credit card debt and the tips he's learned along the way. As a father and husband he provides a unique perspective on balancing debt, finances, and family.
Struggling with debt is a very stressful.  I can attest to that, as I've lived through it.
Deciding to take a step forward and get help is extremely difficult, and knowing where to get help from can be confusing.  Commercials for debt relief providers can be heard on the radio, seen on TV, and pop up at any time when surfing the internet.
There are seemingly countless debt relief providers willing to help people get out of debt.
People looking for a way out of their financial problems can be vulnerable because they are desperate to do anything to improve their situation and get their life back on track. Not only could they easily fall victim to a scam, but they could also enroll into a debt consolidation program based upon misinformation. 
One of the most prevalent pieces of misinformation is that nonprofit debt relief companies will serve you better than companies that are for profit.  Here are some of the more common myths associated with nonprofit debt relief providers:
Nonprofit Debt Relief Providers Charge Less: The fee structure determining what debt relief companies can charge are generally dictated by individual states.  They are mostly based upon the amount of debt owed, or the number of accounts enrolled in a debt relief program.  When compared against each other, nonprofit and for profit debt consolidation providers charge almost identical fees to customers.
Nonprofit Debt Relief Providers Are Charities : Many people equate nonprofit with being a charity, which is not true.  Nonprofit only refers to a company's tax reporting status.  If they are able to meet the qualifications to be 501(c)(3) certified, they are nonprofit.
Nonprofit Debt Relief Providers Don't Make Any Money: Being nonprofit certified does not mean they don't make money. What it means is that they use the proceeds of doing businesses for other means such as increasing salaries of their employees, or providing additional services for their customers.
Nonprofit Debt Relief Providers Cannot Be Scams : Being able to meet the IRS's guidelines to be labeled as nonprofit says nothing about the integrity of the people running the company or their ability to scam vulnerable people out of their money.
These statements expose commonly held myths regarding nonprofit debt relief providers, yet we continue to have large numbers of providers get certified as nonprofit, and make sure potential customers know it.
Why?  There are several advantages to being certified as nonprofit.
Attract Customers : The above myths continue be perpetuated and believed by consumers.  Debt relief providers know the positive connotation associated with the term nonprofit, and use it to their advantage to appear more attractive to potential customers.
Some States Require It : Some states require a debt relief company to have nonprofit status to operate in their state.  Lawmakers seem to believe the very misguided assumptions listed above assuming that having a nonprofit status somehow protects consumers from having their money taken away by a crooked company.  For profit debt relief providers have been trying for years to change these laws.
Tax Exceptions : Nonprofit companies receive tax except status, which gives them tax breaks from the IRS as well as from many states.
Fair Share Payments from Creditors : When a person falls upon hard financial times, there's a good chance that they may just stop paying creditors and eventually declare bankruptcy leaving creditors holding balances that will never be paid.  Getting some of their money is better than none, so creditors give a kick back to debt consolidation companies for each payment made to them through a debt consolidation program.  The amount used to be in the neighborhood of 15%, however in recent years this amount has been reduced to the 3 to 4% range.  This kick back is called a fair share payment, and is made in the form of a contribution to a "charitable organization," ie a nonprofit debt relief company.
Fair share payments are a huge point of contention within the debt relief industry.  Many industry experts believe that a debt relief provider getting a kick back from the creditors represents a conflict of interest.  They fear that fair share payments could result in debt relief providers steering customers towards debt consolidation instead of another solution (such as debt settlement or bankruptcy) that may be better for a customer's unique circumstances.  This point continues to be debated between the parties involved, as with the government agencies that regulate them.
Nonprofit debt relief providers aren't inherently any worse, or better than their for profit equivalents.  The point is that their nonprofit/for profit status shouldn't heavily way into your decision as to what provider to use.
Here are a few things that do matter when deciding which debt relief provider to use:
Fees:  Find out what fees they charge, and how much they are.  This will vary a little from state to state, so ensure you tell them what state you reside in.  Many debt relief providers will charge a one time administration setup fee, and then a monthly program fee.
24 Access to Data:  You should be able access information about your program at any time.  This information should include (but not be limited to):
Your accounts enrolled in the program
How much you are paying
Payment history
Estimated time until completion
Better Business Bureau Rating :  If a company has a bad rating with the BBB, it's a definite red flag.
Better Business Bureau Complaints:  You should not only investigate how many complaints they have had in the last year, but just as important is how many they have successfully resolved.  There will always be some amount of people that have a bad experience, even more so with debt relief.  But it's a good sign if the provider is successfully resolving their complaints.
Testimonials:  If you know someone that has used a debt relief provider, ask them about their experience.  Nothing is more valuable than first hand testimonials.  Search the internet, and even check the provider's site to see if they have an online forum or community.  Spend time reading what their customers are saying about them.  There will always be spectacular reviews, as well as the horrible experiences.  Read enough reviews to get a feel for what the overall "voice" is saying about the provider.
The best thing someone can do before starting down any debt relief path is to become as educated as possible.  Know what programs are available to you, know what the differences are about the different types of providers, and thoroughly research each provider that you are contemplating using.  The important thing to remember is that while they may be in the business of helping people, their primary object is to make money.
How about you readers, have you used a debt relief program?  Have you ever heard any of the myths of nonprofit companies?
Image courtesy of Stuart Miles / FreeDigitalPhotos.net