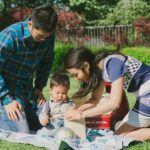 Today, in the ongoing Reader Profile Series, we're getting to know MPFJ.com reader and commenter, Emily, from the site, Urban Departures. Let's all give Emily a big round of applause for sharing her life with us and listen to her story. Enjoy!

Also, if you're interested in sharing your own financial story/journey with us in a reader profile of your own, just shoot me a quick email, and we can get the ball rolling!  
1. Please Tell Everyone a Little Bit About Yourself (Background, Education, Family Situation, etc).
Our story begins in our second year of university. A boy sat next to a girl in fluid mechanics class and asked to copy her homework. While I don't recommend that as a pick-up line, it worked in this particular boy's favor. A decade later, the girl and boy have been married for five years, traveled to over 17 countries together, and have a little toddler following them around.
Yours truly was born and raised in Toronto and a city girl through and through. Daniel was born raised in three countries but acts like he's from a small town. I like fashion, art and design, and making the space around me pretty. He's into all things geeky, like Star Wars, Star Trek, Stargate and Battlestar. The little one likes cars, pasta and the Hokey Pokey.
We both grew up in modest middle class families who valued the importance of hard work. They sacrificed to support and provide the best for their families. We were taught to never spend more than what was earned, to live below our means, and to avoid debt like the plague. Their lessons were valuable and it paved the way for a better standard of living for us. We left university with a pair of engineering degrees. My parents paid for my education and I was debt free. Daniel, on the other hand, had $30K in student loans. With a frugal lifestyle, we paid off the loan within a couple years post-graduation, saved enough to cover our wedding and put a down payment on a condo. We both work at large firms and make decent salaries that allow for everything we need and more. Other than our mortgage, we have no outstanding loans.
Urban Departures was born of our desire to leave behind a consumer mentality and set our sights on pursuing things of personal importance. We live a blessed life, and we want to be better stewards of our money and learn to manage it wisely. We want to be able to save and spend in a way that aligned with our values: to live simply, serve a community and create memorable experiences.
2. Describe Your Current Financial Situation (Who Works in Your Family, How Your Income Is, Your Expenses, etc).
Daniel works in oil and gas industry while I'm in environmental consulting. We enjoy the work and find it rewarding despite working in the corporate world, confined to our cubicles.
We live in a big city by choice. We love the conveniences of the City- arts and culture within a public transportation ride away and a gazillion restaurants serving authentic ethnic food within walking distance- but the expenses add up quickly. 80% of our monthly budget goes towards our expenses with the majority going towards our mortgage and daycare (as a reference, daycare in the area averages $1600/month).
The arena of personal finance is chalk full of those diligently working their way out of debt and those further along in the journey skillfully balancing their portfolios. We're right in the middle- out of debt but naught a clue when it comes to investing for the future- and looking to chart our path forward. We plan to educate ourselves in the area of personal finance and pass along our findings, successes and failures in our writing.
3. What Are the Current Financial Challenges You Are Facing (Saving, Paying Off Debt, Student Loans, Merging Finances After Being Married, etc)?
One of our main challenges is saving for a bigger home- a house with enough yard for a small vegetable, please. We currently live in an 850sqft condo that suits our needs but will become a bit of a squeeze if a second little one decides to show. Housing in Toronto is as much as 85% overvalued when compared to rental rates; townhomes in our area, for example, start at $700k. We've reduced our mortgage amortization from 25 years to 10 years but will most likely be taking on more debt when we decide it's time for an upgrade.
Our biggest financial difficulty is striking the right balance between spend and save. On one end of the scale we're looking to cut expenses without eroding our current standard of living. On the other end, we want to increase our rate of savings to reach financial independence earlier. Part of our current solution is to use our allowances and to buying things at retail value.
4. What Are Your Plans for the Future (Retire Early, Build Your Career, etc)?
For the near future, we're looking to further our careers. Our work stretches and challenges us and allows us to learn and grow. But as much as we find value in our careers, we hope to one day pursue other ambitions. If we play our cards right- be diligent with our savings and invest wisely- early "retirement" is certainly achievable.
I daydream about living in a small farmhouse in France and painting in my vegetable garden. Daniel wants to play soccer, make music and contribute to humanitarian efforts. Baby, even though he doesn't know it yet, is training to be an astronaut surgeon, a real-life Dr. Leonard "Bones" McCoy. We haven't fully defined our plans- they seem to evolve as we grow- but we are set out to live an adventure. And travel, of course- we love to travel.
5. What's Your Best Piece(s) of Financial Advice and/or Your General Philosophy on Personal Finances?
Define values. Identifying values gives clarity and focus. These values lay a foundation on which it's possible to confidently make decisions and goals, including financial ones. Should I buy the Chanel lambskin quilted clutch or should I put the money towards a travel fund? Should you buy a 4 bedroom house for your family of 2 or settle for a smaller place and save more? Only you can decide what is important.
Make time. Life is busy. After a hard day at work and the endless rounds of singing "ye-wo suma-ween" (The Beatles), the last thing I want to do is read about portfolio diversification. But, in order to be good at anything, we need to first invest the time to develop the skills required to succeed. In short, spend the time to learn how to manage money; this will determine the steps needed to achieve your financial goals.