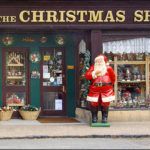 The following post is by MPFJ staff writer, Shondell of Call Me What You Want, Even Cheap. She blogs about her recent car loan and mortgage pay off and a whole bunch more. Check out her blog right here.
In a perfect world, the holiday season should be filled with moments of sheer joy, unmatched happiness, and complete relaxation!
In the real world, it often becomes a source of stress especially because of all the shopping that needs to be done and all the preparations you need to take care of.
The key to a successful stress-free holiday season is planning, and here are 5 ways to make that happen:
1. Always know exactly what you are going to buy before leaving your house
A big mistake that almost everyone makes during the holiday season is leaving the home without any plan whatsoever. Many times, they don't even know where they'll be shopping not to mention having a list of things to buy and a well defined budget.
It's hard to expect a relaxing holiday season if you are shopping for whatever looks more attractive with no concern to what you can really afford? The hole in your finances will be difficult to cover if you have no idea what you are going to buy.
Make detailed lists with the gifts you want to buy and the persons who will get the gifts. Include groceries, decorations, clothing, and everything else you need this holiday season in your list. Adjust the list to your budget by cutting here and there. Most importantly, make sure you stick to your lists.
2. Leave the kids at home
We all love our kids, but they are not the best partners when shopping. They have a way of seeing the most useless and expensive little things that they simply must have.
They have a way of asking for it that it makes it impossible for you to even try to say no. No matter how much you would like to make your kids happy, you need to stay organized and make sure you respect your budget. The holiday season should be more about the time you get to spend together than the gifts you are purchasing.
3. Only bring the cash you are going to need, and leave the credit cards at home
Credit cards are really dangerous items when it comes to Christmas shopping.
When you are surrounded by so many wonderful things, it is almost impossible to resist temptation, especially when you know you can always use your credit cards even if the cash you have on you is not enough. Credit cards make it harder for you to stick to your budget and the amount that you can truly afford to spend over the holiday season. It is easy to pay with your credit cards but remember that there comes a time when you have to pay it all back plus interest. If you don't bring them with you, you can't use them.
4. Try online shopping for decorations and Christmas gifts
Going to the malls during the holiday season feels like heaven if you have a fortune to spend.
However, very few people can afford to spend a considerable amount of money on holiday gifts and decorations. As you pass through the store, it becomes more and more difficult to stick to your budget and only buy the things you actually need to buy. A safe way to buy decorations and Christmas gifts and save money and time at the same time is shopping online. There are a lot of venues that you can visit online. Comparing prices is also a lot easier.
5. Take a day off work to get everything done
The best way to handle all of your Christmas shopping this season is to do it all in one day. If you carefully plan everything and you know what you need to buy and which stores you need to visit it shouldn't be difficult to get everything done in one day. You should avoid the wonderful days of Sunday and Saturday and take a weekday off to handle all of your shopping needs. Stores are less packed with people, streets are less packed with cars and you are more likely to see clearly the things that you need to buy. When you're relaxed and you know you have the whole day at your disposal to shop in an organized fashion it shouldn't be too difficult.
Organizing your Christmas shopping and all the preparations that come with this wonderful holiday offer you the opportunity to enjoy more of the Christmas spirit rather than get annoyed and stressed out because of the Christmas spirit. Planning doesn't mean that you don't know how to have fun; on the contrary, it means that you know the secret to gaining the time and money to have fun during the Christmas season and after.
How about you all? How do you stay organized around Christmas time?
Share your experiences by commenting below! 
***Photo courtesy of Picture by Tom Saunders