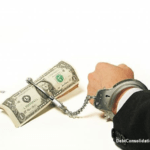 The following is a post by MPFJ staff writer, Kevin Mercadante, who is a professional personal finance blogger, and the owner of his own personal finance blog, OutOfYourRut.com. He has backgrounds in both accounting and the mortgage industry.
When it comes to hunting for a job, we tend to concern ourselves with factors that are most closely related to the search itself. This includes preparing the most effective resume, developing winning interviewing techniques, having the right experience and credentials, and a list of convincing references.
But with background checks becoming ever more comprehensive, our efforts to land a job can be materially affected by personal factors, such as credit profile. It's even possible that too much debt can keep you from getting a new job.
Why would employers care how much debt you have, and why would it be a factor in determining whether or not to hire you?
High debt levels affect credit scores – negatively!
Many, perhaps most employers today are pulling credit before making a job offer. The quality and volume of debt that you have are factors. The amount of money that you owe does affect your credit scores. This is most commonly demonstrated through credit utilization – the percentage of outstanding debt to available credit.
A high level on this calculation, especially above 80%, can have a negative effect on your credit score. That could bring your score down low enough that an employer might do a deeper review of your report, rather than assuming all is well.
Credit reports indicate the reasons for the given credit scores. Credit utilization is one of the primary components of your credit score, and this will be indicated as a reason for the low scores. If the score is low, the employer might scan your credit report to see exactly how much that you do owe, and determine it to be unacceptable.
Ironically, current debt levels can be a bigger detriment than a prior bankruptcy or foreclosure. While major negative credit events are in the past, a high level of debt represents an ongoing problem. An employer may see it as a complication that could affect your performance if hired.
Depending upon the employer, either the low credit score or the high debt level could be an obstacle to an employment offer. Employers likely have a certain range within which they consider both acceptable credit scores and debt levels. If you exceed those parameters, you may be declined for employment.
Too much debt could interfere with your ability to do your job
An employer might decide that the amount of debt you have to be so high that it will interfere with your ability to do your job properly. This is not an unreasonable consideration either. If you have a substantial amount of debt, it is likely having an effect on other areas of your life. In fact, a very high debt level could easily become the dominant factor in your life. That would most certainly have an effect on your ability to do your job.
Worry causes stress, and stress can interfere with your ability to do your job properly and efficiently. An employer may decide that you are not the right candidate for the job, particularly if there other qualified candidates with less substantially less debt. It's simply one of those factors that could get in the way of the job search in a tight market.
High debt could indicate inability to manage finances
Even without knowing the reasons for your high debt level, an employer could conclude that you have an inability to properly manage finances. This can be an even bigger problem if you're applying for a job that will involve budget responsibilities. The employer may decide that you'll bring the same poor money management skills from your personal life into the job and the budget you will oversee.
A lot of people are in debt for reasons beyond their control, including medical debt, business failures, or taking care of sick or incapacitated relatives. If you your high debt levels are attributable to any of these factors, you might want to let the employer know in the interview. Absent that information, the employer may conclude you're simply bad with money. That is the usual conclusion absent evidence of the contrary.
High debt could make you vulnerable to criminal activity
This is the darker side of high debt levels. They may see your high debt levels as a potential incentive to participate in criminal activity in order to pay off your debt. This could include openness to bribery, participation in financial scams, or even outright theft from the company itself.
This does not mean that all employers will view a high debt level as the potential for criminal activity. Much will depend upon the employer's previous experience. If they have hired people in the past with high debt levels who have gone on to commit criminal activity, they will understandably be reluctant to do so again in the future.
Once again it's very important that you're proactive if you have high debt levels. If you know that the employer will run a credit check, volunteer the information even if you're not asked. You should be prepared to disclose the reasons why, but you should also be willing to share any documentation you have that proves your point.
***Photo courtesy of http://www.flickr.com/photos/debt-consolidation/