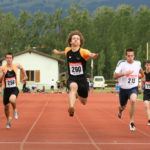 The 10% give back giveaway fun rolls on for the month of January. Can you believe we're already in to a New Year?!
In case you missed the first 27 editions of the 10% Blog Income Give Back, after doing some thinking at the beginning of October 2011 about what direction I want this blog to grow and evolve towards in the future, I decided that any income made from this blog would have more significance to me at a personal life values level if I knew that a portion were being given back to the following places:
1) The readers – Obviously, without you here to read my articles and interact with my ideas, there would be no blog in the first place (let alone blog income). As such, it is only fitting that you receive a portion of any blog income.
2) Charitable organizations – If you've read my blog before, you know that I'm a big believer in donating a portion of my money to charity. Each year, I donate between 5-10% of my income to the National Multiple Sclerosis Society as part of the Bike for MS fundraiser that I do. Beyond the good that is done by donating your money, getting used to contributing to charity is also a good practice to emulate the actions of affluent individuals (T. Harv Eker discusses this in his book, Secrets of the Millionaire Mind, which I would definitely recommend reading if you have a few hours).
Because of these considerations, I've decided that each month going forward, I'm going to give away 10% of my net (after-tax) blogging income/profit to My Personal Finance Journey readers (5%) and to charity (5%). Listed below is a summary of the results we've achieved together thus far through this give back effort:
After each calendar month passes, I'll tally up my net blog income and determine what Dollar value correlates to 10%.
So far, I've been very happy with the success of the October 2011 – December 2013 give backs. Listed below is a summary of what we've accomplished so far with the give back effort.

Current total given to charity = $2,347
Current total given to blog readers = $1,078 
How to Give $34.84 to Your Favorite Charity Today!
Since business was a little slower in December with everyone getting ready to head out for the holidays, I've decided to throw a little variety in to how I do this month's give back.
Instead of getting entries over a 2-3 week period, here's how it will go:
The first person (and only the first person) to comment on this post stating the information below will have $34.84 donated to their favorite charity:
1) What their favorite charity is (my one requirement is that they have to accept online donations via PayPal or credit card), and
2) Why they like this charity
Let the fun begin!
***Photo courtesy of http://www.flickr.com/photos/a03575/3632344397/sizes/l/