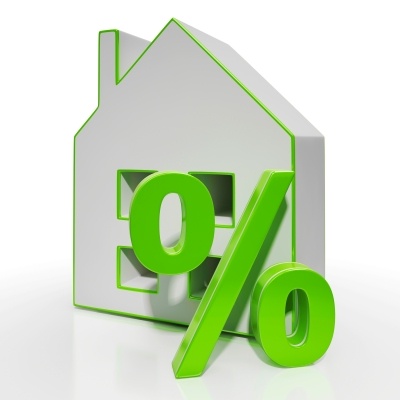 The following post is by MPFJ staff writer Travis.  Travis is a customer blogger for Care One Debt Relief Services, and also appears weekly at Enemy of Debt.  Travis candidly shares his personal journey to pay off $109,000 of credit card debt and the tips he's learned along the way. As a father and husband he provides a unique perspective on balancing debt, finances, and family.
My wife and I have been working through the process of refinancing our home over the last few months.  Our current mortgage is split across two loans, the first being an adjustable rate mortgage, the second being an interest only home equity line of credit.  This creative financing was done when we built the house to keep our payment as low as possible allowing us to build the house we wanted.
We are approaching the ten year mark when our home equity line of credit, as per the terms, will also be converted to an adjustable rate mortgage.  With rates beginning to climb, we decided to investigate refinancing.
Refinancing Goals
Before our initial meeting with a mortgage banker, Vonnie and I made a list of goals and objectives we had for the refinance:
Affordable Monthly Payment:  Our current monthly payment of our first and second mortgage combined is $1882.  With the end of our debt management program less than two months away, we could swallow an increase in our montly payment, but we'd like to minimize it as much as possible.
One Mortgage Payment :  We really wanted to get both loans combined into a single mortage.   That way it's all under one loan, with the same terms.
Fixed Rate:  With interest rates climbing, we want to lock in our interest rate for the life of the loan.  We're done playing the adjustable rate game, and the interest only second mortgage has 20% of our mortgage making no progress towards the balance.
No Personal Mortgage Insurance (PMI):  PMI is insurance for the lender in case you default.  For the borrower it's like flushing money down the toilet each month, which we definitely do not want to do.
20 Year Term or Shorter:  A 20 year term would have us paying off our home when we are 60 years old.  It's scary to think we wouldn't own our home until we're that age, but it's still before retirement age.
The Options
After meeting with a mortgage banker at our bank regarding our we were presented with two different options to refinance our combined mortgage balance of $262,000.
Option 1:  30 year, fixed rate mortgage with PMI at 4.875%
This was the most conventional loan option presented to us.  We would be required to pay PMI until our loan to house ratio was at 78%.  We would pay $171 per month in PMI premiums for about 72 months if we didn't make any additional principal payments.
Monthly Payment: $2046
Total Interest + PMI: $255,056
Option 2:  30 year, fixed rate mortgage with no PMI but with a higher interest rate of 5.5%
The bank did have an option that did not require PMI, but to compensate for that the interest rate is higher.
Monthly Payment: $1977
Total Interest: $278,967
We decided to investigate further options, so we talked to a second bank which presented us with two additional options.
Option 3:  30 year fixed rate mortgage with no PMI but with a higher interest rate
Our second bank's PMI providers do not work with borrowers that are working with debt relief programs.  They could, however, offer us a 30 year "in house" loan with no PMI, however it comes with a higher interest rate (5%).
Monthly Payment:  $1923
Total Interest:  $251,789
Option 4:  Split Mortgage with no PMI
30 year fixed rate mortgage on 80% of loan at 4.75%
20 year fixed rate mortgage on 20% of loan at 5.99%
Combined Monthly Payment:   $1957
Total Interest:  $235,181
Because our monthly debt to income ratio is high until we complete our debt management plan, neither bank would offer us any mortgage options with a term of 20 years or less. Unfortunately, that meant that one of our goals would not be met.
As we worked through the underwriting process in parallel with both banks we were disappointed to be informed that the second bank declined to officially approve us for either of the two options our banker initially thought we had a chance with.  Therefore we were left with only the first two options.
The Analysis
Both options one and two gave us a single affordable mortgage payment with a fixed rate.  Option two did not have PMI, however in the long run would cost us $23,000 more in interest over the term of the loan.  Given this analysis, we told our banker to move forward with option one.
It took several weeks of gathering additional tax forms, asset statements, and explanation forms for items on our credit report, but eventually the first bank did approve us for option #1.
The Final Numbers
The whole process took two and a half months, much longer than I had anticipated.  Several payments were made as we navigated the mortgage refinance path, so our final numbers ended up being slightly different than originally projected:
Principal + Interest:              $1400.00
Property Taxes:                     $  340.00
Homeowner's Insurance:   $  119.00
PMI:                                        $  171.00
Total:                                       $2030.00
Our new payment is $148 higher than our current payment, but it's well worth it to have it all combined under a single fixed rate.  Plus, after we reach a 78% loan to home value ratio, we can have PMI removed and our mortgage payment will be reduced to $1859, which is lower than what our payment is now.
The 20 Year Plan
It was all settled and our closing date was set, however one thing was missing from our mortgage refinance.  Our new 30 year mortgage would mean we would have a house payment until we were 70 years old.  Using a mortgage calculator we determined that we could have our mortgage paid off in 20 years by increasing our monthly payment manually by $300.  This is easily within our reach once we complete our debt management plan at the end of February.  Our first mortgage payment is due March 1st, and we plan to pay an extra $300 on our mortgage starting with the very first payment.  The papers may describe the loan as a 30 year loan, but that doesn't mean we have to treat it that way.
On January 10th, we signed the papers and closed on our refinanced mortgage.  We celebrated that evening with a movie and an inexpensive bottle of champagne knowing that we have one more piece of the puzzle in place towards getting our finances completely on track.
How about you all? Have you considered refinancing your home loan mortgage? Why or why not?
Share your experiences by commenting below!
 ***Image courtesy of Stuart Miles / FreeDigitalPhotos.net