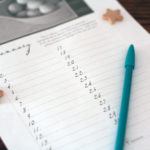 The following post is by MPFJ staff writer, Catherine Alford. Cat is a freelance personal finance writer who blogs at www.BudgetBlonde.com. 
Wouldn't be amazing if we could actually accomplish our New Year's Resolutions? As in, wouldn't it feel incredible to completely, 100% succeed in meeting or exceeding them?
Well, if you want to actually make some good goals and have 2014 be the most amazing year yet, I have some sneaky tricks that will help you to get there.
Here they are below:
1.    Make Month-to-Month Resolutions
A year is definitely a long time. I mean, can we really promise ourselves to not say a curse word for all 12 months of it?
Or, can we really expect ourselves to stay out of a fast food joint for the entire year? I mean, there are always exceptions and special circumstances that cause us to break our resolutions, and if you're anything like me, breaking resolutions causes you to beat yourself up.
We don't need that this year!
So, let's make some month-to-month resolutions. Maybe January can be the month of flossing your teeth every day. Perhaps February can be the month of reading one book that you've really wanted to enjoy. You can really do anything for 30 days, so maybe if you set a time limit on your resolutions, they will actually get accomplished!
2.    Pick Something Fun to Accomplish
Why do your resolutions always have to be so awful?
I mean, why give up eating bread when you can make resolutions that are fun and exciting? For example, you can make a resolution to keep up with movies this year. I am horrible at movie conversation. At a party, when someone says a movie quote and everyone laughs, picture me standing there with a blank look at my face. I have no idea what you are talking about when you give a movie quote, and it's something I should work on!
Another example is keeping up with old friends, which is my husband's New Year's resolution. My husband has gotten so busy and so caught up with medical school that he rarely has time to send an e-mail to some of his best friends growing up. He's made it his goal to do a better job of staying in touch with them in 2014. Everyone loves getting e-mail and snail mail, so that should be a relatively painless and fun resolution to work on this coming year.
 3.    Make Resolution Teams
One tip I always give people is to share your resolutions with others, but my ultra sneaky tip is to actually get on a "Resolution Team."
For example, don't just tell someone you want to lose weight. Actually find someone that shares that same goal, and work together with them to get 'er done. If you want to give up drinking Diet Coke, don't just tell your coworkers. Try and rally them and make everyone who shares an office with you do the same thing.
Resolutions are much easier to keep when you stamp out temptation, so be the person who gets everyone else excited about goals so that you can accomplish something amazing.
4.    Make a Resolution That's Teeeeeny Tiny
Don't get me wrong; big goals are great.
I love it when people say they're going to pay off 500k worth of debt. However, the bigger the goal, the harder it is to make it happen.
So, why not start with something teeny tiny? I'm talking about drinking an entire bottle of water every day or trying to touch your toes every day. This type of resolution takes pretty much zero time and zero effort. I'm not trying to encourage you to be lazy about your resolutions. I'm just trying to show you that you can feel accomplished and give yourself a pat on the back for actually sticking to them if you make goals that are reasonable.
 5.    Set a Goal You've Already Halfway Finished
I know you might think this is cheating, but there's no sneakier way to accomplish your goal than to pick one that's already halfway done!
So, if you've started organizing your garage, make a resolution to finish it. If you've already changed out two of the doorknobs in your house, then make it a goal to fix the rest of them. Basically, it's a sure fire way to feel accomplished because the goal has already been started and you already know how to do whatever it is that you've chosen.
Ultimately, setting New Years Resolutions is definitely a great thing to do every year. However, the reason people fail to accomplish them is because they make it too hard on themselves! Next year, be sneaky! Try the tricks above so that you can feel great and tell the world that you stuck to your goals and did something awesome to improve yourself.
How about you all? What are your 2014 resolutions? Are you going to be sneaky and accomplish them? Share your experiences by commenting below! 
***Photo courtesy of http://www.flickr.com/photos/photoann/6605711959/sizes/l/