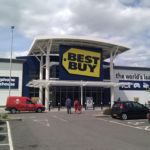 Since purchasing my new Toshiba laptop in December 2013, it has had intermittent problems with randomly freezing up and rebooting itself. This is quite annoying when you are trying to put together a PhD dissertation because you have to save your document every 2nd sentence!
Anyhow, after getting through my dissertation proposal in mid February, I decided to take my computer in for repair. I first went to the campus' computer repair store, and they said that they could not repair Toshiba brand there (not sure why…). Anyhow, they recommended that I take it to Best Buy to have their Geek Squad fix it since they do service Toshiba's.
So, the next day I ventured off to the local Best Buy in an effort to get my laptop fixed…
Best Buy's Business Practices
I have to give them credit – Best Buy is an amazing example of American capitalism in action, and I have absolutely no problem with this. 
Have you ever been in a Best Buy? If so, you'll find out that there's a reason they beat out Circuit City in becoming pretty much the only nationwide, standalone, "big box" electronics retailer.
Let's take a moment to admire Best Buy's business model:
Upon entering the store, you are greeted by a person in a yellow shirt whose job is to make direct contact with everyone who comes in the store. Making contact like this has been statistically shown to decrease store theft. Good for business!
Next, go to one of the various departments in the store. What happens? Well, if you go to the computer section, I am often approached by a customer representative who asks if I need help. If I say I am "just looking," they often quickly proceed to ask (read..pitch) what type of Internet service I have at home in an effort to sell me an upgrade to a service plan where they no doubt get a commission. Genius!
Have you ever purchased a computer or other device from Best Buy? The device itself is just the tip of the iceberg. Where they also make a ton of money are the "up-sells" / add-on products. For example, when I purchased a computer there, I was pitched the following add-ons – 1) a service plan, 2) a warranty / protection plan, 3) MS Office software, and 4) an external hard drive. These additions are always very profitable, but not always completely necessary.
The checkout line at Best Buy is also a gem. Even though I have never seen a long line at the store, the line "corral" area snakes around several times with shelves full of last-minute impulse buy items to tempt customers. Again, genius!
Well, when I visited the Geek Squad area of Best Buy, I soon realized another realm where they are very profitable….tech repair
"You Don't Want to Buy a Service Plan? I'm Not Sure If We Can Proceed With The Repair. Let Me Ask My Manager" – Best Buy Geek Squad Agent
Much to my surprise, upon entering the Geek Squad area of the local Best Buy, they seemed to be surprisingly ill-prepared to handle getting people through quickly, particularly because entering each customer's data in to the computer system takes so long. In the end, it took me a total of 1 hr to simply drop off my laptop for repair.
When it was finally my turn in line, I approached the Geek Squad Agent and described the situation. He was a very nice guy that seemed to be fairly new to the job.
In my mind, I had envisioned paying some type of by-the-job or hourly repair fee to fix the computer. However, the Agent then proceeded to tell me that they would be happy to help me and that the best way to proceed would be for me to purchase a 1 year Geek Squad Tech Support Plan for the bargain deal of $199.99.
Being a personal finance blogger, I am well-aware that these broad tech support plans are generally a better deal for the store selling them than for the end customer, since the services they offer are often not utilized and/or necessary.
Therefore, I declined the offer to purchase a "plan," and stated that I simply wanted them to fix this one specific issue of the computer restarting itself unexpected. 
This idea seemed quite foreign to the Geek Squad Agent, and he insisted that most people simply purchase the protection/service plan. In fact, he had to go ask his manager whether or not they could even check in the computer without the service plan purchased. He stated some seemingly good reasons for why they recommend the plan. Indeed, they were quite enticing, since it would offer data backup, virus removal, and many other services that might be needed over the coming year.
In the end, the Agent finally agreed that they could check the computer in for a "diagnostic" check for $69.99, and then they would contact me once they are figured out what the problem was and determine if I wanted to pay more money to fix it.
Three days later, without any advanced warning that they had figured out what the problem was, I received an email notification saying that my laptop was ready to be picked up. Since they had not called me to discuss how to proceed on the repair post diagnosis, I was a little uncertain about what to expect…

"This Service Was A One-Time Thing. If You Bring it Back In and Need More Work, You'll Have To Purchase a Service Plan for $200." – Best Buy Geek Squad Agent When I Picked Up My Laptop
Having gained some experience with Best Buy's Geek Squad from several days earlier, I made sure to make an Advanced Reservation Appointment to pick up my laptop on their website (this puts you in a quicker line once you get to store). Again, there were quite a few people waiting in line at Geek Squad, but I got to bypass most of the waiting around since I had my Reservation.
When an Agent brought out my laptop to check out and explain what was the issue, he said that I had some type of viral infection, and that they had removed the problem. I was quite surprised that they did not charge me for this work, but just charged for the $70 diagnostic portion.
However, I was not too impressed at the lack of detail the Agent seemed to be offering about how I could prevent this from happening in the future, beyond suggesting additional Geek Squad Service Plans and Virus Protection Packages that would cost even more money. 
When I looked online for reviews of Geek Squad's repairs, I did find one intriguing article on Consumerist that shares several confessions of an ex-Geek Squad worker. He or she states that there is a definite push towards selling Best Buy's packages vs. repairing the device itself.
(Side note: In doing some research in my locale, I discovered that there are cheaper places to get my laptop repaired in the future, and at these places, they don't seem to operate on the "plan" system, but rather, charge by the hour or by a certain type of job.)
A Good Reminder – Do You Have Too Many "Plans" In Your Life?
It is common knowledge among those with expertise in marketing that an automatic/advance-paid subscription or service plan is one of the best things you can do for your business.
Not surprising, almost every consumer service these days offers some form of "plan" that you can sign up for, and your bank account or credit card is automatically debited each month; no thought involved for you.
While plans are great for business and they facilitate the delivery of many needed services, we as consumers and individuals have to be vigilant about whether we are accumulating too many of these plans.
For example, what recurring service plans do you have currently have in your life? Since it can be very easy in today's society to accumulate these plans, can you possibly identify one or multiple plans that you really don't need?
Below are a few examples….
Netflix?
Gym membership?
Cable TV package including too many extra movie channels?
Smart phone?
Yogo studio membership?
Rewards credit card annual fee?
Magazine subscription?
A sports club you no longer participate in?
Monthly cleaning services for your house?
Professional society that you no longer participate in?
Extended warranty plans?
Landline phone service that you don't use since you have a cell phone?
And the list could go on and on….
The point I am trying to make here is that you should QUESTION whether or not these advance- or subscription- paid plans are worthwhile / ones that you will be able to fully utilize prior to opening up the wallet. And more importantly, don't feel pressured in to buying these extra features at a store, since often, the store workers make a lot of money by pushing these products.
How about you all? Do you currently have subscriptions/recurring plans that you could do without? If so, which ones? Have you ever felt pressured in to buying a plan at a store when you didn't originally want it?
Share your experiences by commenting below! 
***Photo courtesy of http://www.flickr.com/photos/osde-info/5720808237/sizes/l/