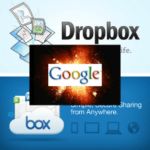 This is a post by MPFJ staff writer, Jeff. Jeff writes about sustainable living and finances at his website, Sustainable Life Blog. Jeff really enjoys traveling with his wife as much as he can, to wherever he can.
Over the last 5 years, there has been this huge buzz in computing about the "cloud".
Everyone talks about leveraging the resources of the cloud, storing your data in the cloud, but what exactly do they mean when they talk about the cloud, and how can you use it to help you?
Well, the cloud is simply online data storage. It works exactly like the hard drive on your computer, except you can access your data from any computer with an internet connection. The service is pretty handy because it allows you to access (or share) pictures, documents and other stuff over any internet connected device. I keep trying to use it as much as possible, but old habits (mainly MS office) die hard. I'm starting to get everything into the cloud though, and it's making life easier for me.
There are a lot of different cloud services out there, but the main 3 are Google Drive, Dropbox, and Box.
I've used each of them for different purposes and each has some advantages and disadvantages, so we'll go over everything and let you decide what one (if any) of these services meets your needs. The most popular (and one I've been using the longest) is Dropbox, so we will start there.

Dropbox
The one that I've been using for the longest is Dropbox.
There are two versions of the service, a free and paid version.
Free Version
The free version comes with 2gb storage space, and you can expand that up to 18 gb for free by referring friends to the service.
I've been using the free version for the entire time, and while I've deleted stuff out of there that I no longer use, I've never gone above 70% utilization of space. The free version has suited me just fine so far.
Pro Version
However, if you plan on needing more space than that, there's a pro version of Dropbox that costs 9.99/mo (Or $99/yr) and gives you 100gb of space – nearly 50x what a free account does.
This would be valuable if you're interested in putting ALL your data in Dropbox as a backup, but that's not how I've been using it thus far. I just use it for a few files that I need access to frequently.
The best part about Dropbox is that you can get to it from everywhere. They have great apps for andriod (and iphone, but I havent used that one) as well as desktop apps for mac & pc, and a web interface. They make it super easy to upload and download files from their server.
Below are the Dropbox app links:

Google Drive
The next one on our list is Google Drive.
Google Drive has a free version that will give you 15gb for free (though this is combined with your Gmail and Google photos),
And they have tiered pricing for paid plans, allowing from 100gb (4.99/mo) to 16 tb (799.99/mo).

This is half the price per month compared to Dropbox for the same amount of space! 

Personally, I think that 15gb will be fine for 99% of the population, but you'll need to decide that for yourself.
Google Drive is more than just a file storage/upload area though. There are apps built into Google Drive, that will help you make documents and spreadsheets, forms and surveys and even do drawings, all of which can then be saved in your Google Drive and shared (if need be).
(From Jacob:) However, one disadvantage that presents itself with Google Drive is that to my knowledge, you cannot open your Google Drive folders on your desktop using MS Office applications. Instead, you can only edit directly from the Google Drive website. 
In addition to creating documents with Drive, you can also share them with people. They can have view permissions or edit permissions, allowing you to collaborate on things with others. My wife and I use this a lot when we were wedding planning to do the guest list, favors, vendors and more.
Just like Dropbox, Drive is with you anywhere you go, and you can access and edit from a computer or your phone with the Google Drive apps, which can accessed by clicking the links below.

Box
The last alternative we will discuss is Box.
With Box, you can get 10 gb of file storage in their cloud for free, with a maximum file upload size of 250mb.
If you need more than that, you can move to a personal paid plan with Box, which will get you 100 gb storage online, and a 5 gb upload limit, for $10 per month.
With Box, you can share folders for others to edit and collaborate on the documents inside, or even assign tasks (perhaps to yourself). Personally, I haven't put this app much through the ringer as much as I have Drive and Dropbox, but from what I can tell box is a pretty solid option if you're looking to store files online. However, there are some complaints about the small (250mb) file upload limit.
Below are the links to the apps if needed:
Conclusion
There are 3 pretty good apps here, and because of the document creation, I think that Google Drive is the most robust, although maybe not suited for folks who like to edit documents inside MS Office applications. Even though Dropbox has the lowest amount of storage space, it's the one that I've been using most (and will continue to use). I've never bumped up against my limit, but then again I'm not a heavy user.
If you think you'll be a heavy user, consider looking at one of the options with a larger amount of storage space. As always, evaluate your needs before choosing, but with any of these three, you cant go wrong.
How about you all? Do you use any cloud storage services? If so, which one?
What features do you specifically look for in cloud storage services?
***Photos courtesy of http://www.flickr.com/photos/joeybones/6779772214/sizes/o/, http://img.talkandroid.com/uploads/2012/12/Dropbox-Logo.png, http://www.ozom.cl/wp-content/uploads/2013/09/Google_Drive_Logo-1000×288.jpg, http://www.techtuple.com/wp-content/uploads/2012/03/Box-Android-Apps-on-Google-Play.png