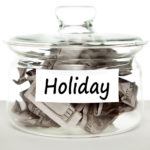 The following post is by MPFJ staff writer, Catherine Alford. Cat is a freelance personal finance writer who blogs at www.BudgetBlonde.com. 
I should probably admit upfront that I have a bit of a sore spot when it comes to holidays.
I used to love them so much growing up. I enjoyed Christmas as a kid, and my dad always made us girls feel special on Valentine's Day, etc.
After my family endured Hurricane Katrina in 2005, I remember sitting there numbly that first Christmas after the storm. I got in my car after my last exam and started to head "home" in the opposite direction from the house I grew up in. It was a really devastating moment for me. For so long, the house I grew up in was what Christmas was to me. Driving somewhere else, after everything we had been through, was too much for me. All I wanted was to go back to a few months before when everything was right with the world and our house wasn't damaged by flood waters. I cried the whole way to our rental house in another city. It was awful. I don't even remember what happened on Christmas Day; it was all a blur.
I also remember the first time we celebrated Thanksgiving after the storm. The Thanksgiving directly after Katrina, my family went on vacation. I just don't think my parents could bear the idea of dealing with such a big holiday after so much devastation. However, I remember the one after that, my dad went and bought a new dining room table (because all we had at that point were just really basic stand ins) and we had a proper Thanksgiving feast. It was really sweet and really memorable. So, I guess I can't say all holidays are bad. It's just they aren't all they are cracked up to be.
At the same time, when my husband and I moved out of the country, we spent countless holidays away from our families. We made new traditions and new friends, but there was always this nagging feeling that we should be somewhere else, doing something else.
All of these experiences over the past 8 years have made me a little bit grumpy about holidays in general. I just don't understand them and wish they didn't exist. Perhaps this will all change when I have kids, as I'm going to try to make things as positive as possible for them. However until then, let's look at some facts:
1.     Holidays Are Expensive
We can't just have a normal holiday in the States.
We are pushed and pressured to buy extensive decorations, new wreaths, cards, and anything else this consumer driven economy can throw at us. Even in the middle of a recession, stores were still pushing people to buy, buy, and buy some more. Plane tickets and hotel prices always go up just so people can make a buck, and everyone is sad the month afterwards because they spent much more than they anticipated.
 2.     Holidays Are Stressful
Everyone takes pictures of themselves on holidays and portrays their absolute best selves on social media. But what those pictures don't show is how stressed your mom got when she burned the turkey, how you had to yell at your kids to clean up the house because you had company coming over in five minutes, and how many dishes you had to wash after the fact. Plus, there's that unspoken pressure too.
Maybe your wife has high expectations for Valentine's Day and maybe you feel like you should plan something or book a reservation at a nice restaurant lest you fail as a husband. All of these expectations, pressures, and stress make holidays something to dread, not something to look forward to. I guess it really depends on the type of family and the type of relationship you have, but on the whole I feel like people expect a little too much out of these "special days."
 3.     You're Always Going to Hurt Someone's Feelings
The worst part about any holiday is that you're always going to hurt someone's feelings.
Someone, somewhere whether it's your best friend or your great-grandmother is going to wish you would have done something differently. You can literally drive and fly all over the country going to 5 different Thanksgiving dinners and someone will be mad that you weren't there at a certain moment. It's really hard to establish your own traditions and try to decide which family member's house you're going to go to.
If holidays didn't exist, you could just invite your parents and your siblings over any old time without worrying that you're neglecting one half of the family just because you weren't there on this very specific pre-planned day.
Ultimately, there are many things in this world that are a total waste of money, but to me, national holidays rank pretty high on that list. With a whole slew of them coming up, including the ever so popular Valentine's Day and then Mother's Day, remember to keep it simple, take it easy, and to try to do your best. I personally asked if I could order a few pairs of pink socks for Valentine's Day to put in my hospital bag. If that's not a perfect way to spend such a big, commercialized day, then I don't know what is.
How about you all? How do you feel about the holidays? Do you think I need to lighten up a bit when it comes to them?
Share your experiences by commenting below! 
***Photo courtesy of http://www.flickr.com/photos/76657755@N04/7027602839/sizes/l/