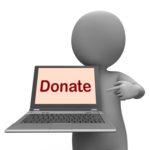 The following post is by MPFJ staff writer Travis.  Travis is a customer blogger for CareOne Debt Relief Services, and also appears weekly at Enemy of Debt.  Travis candidly shares his personal journey to pay off $109,000 of credit card debt and the tips he's learned along the way. As a father and husband he provides a unique perspective on balancing debt, finances, and family.
I was doing my usual routine of putting away laundry on Sunday night when I realized that I had more shirts than I did hangers.  As I went through the closet piece by piece looking for unused hangers hiding between shirts, I shook my head realizing I don't wear more than a third of the pieces of clothes that I own.
It was time to do a closet purge.
I went through not only my closet, but also my dresser drawers removing anything that I hadn't worn within the last year.  When I had finished, there was a massive pile of clothes in the middle of my bedroom floor.
Normally, this is where I would stuff everything into a couple of heavy duty garbage bags and drop them off at Goodwill.  The last time I did this, my neighbor asked me if I had received a receipt for my taxes.  I remembered being asked by the guy at the donation center if I wanted one, and  I knew I could use charitable donations to benefit my tax return, but I just didn't know enough about the process  so I declined.
So, I did some research on donating non-cash items to charity.
It turns out you can't just load up some garbage bags with your old stuff, throw them out the back of your van at the Goodwill drop off center while barely slowing down, and write a random dollar value on your tax forms.
There's some things you need to know about when donating non-cash items to charities.
1. Charities can't sell worn out or broken items.  I separated my clothes into two piles.  One of clothes that were soiled, stained or ripped, and another of clothes that were in gently used condition.  The first pile was loaded into a garbage bag and tossed outside to be disposed of.
2. You have to estimate the value of your donation to report on your tax return:  I separated the pile of gently used items by type:  shirts, pants, sweatshirts, and sweaters.  Then I grabbed my laptop, and created a spreadsheet inventorying every article of clothing I was going to donate.
Then, I downloaded the donation value guide from Goodwill's website and assigned a value to each item of clothing, letting the spreadsheet add up the total for me.
3. You have to have documentation to prove you actually donated your items: I printed out the spreadsheet, and loaded the clothes into bags and into my van. Once I got to Goodwill, a gentleman helped me unload my items, and asked if I wanted a receipt.  At my request, he signed and dated a receipt and gave it to me. I also asked him to sign and date my printed spreadsheet just for cross verification of my donation.
Of course, this isn't quite the end of the story, as there is another chapter to this story once you reach tax time.
Donations to charities are only reported on your taxes when you can itemize deductions. If you commonly use the standard deduction, going through the effort to assign a value to your donation may not be a good use of your time.
Non-cash donations such as these will be reported with your other itemized deductions on Schedule A of tax form 1040
To claim a donation of property valued at $250 or more, you must have written acknowledgement from the receiving organization describing the property donated. This is why I had the Goodwill employee sign and date my spreadsheet, as well as fill out (and sign)  the receipt given by them with a general description of what I donated.
If the total of all non cash contributions in a given year exceeds $500, you must fill out section A of IRS Form 8283 as part of your tax return.
I can't see myself doing this anytime soon, but it's worth mentioning that if you ever donate a single item, or a group of similar items that has a value exceeding $5000, you'll need to fill out Section B of Form 8283 which requires a qualified appraisal of the item(s), and include them with your tax return.
As I drove across town home from dropping of my items at Goodwill, I wondered just how much my donation would save me on my taxes.  Doing a little research, charitable contributions will save you roughly 25 cents for each dollar you donate.  It does depend on what tax bracket you fall into, but it's a good guideline to start with.
Using the guideline from Goodwill, I estimated the value of my donation at $207.  Twenty-five percent of that is just under $52.  Looking ahead, we'll be doing the same closet purge for each of the four members of my family.  Doing a little rough estimating, that means that we could potentially have $828 worth of donations to Goodwill this year, with a rough savings on our taxes of $207.
Cleaning out our closets accomplishes three goals:
1.)    Declutters our home
2.)    Provides quality items to charity that can help less fortunate people
3.)    Saves us money on our total tax bill.
It did take some time to enter all the items and their estimated values into the spreadsheet.  However, the effort of cleaning out my closet and drawers, separating gently used from throw away items, and dropping the items off at Goodwill are things I was going to do anyway.
How about you readers, do you donate items to charity?  Do you claim them on your taxes or do you do what I did and just drop them off?
Image courtesy of Stuart Miles / FreeDigitalPhotos.net