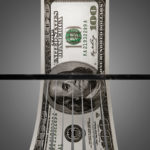 The following post is by MPFJ staff writer, Catherine Alford. Cat is a freelance personal finance writer who blogs at www.BudgetBlonde.com. 
We all have habits, both good and bad, but some of them waste a lot more money than others. I'm sure some bad money-habits that immediately come to mind are a smoking habit or a bad drinking habit, for example, but those are kind of obvious.
My challenge to you is to think on a smaller scale. What about all those tiny, seemingly innocuous habits that can add up over the course of the year?
You might not even notice you're doing them or realize how much they cost you over time, but here are 5 examples below that I've been guilty of in the past and perhaps you are too?
Never Packing a Lunch
As someone who is not a morning person, I completely respect and understand that it's hard to squeeze in packing a lunch with your hectic morning routine.
This is a costly habit, though, because buying lunch every day really adds up. Even if you manage to get your lunch for $5, which is pretty rare unless you have an amazing food truck that stops by your work, you'll still spend $100 a month on food. I can think of about a million other things that I'd rather use $100 for.
For some people, it's really worth the convenience but for others it's definitely not worth a budget bust. If you love to leave your office in the middle of the day, remember that you can drive to a park and eat your sandwich or run an errand and still get the same effect.
Giving into Cravings
Even though I am 8 months pregnant right now, I still haven't given into every single craving I've had. I've noticed that just like anything else, you can get past them.
I admit some of my cravings have been pretty serious and have almost brought me to tears, like the time I really wanted a cheeseburger and nothing anyone could say could get me past it. Other times they aren't as bad, and I can typically think about something else or keep busy and it passes. This has contributed to having a pretty healthy pregnancy with minimal weight gain (despite carrying twins) and it's also helped me to stay within my budget.
So, if I can do it, I know you can do it! I know that a pile of fries sounds amazing right now, but if you can just get past the craving and think about something else, I promise they do go away.
Letting Your Car Run Low on Gas
When you let your car get really low on gas, you turn it into somewhat of an emergency situation. Instead of being able to stop at the station near your house that always has the cheapest gas, you have to pull over quickly at the next exit and find the closest one. If you have this habit and do this enough times, you can definitely waste some serious cash.
While one or two cents on the gallon doesn't seem like a lot, it does add up over the course of the year. Essentially, when you leave out the ability to plan your day and have to rush around, you lose the option of shopping around for the best price. This is true in many other situations from groceries to appliances to clothing. Don't wait until something breaks or is on its last leg before checking out prices.
Forgetting Your Shopper Card
There are some stores that will allow the cashiers to swipe their shopper's card for you, but when that happens you miss out on possible gas mileage points that could be applied to your own life! I've done this so many times, and it really is frustrating to miss out on the points. It's like free money that the grocery stores are giving you, so make sure that you at least have a small version on your keychain that you can use in a pinch!
Forgetting Your Grocery List at Home
I do this all the time. More specifically, I leave my grocery list in the car a lot. You think you'll remember everything you need at the store, but you won't. Inevitably there will be some important ingredient that you missed. Furthermore, you'll notice other great deals and then Doritos will be on sale and soon enough your entire cart looks like a junk food store. Or maybe that's just me?
This is one of the worst money-wasting habits since people frequent the grocery store so much. Like I said, I'm guilty of it and am trying to be better about it!
Luckily, each and every one of these five habits are quite easy to break. All it takes is a little bit of organization and being more self aware, and all of us can save some more money this year!
How about you all? Are you guilty of any of the above habits? What do you do to try to break them?
Share your experiences by commenting below! 
***Photo courtesy of http://www.flickr.com/photos/76657755@N04/7214600922/sizes/l/