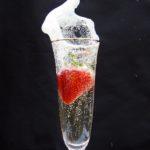 The following post is by MPFJ staff writer, Catherine Alford. Cat is a freelance personal finance writer who blogs at www.BudgetBlonde.com. 
Despite the fact that I write about saving money and frugality all across the web, I do have just a touch of champagne taste. Basically, if I walked in a room with a bunch of purses or shoes or clothes, I would inadvertently always pick up the most expensive one.
This "skill" doesn't always translate to budget friendliness and so over time I've had to find a system of sticking to a budget while still incorporating some of the pretty, champagne-y things that I come across in my life.
1. Save for Special Moments
I think one place where people get into money trouble is when they treat themselves whenever they want. They might walk through the mall after a hard day and buy a little pick me up. They might get a promotion and say, "I deserve this," as they pick up a new bracelet.
Now, don't get me wrong. There are those special moments where it's definitely nice to give yourself a prize and to you, a promotion might be one of those things. To me, I really try to stick to birthdays and Christmas. Oh, and Mother's Day now too. J Those are the occasions where I feel like it's okay to get something nice or splurge.
Women are always talking about getting "just because" gifts from their husbands (or wanting to get just because gifts) and while those are nice, I'd much rather my husband save up all those "just becauses" for something nice at Christmas.
The truth is, when you constantly tell yourself no and deny yourself those impulse buys, it makes a birthday gift or a Christmas gift so much more special and worth it.
2. Look for Great Sales
Ever major designer has sample sales and online sales. You can also find great deals at consignment stores in nice areas. I just moved 40 minutes outside of Manhattan, and there are a lot of wealthy people in the area. Just the cars that drive around are enough to make my head turn, so it's no surprise that the "consignment" stores here feature some of the most expensive designers and brands around, some that I've never seen in person before.
While the consignment prices are still out of my price range, it would be great for someone who works in a big Manhattan office and wants to wear certain things without paying the high prices.
I find most of my deals in "surprise" or "last minute" sales online. One of my favorite brands is Kate Spade, and I get things from there from time to time at factory outlet stores or online. It's just such a bright and happy company, and I enjoy the things they make. I just can't buy them whenever I want!
3. Eat Out Just Once
My husband's love of food is probably akin to my love of Kate Spade. He's such a foodie and really has a blast searching out new and interesting restaurants and other food experiences. He and I have discussed it many times, and we'd rather have one nice meal out every month instead of grabbing take out several times.
Now, this has been hard for us lately because we're so exhausted taking care of two newborn babies. Take out has really been our friend. However, over time, once we get comfortable having people watch the babies, we're going to go on one date night a month to a nice restaurant. Just think, one $100 meal equals getting takeout 4-5x in one month, which isn't uncommon in my house. Whether it's Chinese food or a quick pizza, we're often making those orders at 8pm after realizing we're both starving and have no energy to cook!
4. Fewer, Quality Pieces
The last way I combat my champagne taste is to commit to a few, quality pieces and leave it at that. So, if I'm going to buy a purse, I'm more likely to buy a brown one than a lime green one. Sure, the lime green one would look great with one outfit in the summertime, but the brown one would last me for years and would work all year round. The same goes for clothes. One high quality black dress would work for many occasions, from work to night whereas a flowery sundress might only be appropriate for spring.
Basically, once I got in the mindset that it was okay to spend some money on clothing as long as the style was timeless and the quality was good, I had way less clutter in my closet and clothes that lasted much, much longer.
All in all, it's definitely possible for a frugal person to have champagne taste as long as you keep it in check. It only becomes a problem when you completely disregard your budget and treat yourself constantly. However, if you save up for special moments and buy only a few items, you can enjoy your champagne taste all year long.
How about you all? Do you have champagne taste too? How do you balance it in keeping up with healthy finances?
Share your experiences by commenting below! 
***Photo courtesy of http://upload.wikimedia.org/wikipedia/commons/2/20/Strawberry_and_champagne.jpg