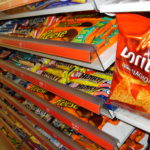 The following post is by MPFJ staff writer, Chonce. You can read more articles by Chonce over at her personal blog, My Debt Epiphany. Enjoy! 
According to a Gallup poll, the average American spends $151 per week on groceries and 1 in 10 Americans admitted to spending $300 or more per week.
That sounds like a ton of money to spend on food alone, but if you have a standard family size of 3-4 people, you might find lowering your grocery spending to be quite the challenge.
Next year everyone will be setting New Year's resolutions and one of your goals may be to lower some of your expenses.
My family of 3 have been eating well by only spending $300 per month on groceries and I know that anyone can meet their goal of lowering their grocery spending by doing using some of the strategies I implement every month.
Use Coupon and Discount Apps
One of the best things you can do before a shopping trip is scope out the deals and see if you can use any valid coupons to lower the cost of your final bills. It sounds great and all, but who has time to do that?
If you're getting off work on a Friday afternoon and you just want to get your shopping over and done with, you probably aren't going to want to go through the effort of hunting down your newspaper circular and making things off and clipping coupons.
To simplify this rigorous process, I use mobile apps to do all the hard work for me so I can still reap the benefits. Favado is an app that compares prices across local stores in order to find the best sale/discount for you. Flipp is another app that collects circulars from local stores so you can compare sales and it allows you to clip coupons digitally as well.
Limit Your Trips to the Store
Another way I save money at the grocery store is simply by shopping less. We shop once every two weeks and I love the fact that I don't have to be in the grocery store every weekend.
I never go shopping without a detailed list, so I know exactly what we need and how many meals we need to prepare in order to avoid going to the store every week.
The less you shop, the less likely you'll see things you want to purchase so this helps my family and I eliminate temptations to make impulse buys.
Price Matching
If you haven't tried price matching, you could be missing out on a ton of savings. Shop at stores that have price matching policies where they promise to provide you with the best deal in town.
At stores that offer price matching, you can bring in an ad from a competitor that is offering a discount on a specific item and that store will need to match their price which can save you money on the spot.
My friend price matches all the time for groceries and loves it. When she moved 25 minutes away from her hometown for college, she started bringing ads from her favorite grocery store that offered a 10-cent produce sale every month to the Walmart in her new town and they honored the prices on the flyer.
With price matching, it's important to check the store's policy and see what they accept. For example, some stores will only price match ads from competitors with a 30-mile radius so you can't compare a local deal in California if you live in Colorado.
However, if you keep your eyes out for ads with savings and become familiar with your favorite store's price matching policy, you should be able to price match some of your food items and save a decent amount of money as a result.
Utilize Your Crock Pot to Cook Meals in Bulk
Purchasing a crock pot/ slow cooker was one of the best decisions I could have made to lower my grocery spending. Grocery shopping can be stressful and hectic especially if you are trying to eat a large majority of your meals at home.
To stretch our low grocery budget, I prepare filling and affordable meals in our slow cooker all the time. I make a lot of stews, soups, pasta dishes and more. Our favorite slow cooker meals right now include beef stew, chicken tortilla soup, and rice and beans.
The ingredients for each of these meals cost less than $10 and makes enough for us to eat for 2-3 nights so it averages out to around $3-5 per family meal. You can't get that deal at a restaurant!
With your homemade meals, try to focus on the price per portion if you're trying to spend less on groceries and consider using a slow cooker to help keep costs low.
Buy In-Season Fresh Produce
I'm all about eating healthy, but I'm not interested in buying a $7 bag of grapes or cherries during the offseason. This is why we stick to seasonable fresh produce in order to save money.
You might notice that berries go on sale in the summer then get expensive in the fall and winter. Plus they taste pretty bad during the offseason too.
I always shop for fresh in-season produce because it's always on sale so I can get more bang for my buck.
Also, shopping fresh is usually cheaper too seeing as how processed foods can get pretty costly. Even buying fruits and veggies that are pre-cut can add an extra few dollars to the total price.
How about you all? Do you do any of these things to lower your grocery budget every month?
Share your experiences by commenting below! 
***Photo courtesy of https://www.flickr.com/photos/andrefariagomes/4088061570/in/