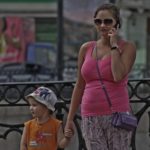 The following post is by MPFJ staff writer, Laurie Blank.  Laurie is a wife, mother to 4 and homesteader who blogs about personal finance, self-sufficiency and life in general over at The Frugal Farmer. Part witty, part introspective and part silly, her goal in blogging is to help others find their way to financial freedom and to a simpler, more peaceful life.
When I was a kid we were always struggling for money. I remember my parents having "discussions" about money and how to work things out so the bills got paid. When I was 11, my parents divorced and what was "financially struggling" turned into "dirt poor" as my dad's income now was shared between two families.
Dad faithfully paid his child support obligations, which covered the $250 house payment and gave us an extra $50 to live on. To say that things were tight was an understatement. There were many times when we had bare cupboards and threats from the power company to turn the heat off in the dead of winter if the bill wasn't paid. I remember my mom calling and begging my grandma to borrow her the money to pay the heat bill. I remember not being able to afford new clothes. We shopped at thrift stores and only bought what we absolutely needed. I remember wearing $2 canvas tennis shoes while all the other kids were wearing Nikes and Converse.
Today my mom is retired and financially comfortable. Not rich, but comfortable. How did she turn things around for herself and her family? Here are five things she did to get free from being dirt poor and to create some financial stability for herself.
She Taught Herself Valuable Skills
When my parents divorced, mom didn't have her driver's license and had no valuable skills for obtaining a job. When she went down to the welfare office to apply for financial support, she saw that they had opportunities for job training and took full advantage of them. She went to classes on how to interview. She bought an old used typewriter at a neighborhood garage sale and brushed up on the skills she'd learned in typing class in tenth grade, even though she hadn't touched a typewriter in over fifteen years.  She did what she needed to do to make herself marketable to the workplace.
She Learned to Live Within Her Means
When mom first was managing our home and family on her own, we were always short at the end of the month. There were a few months when there wasn't any food until the welfare check came in a day or two later, and credit cards weren't an option for a single woman in the 1970's. Free breakfast and lunch at school fed us kids, but mom would just go without.
Our financial situation changed when someone gave my mom a common sense piece of advice: Pay the bills first and learn to budget the rest and live within your means.
This sounds so simple but it was new information to the woman who had always let her husband manage the money. She began meticulously budgeting and made sure we always had enough to eat and live on. It wasn't fancy, but all of our needs were provided for. Mom budgets meticulously to this day.
She Made Saving a Habit
Even though my mom's income was always smaller (her max pay before retirement was $17 an hour) she always, always saved something each month. She contributed to the 401(k) plans where she worked and put a little bit in savings each month. At the time, the small amount she was putting away each month didn't seem like much, but it grew over the thirty years between her divorce and retirement and she's still living on it today.
She Learned to Persevere
Mom went through LOTS of tough times in her life after the divorce. She suffered for years from clinical depression. It takes her awhile to learn new skills, so there were many jobs that fired her due to her lack of ability. But no matter what obstacles came her way, mom got up, brushed herself off and moved on. She did her best not to allow failure or discouragement keep her from achieving.
She Redefined "Comfortable"
My mom's life now is not comfortable by many people's standards, but she has her priorities in order so that her minimal income (about $750 a month via social security and a smaller sized investment fund) is managed in a way that makes sure the bills are paid but allows for some fun too. Mom's "fun" these days includes her weekly bowling session with her husband, her brother and sister-in-law. They take advantage of the senior bowling rates and then her and her husband (they have totally separate finances and split all of the bills) split a meal at a local restaurant. She gives herself sixty dollars a week to cover gasoline and other incidentals, entertainment and clothing costs, and gift purchases for birthdays and Christmas. She rarely spends all sixty each week, putting the leftovers in an envelope so that when more expensive weeks come she has the cash to cover them. She doesn't take vacations or live in a fancy house. She has the same bedroom set and coffee tables she's had for thirty years.
Comfortable to my mom means she's able to stay retired and spend her free time with family and friends. She doesn't at all feel like she's missing out because of her tight budget. Instead, she's grateful for all that she has and is happy to have a warm home and loved ones to share her time with.
Mom isn't wealthy by any stretch of the imagination, but she has all that she needs and a little bit more, and that is perfectly enough for her. She's learned to look at the positive in life and be grateful for all that she has, and that kind of attitude makes life a whole lot more comfortable, regardless of one's money situation.
How about you all? Have you ever struggled financially? What did you do to overcome?
Share your experiences by commenting below! 
***Photo courtesy of https://www.flickr.com/photos/ktoine/7976828799/in/