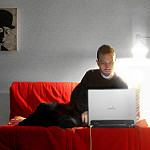 The following post is by MPFJ staff writer, Chonce. You can read more articles by Chonce over at her personal blog, My Debt Epiphany. Enjoy! 
How many streams of income do you have? When my husband got laid off early last year, we realized that one stream of income just won't cut it anymore.
Diversifying your income can provide you with more financial security which is why it's a great idea to set goals to create additional streams of income this year.
Why You Need More Income Streams
Most millionaires have an average of 7 different streams of income. Whether you're trying to be a millionaire or not, you can probably agree that the more income you have coming in from various different sources, the more financially secure you'll be.
When my husband got laid off, he lost his entire income in one fatal swoop. Luckily, I was working at the time and freelancing on the side with more than 10+ different clients. It was safe to say that by me having multiple streams of income, it really helped up get through that rough patch.
Income diversification can not only help you feel more stable, it can also allow you to meet your other financial goals quicker and allow you to earn more money over time as well.
Here are a few ways to diversify your income this year.
Start Freelancing
If you can provide a service to others on the side of your full-time job, it can be a great way to create an additional stream of income. There are so many different ways to freelance whether you like to write, edit, design graphics, take photos, do customer service or data entry work and so on.
The best part about freelancing is that you can choose your own clients to work with and set your own rates and hours. You don't have to work an extra 30 hours per week if you don't want to or know you won't have the energy. Once you build your network and start finding clients, you can maintain as little or as much work as you want.
If you want to perform the tasks you do at your day job on the side for others as well, that's an option as long as your employer is okay with it. For example, if you work at a daycare and want to offer some of the parents babysitting services on weekends, as long as your employer is fine with it, you can earn some extra money that way.
I used to take my son to a child care center that allowed that and parents like me were relieved since the center was closed during evenings and weekends.
Back when I worked at a web design firm, I used to think about how much the graphic designers and programmers I worked with could have earned if they did a few freelance projects on the side.
A graphic designer can easily earn an extra $1,000 per month by taking on only 1-2 extra projects on the side.
Sell a Product
Want to sell a product your created or a product on the market that you believe in? Consider this semi-passive way to diversify your income.
If you like to create handmade products and goods, consider setting up an Etsy shop and selling your items online. You can also design t-shirts to sell, create an e-book, flip used items for profit by selling them on sites like Amazon and Ebay.
I knew a blogger who wanted to pay off her student loans so bad that she started buying gently used designer clothing at thrift stores for cheap then selling them online for a profit.
As another option, you can sell products through a direct sales company so you can earn commission from each sale. Companies like Avon, Stella and Dot, Beach Body and Premier Designs, are all great options but there are tons of direct sales companies out there depending on what you're interested in.
You can show your product catalogs to family, friends, and coworkers and make extra money that way.
Invest
Investing is a great way to diversify your income by creating passive income streams. You can invest in the stock market or in peer-to-peer lending.
You can also invest in real estate. Crowdfunded real estate will allow you to share the costs of investing in commercial and residential properties if you don't want to purchase a property entirely on your own.
However, if you do purchase a small home or condo, you can earn money each month by renting it out and allow your tenants to pay off the mortgage for you.
Start Brainstorming With This Master List of 20+ Ideas
As you can see, there are quite a few options for diversifying your income this year. Below, I've compiled a list of specific ways that you can create additional streams of income. With these ideas, you shouldn't even consider having one job or a single income stream a possibility anymore.
Babysit
Offer a cleaning service
Buy a rental property
Drive for Uber or Lyft
Rent out your car when you're not using it with Turo
Rent out your home or a property with Airbnb
Write an ebook that helps a specific target audience solve a problem
Start a blog and monetize it
Sell your crafts and creations on Etsy
Design T-shirts via Tee Spring to sell online
Become a freelance writer
Become a virtual assistant
Become a freelance photographer
Sell your images to stock photo websites
Sell clothes or books online
Tutor students online or in your community
Invest in the stock market by building a dividend portfolio
Flip a house
Become a peer lender
Buy website domain names then resell them online
Host direct sales parties
How about you all? How will you create additional streams of income this year?
Share your experiences by commenting below!
****Photo courtesy https://www.flickr.com/photos/striatic/101594790/