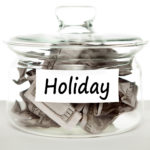 The following post is by MPFJ staff writer, Chonce. You can read more articles by Chonce over at her personal blog, My Debt Epiphany. Enjoy! 
The holiday season is winding down. While the holiday time is an exciting time to relax and spend time with family, it can also be quite stressful on your finances due to all the costs associated with the holidays.
Many people spend hundreds or even thousands of dollars on purchasing holiday gifts, decorations, hosting and attending parties and events, and so on.
Nothing stings more than getting into debt this time of year. One thing you can do to avoid spending more than you earn over the next few weeks is to find ways to earn more money to cover the increased expenses over the past few months.
Here are 5 ways to earn extra money fast to either prepare for or recover from the holiday season.
Get a Seasonal Job
Earning extra money through a seasonal job is a good idea if you are worried about stretching your budget for the holidays.
Seasonal jobs tend to provide a consistent income (even though it's temporary) because business usually picks up during the fall and holiday seasons.
Many businesses like Amazon.com will be looking for online customer service reps this holiday season to assist shoppers and answer questions about purchases, shipping inquiries, and more.
This positions with Amazon range from $12 – $15 per hour on average and can last up to 6 months or longer if you leave a lasting impression and they need to take on a regular employee.
You can also try working as a seasonal associate at busy stores like Target, Walmart, K-Mart etc. Or, try getting holiday-themed gigs like doing photography at the mall or decorating store fronts.
Test Websites
If you're looking to earn some extra money from home, you can test out websites during your spare time and offer your honest feedback.
UserTesting is a popular website that pays people to review other websites and blogs.
Testers get paid $10 for each 20-minute review and they just answer simple questions and record their first impressions and experience navigating through the website.
It's not a ton of money, but it will add up once all those unexpected holiday expenses start trickling in.
Sell Items Online
If you're buying new gifts for people in your family, it's the perfect time to clean out your home by selling items you no longer use.
You can sell items online via Amazon, Ebay, or Craigslist, or you can sell them directly to buy-back consignment shops.
If you have old clothes, movies, furniture, children's toys etc. there are many small stores that may buy them back from you if they are in good condition. Plato's Closet, Once Upon a Child, Clothes Mentor, and Disc Replay are all national chains and there are plenty other options depending on where you live.
If you don't have many consignment shops in your area, stick to selling your items online for better results.
Become an Uber or Lyft Driver
My husband recently started driving for Uber and he loves it. His car is older (a 2006 I believe) and we live in the suburbs but he still gets a decent amount of trips and his side income is currently helping him be able to afford holiday expenses this year.
Uber also pays drivers every week, so if you get started now, you can get paid a few times before Christmas.
One of my friends recently quit a job he didn't like to drive for Uber and Lyft. Lyft drivers also get paid weekly and Lyft allows drivers to receive tips. According to Lyft, around 60% of passengers tip.
No matter which rideshare option you choose, you can enjoy flexible work and drive to earn money whenever it's convenient for you.
Babysit
If you have friends, family, and neighbors who may be busier over these next few weeks, consider offering to babysit for them. Couples love date nights and since daycares aren't open in the evening, you can market your services better around that time.
Making a profile on Care.com or Sittercity.com will also help you land clients.
If you can't or don't want to watch kids, consider babysitting pets by walking dogs or keeping an eye on them when their owners are out of town.
You can advertise your services in your neighborhood and I always recommend Rover.com which is a site that connects pet sitters and dog walkers with owners who are in need of the service.
If you need extra money to recover from the holidays, you can earn money quickly by trying any of these ideas.
The key is to get started so you know how much you need to earn.
How about you all? How are you earning extra money to recover from the holidays?
Share your experiences by commenting below! 
***Photo courtesy of https://www.flickr.com/photos/76657755@N04/7027602839/in/