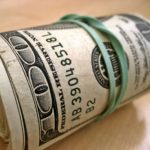 The following post comes from DJ over at My Money Design, a blog that is completely dedicated to the idea of living a better life through finding financial freedom. You can also check out DJ at his new website, 1,000 Ways to Save. Enjoy!
If you're looking for something truly powerful to do differently with your money this year, and you really want to ramp up your savings, then look no further than your 401(k) (or whatever tax-deferred savings plan you use)
Follow this simple advice: Max it out!
I'm serious.  Though it won't necessarily be easy, by maxing out your savings, you could be pocketing an extra $4,500 this year.  ($9,000 if you're married).
Here's how it all works.
How Tax-Avoidance Saves You More
One of the things that is hard for people to really wrap their heads around is the idea of just how much money they are actually saving by using a tax-deferred retirement account such as a 401(k).
When taken to the extremes, the results are phenomenal! Let me illustrate.
The classic way to save money is to simply do the following:
Earn money.
Pay taxes.
Get a paycheck for whatever is left over.
Save some percentage of that paycheck.
Let's say for simplicity that your gross (before taxes) bi-weekly pay is $3,000.  This means that:
Earn money: $3,000 gross
Pay taxes: If you're in the 25% tax bracket, then roughly $750 of your money goes to the tax man.
Get a paycheck for whatever is left over: $3,000 – $750 = $2,250
Save some percentage of that paycheck: Let's say you save 10%. That means that $2,250 x 10% = $225 goes into your after-tax account.  This leaves you with $2,250 – $225 = $2,025 to do with as you please for your normal, everyday living expenses.
Good effort!  But you're missing out on an opportunity; a 33% more savings opportunity to be exact!
How so?
Follow the same math but use a 401(k) plan this time.  Here's how it's different:
Earn money: $3,000 gross
Save some percentage of those earnings. THIS TIME, because of how a 401(k) works, we get to save our 10% up-front!  Now, instead of saving $225, our same 10% savings works out to $3,000 x 10% = $300!
Pay taxes: With only $3,000 – $300 = $2,700 leftover, now your 25% taxes drops down to $675.
Get a paycheck for whatever is left over. Look at that!  Your net paycheck works out to $2,700 – $675 = $2,025 just as it did in the first example.
Do you see how that works?  You net the SAME amount of spending money in the end, but your savings went way up!
By how much? 
($300 – $225) / $225 = 33% more!
How is that possible? 
It's simple.  You paid yourself instead of the tax-man.  By taking full advantage of a tax-deferred savings account, for every dollar you save, you're NOT sending off 25 cents of it to the IRS.  You're hanging on to it; keeping the full dollar for yourself.
Though that may not sound like a big accomplishment, when you really take advantage of this opportunity to the fullest extent, its true potential is revealed.
The IRS will allow you to save all the way up to $18,000 this year in your 401(k).  Using the same numbers as before, that could end up being a total of $4,500 MORE that you save for yourself (instead of handing over to the government).  If both you and your spouse do the same thing, then it doubles to $9,000 more for the two you!  That's an incredible amount of savings!
How do I get there?
First off: I completely understand that deferring $18,000 into your 401(k) is not something that is going to happen over-night.  For most people it's a struggle, and it certainly was for us.
However, once you recognize how powerful this savings tool is, it can become like a deal that is too good to pass up.  Over time, you'll want to make every attempt imaginable to save money where you can so that you can take advantage of this opportunity more and more.
More Ways to Squeeze More Out of Your Savings
As if taking full advantage of your 401(k) and getting 33% more savings wasn't cool enough, you should also know that tax-avoidance doesn't have to stop there.  There are plenty of other tricks at your disposal to use as well.
IRA's.  IRA's are great because they are like a 401(k) but you have a lot more control over where the money gets invested and how you handle it.  No matter whether you prefer a traditional or a Roth, make every effort available to try to max out these accounts as well.
Even if all you qualify for is a non-deductible traditional IRA, remember that you can always convert it over to a Roth at a later time.  Then you'll enjoy tax-free spending on the back end!
Employer Contributions.  Does your employer contribute money to your 401(k)?  If so, that's ALSO tax-deferred money that you get to keep!  Find out from your HR exactly what the rules are and do whatever you have to in order to max this out.  If not, you're leaving free money on the table!
FSA's.  If your employer offers a flexible spending account (FSA) for dependent care or health care expenses, this is another golden opportunity for you to save hundreds of dollars in the process.  FSA's allow you to save a portion of your gross income for special needs before the taxes are taken out.   Here's an article from the IRS about how they work.
For years, my wife and I would contribute the IRS maximum of $5,000 into our FSA .  That money would simply be turned around and used to pay off our daycare expenses.  But like the example above with the 401(k), had we NOT used the FSA, then after taxes that $5,000 would have really only been $3,750.  The FSA effectively gave us an extra $1,250 to use on our kids.
Now that the kids are older, we still use the FSA for our health care needs.  Though the IRS maximum is lower, we still end up getting hundreds of extra dollars to use on our medical bills that would have normally went away to the IRS.
529 Savings.  If you've got kids and would like to set money aside for them to use for college, then a 529 savings plan is one of the better ways to go.  A 529 savings is similar to a IRA, but instead of the end goal being retirement, you use the money to help pay for higher education needs like tuition, room and board, etc.  You can see what kind of 529 plans are available in your state with this website here.
We've been contributing a very small amount of money to our children's 529 funds for years.  Every year when I receive our statements, I'm amazed by how much the money has grown up to in just a few short years.  Thank you compounding returns!
Readers – What are some of the ways that you take full advantage of tax-deferred savings?
***Photo courtesy of https://www.flickr.com/photos/68751915@N05/6355261479/in/