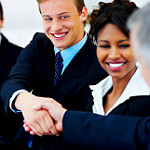 The following post is by MPFJ staff writer, Marie. You can read more of Marie's articles over at her own blog, Family Money Values. Enjoy! 
Getting along and getting ahead in the office involve age old problems.  Here are some problems with ideas on solutions.
Inability to focus is causing you to be less productive.
You head into the office each day refreshed and ready, but once you get logged in to your applications, the next thing you know it's lunch time and you haven't accomplished anything!
Hack: Downsize distractions and focus on priorities.
You can't control your office environment, but you can change its effect on you.  If the guy in the next cube has a constant stream of visitors, talks to himself out loud, plays loud music or just otherwise distracts you – put on your headphones (they will discourage visitors from approaching and can block the noise).  Reduce clutter in your area so that you aren't distracted by it.  If you are in a high traffic area, see if the company will put up some noise and sight protection in the form of higher cube walls, signs or other preventative measures.
Focus on priorities by writing down the very most important things that you accomplish each day, and listing tomorrow's priority tasks.  Check in once in a while with the boss or project leader to make sure you are on track.  Avoid diverting phone calls, emails, text messages, and non-essential or less important project tasks so that you have laser like focus on the priority items.  BUT, if you get stuck working on priority items, it is OK to switch off temporarily to work other items – as long as you get back on track fast.
You feel invisible to the boss.
A boss or mentor higher in the corporate chain of command is an important ally when trying to advance your career.  He or she can steer special projects to you, make you known to other executives, put you in for a raise or bonus, push your ideas, save you from a general layoff, or help in a myriad of other ways.
Hack:  Go face to face
Electronic or phone communication is fine, but your boss is inundated with it day in, day out.  Get to know the boss by going face to face on select topics.  You won't be invisible long – but take care to be visible in a positive way!
Here are some ways to to meet person to person with your boss.
If he assigned a task or deliverable to you and you finish it successfully, try hand delivering it with a very short verbal reminder of what it is and when it was requested.
If your boss does an annual evaluation, request a touch base meeting once a quarter or twice a year to 'verify that I'm on track' with what is needed.
Ask around to see what your boss's outside interests are, and if you have similar ones, strike up a conversation in the lunch line, bathroom or break-room about the topic.
Volunteer for special projects or activities in which your boss is also involved.   Working directly together on a project will allow you to directly demonstrate your ability, creativity and productivity.
If your boss is not at the same location as you are, try using the phone, video calls or attempting to schedule a visit to his or her location for a special meeting on something important to the boss.
Your work performance suffers due to co-worker or staff member office socialization.
Yes, you are part of a group.  Yes, the group is important.  Some socialization is good for the group and good for productivity, but too much is just a waste of time.  Creativity can be spawned by some group socialization, but so can negative, hurtful gossip that distracts you from the job at hand.   If your good friend in the next department makes a habit of stopping by for a chat each day, and ends up talking for half an hour, the benefit of inter-department communication is outweighed by the loss of work time from both of you.
Hack: Turn the talk back to work subjects.
Don't be a jerk, do visit for a few minutes, but then gently turn the talk back to what is going on with the project, or a new idea you had to make things better, or a discussion of how to go about the next steps you both need to take.  Don't get me wrong, managers can gain a lot of good perspective by being open to informal communication with their staff and peers, but perspective on who will take the Superbowl may not be all that beneficial.
Use off hours (such as breaks, lunch and after work time) to really socialize with co-workers.
Meetings suck your office time, then you have to stay late to get your actual work done.
As a manager, I attended and ran a lot of meetings.  There were very good reasons to hold many of the meetings, but often the purpose was not realized.  Sometimes (actually many times) the meeting participants are unprepared to fully participate in what could be a great meeting. Sometimes the meeting organizer isn't aware of other work that should be happening in the meeting time frame.  Meetings don't equal work done (usually), but can be beneficial in some cases.
Hack:  Make your meetings meaningful.
When you attend a meeting:
Question the meeting purpose it doesn't make sense or if a meeting is not the way to achieve that purpose, but question in private.
Make sure you should be attending – are you an interested party, can you contribute? Check in with the meeting organizer or your boss if you are unsure why you are attending and then:
Participate fully.
As the meeting organizer:
Make sure you have a purpose.
Consider carefully whether a meeting is the very best way to achieve that purpose.
Verify that each and every meeting participant is required.
Hold the meeting for the shortest possible time, with the tightest possible agenda.
Lead efficiently.
If you hold a lot of meetings, get training on how to lead effective ones and how to accomplish things without meetings.
Any meeting where the leader talks and everyone else sits around fidgeting is a failure!
Work sucks but you don't feel like you can do anything to change the way things are.
When we lack seniority, we often don't feel empowered to put our own imprint on our work place.  If we try, sometimes we are told "This is the way we do it – it's always been done this way".  Yet you do know of a better way – or at least think you do.
Hack: Figure out how your company solicits or allows input. 
Most companies have implemented multiple ways for employee ideas to trickle up to higher levels of management.  Many companies long for the great employee suggestions and go to great lengths to make sure they are heard.  You just need to figure out what those currently are.
A few methods I have seen at various employers include:
Company wiki's with sections for various parts of the company – where anyone can post an idea.
Ongoing braintrust meetings – open invites for certain departments, levels or mixes of employees gather to present and discuss ideas for new products, process improvements and etc.
Awards – formal channels to submit written proposals to an award committee to review and get implemented.
Third party award systems – third parties sometimes are hired to come in and solicit money saving suggestions from the folks closest to the work.  These usually come with some pretty significant 'prizes'.
Special calls to action – a director or vice-president is on a special mission and requests ideas on how to accomplish that mission.
Company Strategic mission committees – most companies have a mission, with goals, strategies and tactics to get to them.  Ask around to find out who is eligible to work on these committees, offer up strategies and tactics or be on the projects to implement them.
Brainstorming meetings – typically held around one particular topic.
Once you understand the change procedures, explore the particular item you want to change.  Learn the history of how and why the process came to be.  What was tried before, would it fail again now?  Was your idea previously suggested?  How could it be implemented differently to be more effective?
Of course, you can always just talk it over with the boss or your other co-workers.  Building support for your change can give its chances of adoption a big boost.
The above work hacks are based on my own work experience and may not necessarily work for you.  It's always good to get the lay of the land before diving in head first on some of these things.
How about you all? What work hacks have you seen?  Are there issues in your workplace interfering with your productivity?
Share your experiences by commenting below!
***Photo courtesy https://www.flickr.com/photos/83532250@N06/7650804342/