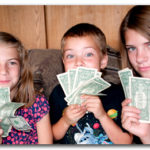 The following post is by MPFJ staff writer,Laurie Blank.  Laurie is a wife, mother to 4 and homesteader who blogs about personal finance, self-sufficiency and life in general over at The Frugal Farmer. Part witty, part introspective and part silly, her goal in blogging is to help others find their way to financial freedom and to a simpler, more peaceful life.
I'm turning fifty this year. All in all, I'm happy about fifty. Life is good and I've learned lessons that have helped us overcome a massive financial mess. But along with the many good decisions I've made, I've made my fair share of mistakes along with way – many of them financial ones. If I could go back in time and talk with my teen-aged self, here's what I'd tell her about money.
Money is Always Available…Somewhere
I always had this thought growing up that there was a set amount of money in the world and that either you had it or you didn't. I grew up believing that whether you were rich or poor was largely out of your control, and we were on the poor side. I've learned through side hustling that money is always available somewhere if you're willing to go out and find it and work for it. The want ads are bustling with opportunities for work, as are sites like Upwork and Craigslist.
The work opportunities out there may not always be pleasing to one's palette, but they are available. If I could go back and talk to my teen self, I'd tell her not to cling to her job as if it was the only one available, because there's always other opportunities to earn money for those willing to work to find them.
Mindset Affects Wealth
Since I grew up poor and was taught (inadvertently) that we were destined to be poor, my mindset was that there was no use in trying to change things. I believed this up into my mid-forties, and then I found personal finance blogs.  As I read the stories of dozens of people climbing out from under their debt, I realized that we could too.
From there my husband and I began a long process of figuring out why we were always broke, and we learned that we were self-sabotaging our money management because we'd both been under the false belief that we would always struggle for money. We were piddling away our money on small, useless things like drive-thru meals and cable TV, not realizing the impact those "little" spends were having on our bank account.
We were so lack-minded that we'd start to feel panic if we had a little bit of money in savings. It just didn't feel right. I know that sounds odd, but when you've lived with a belief long enough – no matter how wrong that belief is – anything contrary feels wrong.
We had to teach ourselves that, more than deserving "stuff", we deserved financial security.  This is what I'd tell 16-year-old me: How you view money affects how much money you'll have.
Popular Opinion Doesn't Matter
Growing up poor in the public school system is not fun. I remember being teased about my two-dollar canvas tennis shoes and thrift store jeans. These memories convinced me that "stuff" meant acceptance. When I got my first job in fast food at 15, I spent nearly every dime I made on clothes at the local County Seat (give me a shout if you're old enough to remember that store J ).
Eventually – but not soon enough – I learned that the pursuit of the approval of the Joneses is fruitless. If I could tell my teen self that, she'd be one rich woman right now.
Thinking Bigger Will Get You Bigger Results
When we were struggling for money and deep in debt, we could never think beyond making it to the next payday and hoping we'd have enough money to pay the bills. If we ended the month in the positive (which didn't happen very often) it was a good month.
Once we started to pay off our debt, save money and manage our lives differently, we learned to think bigger. Our original goal was to simply have enough money to make it through the month. Then our goal changed to paying off some of our debt. Then we wanted all of our debt gone. Our new goal is financial independence – for the purpose of helping others.
The great thing about learning to think bigger is that it allows you to take others into consideration besides yourself. We now give away more money and "stuff" than we ever have before. We're making an impact for good on others and aren't so focused on ourselves. If I could go back in time, I'd tell my teen self to expect more out of life than just making it to the next payday. I'd tell her to think BIG and allow herself to imagine a better future – one where she could journey toward success and help others in the process.
How about you all? What would you tell your teen self about money?  
***Photo courtesy of https://www.flickr.com/photos/goodncrazy/4833445750/in/