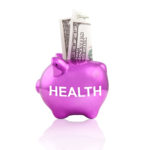 The following post is by MPFJ staff writer, Laurie Blank.  Laurie is a wife, mother to 4 and homesteader who blogs about personal finance, self-sufficiency and life in general over at The Frugal Farmer. Part witty, part introspective and part silly, her goal in blogging is to help others find their way to financial freedom and to a simpler, more peaceful life.
A health savings account – commonly called an HSA – is being touted as one of the hidden gems of wealth creation. If you're eligible for an HSA, you can use it in a number of different ways that will help grow your wealth.
Experts call the HSA a "triple tax free" investment vehicle. Here's why: First, the money can be contributed as a pre-tax investment. Second, earnings grow tax free. Third, qualified withdrawals are made tax free. Talk about a wealth builder's dream!
Here are four things you can do to get the most benefit out of your health savings account.
Know the Contribution Limits
If you know the contribution limits for the HSA you can be sure to take full advantage of its benefits. For the current tax year of 2017, HSA contribution limits are as follows:
$3,400 for a single person, $6,750 for a family
$1,000 in catch-up contributions if you are age 55 or older
Know the HSA contribution limits for you particular situation and plan your contributions so that you can max out if you want or need to.
More cool things you should know about your HSA include the fact that you can change your contribution amount at any time during the year as long as you don't go over the annual limit, and that withdrawals for qualified expenses are easy; usually done via a debit card, blank checks or via an online withdrawal.
Know What Your HSA Monies Can Be Used For
HSA funds can be used for a variety of different medical expenses, some of which may surprise you. Of course, HSA funds can be used for preventative care such as annual physicals, preventative screenings and well child checks.
However, health savings account funds can also be used for a variety of other things, such as:
Tobacco cessation programs
Weight loss programs for the obese
Alternative health care such as acupuncture and deep tissue massage, provided those methods are also approved by your high deductible health plan and recommended by your primary doctor
Health savings account funds can also be used to pay for prescription medications, as well as some little known items such as braces, contact solution, bandages, breast pump supplies, artificial teeth and Braille books and magazines.
By knowing what items can be paid for via your health savings account, you can get the maximum benefit out of the funds you deposit in it. For more info on what qualifies for HSA withdrawals, go to this government website.
Understand Post-Retirement HSA Rules
After you reach age sixty-five, HSA withdrawal rules change a bit. First you can use health savings account funds to pay for most all Medicare premiums. Second, HSA distributions taken after age sixty-five are never penalized, even if they are not used for qualified medical expenses. However, distributions taken after age sixty-five that are not used for qualified medical expenses will be taxed.
Choose Your Investment Vehicles Carefully
It's important when deciding how to invest HSA funds that you understand the risks involved with the available investment options and choose your investment vehicles carefully. Make a plan to balance risk as you choose how to invest your HSA contribution funds.
How about you all? What are your thoughts on health savings accounts? If you're eligible, do you take advantage of one?
Share your experiences by commenting below! 
***Photo courtesy of https://www.flickr.com/photos/76657755@N04/6921653338/in/