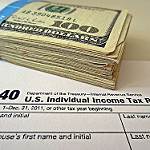 The following post is by MPFJ staff writer, Marie. You can read more of Marie's articles over at her own blog, Family Money Values. Enjoy! 
Perhaps from the moment you left home you have been struggling with all your might to become financially independent.  Maybe you worked hard, saved well then became a real estate tycoon by buying one rental home at a time until now you own multiple apartments.  Or perhaps you started a small, but very relevant web site that grew and grew until it started drawing the big bucks.  Or maybe you inherited some money from dear old Grandpa George, invested it and made it grow.
Now you have an unfamiliar problem.  Too much money, too many assets.  You don't want your kids to have to start all over again, but how do you get the wealth to them without it being decimated by taxes?
Taxes can take a big bite, especially in the US – even now that the annual US Federal estate taxes don't kick in until you have at least $5.49 million. But, some states do still charge estate taxes.  The inheritor does not pay these estate taxes, the estate of the deceased person does.
Laws can change rapidly, the US national debt is huge, revenue has to come from somewhere to pay it off.  Estate tax laws may become much less favorable in the future.  It pays to be alert to possible inroads to your hard earned money.
Back in 1996, when Mom died in the US, her estate was worth around $700,000 (which would be a bit over a million dollars in 2016).  It had to pay $80,000 ($122,375 in 2016 dollars) in estate taxes.  She and Dad worked hard for those dollars and would have been appalled if they had realized the government would get them on their deaths.
Your IRA can be a double whammy after you die.  It gets counted as part of that $5.49 million, your beneficiaries may have to take all the funds out within 5 years of your death AND the distributions get added to their taxable income, probably raising their income taxes significantly.
Canadian laws might be a bit more favorable. According to Canada Inheritance Tax Laws & Information:
"Non-registered capital assets are considered to have been sold for fair market value immediately prior to death. Any resulting capital gains are 50% taxable and added to all other income of the deceased on their final return where income tax will be calculated at the applicable personal income tax rates. They are taxed at the applicable capital gains tax rates.

The fair market value of a Registered Retirement Savings Plan (RRSP) or a Registered Retirement Income Fund (RRIF) is included in the deceased person's income and taxed at the regular applicable personal income tax rates with no special treatment for any capital gains earned within the RRSP or RRIF."
In other words, Canadians aren't taxed on the entire worth of their assets, just the capital gains.
Currently in the US, there are several ways to avoid being taxed on your hard earned dollars.  Some of them apply in Canada as well.
Make annual gifts.
In the US, each person can give cash or assets valued up to a certain amount (which changes each year to account for inflation) to as many people as they want.  A husband and wife can each give up to that amount.  In 2017, the amount is $14,000 per giver to EACH person they give to.  If a person gives over that amount in one year, it is added to a lifetime gift/estate take exclusion amount.  Anything left in the estate over the exclusion amount is subject to estate taxes on death.
In Canada, each person can give unlimited cash to as many people as they want.  There really isn't a 'gift tax' per se.
Of course, you can't read the future, so you have to balance the desire to avoid taxation with the potential for your future need for that money.  You should make sure you have enough to care for yourself before giving any away!
Instead of cash, in the US, a person can give assets, including shares in a business.  Establishing a family limited liability company (LLC) is one way to pass along highly valued real assets (such as a vacation home), over time, without too much hassle.  The vacation home is titled in the name of the LLC.  The operating agreement of the LLC is set up to designate a manager-member type arrangement so that the original owners retain control.  Then the original owners (which probably are the parents) can gift shares in the LLC to the members, and may be able to do so at a discounted price (since LLC member shares are not as liquid as cash).  This results in the possibility of gifting assets actually worth more than $14,000 in one year to one member.
This passing of interest in the LLC from original owner to members can continue over time until the majority of shares are owned by members.  This strategy gets that vacation home out of your estate and into your heirs without taxation.  This same concept can also be used for more liquid assets, if desired.
Open a Roth IRA or Tax Free Savings Account.
In the US, people can establish a Roth Individual Retirement Account (IRA) and contribute certain amounts to it (which decline by income levels).  In Canada the Tax Free Savings Account (TFSA) is a similar vehicle.
Both provide for tax free earnings and withdrawal from the account tax free.
Soon to be changed laws in the US allowed beneficiaries of an inherited ROTH IRA to keep funds in it, withdrawing over their expected lifetime, so that the funds continued to grow tax free.  Some called this concept a STRETCH IRA – because the tax free status is stretched over multiple lifetimes. In Canada, any income following death is taxed as ordinary income.
Pay for College.
Since Canadians aren't limited in the amount of cash they can give, this one really only applies in the US.
If you are wanting to pass along family wealth to the kids or grand-kids without using any part of the gift or estate tax exclusion amounts, you can directly pay for medial or college expenses.  You have to write the check out to the institution though and not to your child or grandchild to give to the institution.  It is important to note that this only applies to payment of tuition, not room or board or books, etc.
There are other, more complex ways of passing assets tax free (or tax reduced) to your heirs.  Estate planning is a complex topic and you should consult someone who knows the laws applicable to you and is familiar with your own situation before making decisions on what you should do.  This is especially true for those folks who have assets both at home and in other countries.
How about you all? Do you have other tax free ideas to pass on the family wealth?
Share your experiences by commenting below!
****Photo courtesy https://www.flickr.com/photos/68751915@N05/6757821397/