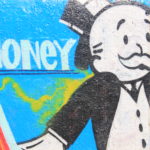 The following post is by MPFJ staff writer,Laurie Blank.  Laurie is a wife, mother to 4 and homesteader who blogs about personal finance, self-sufficiency and life in general over at The Frugal Farmer. Part witty, part introspective and part silly, her goal in blogging is to help others find their way to financial freedom and to a simpler, more peaceful life.
If you've ever read Tom Corley's Rich Habits or Thomas Stanley's The Millionaire Next Door, you probably know that there are things wealthy people never do. The rich have a habit of behaving differently than the non-rich and in learning, studying and working to emulate their habits I've learned that the results of living the way the wealthy live affect both life and finances.
Here are seven things the rich never do. If you can learn to follow their lead, I'd be willing to bet your money would grow.
Fall for Advertising Gimmicks
If you ever take the time to view commercials and advertisements with a skeptical eye, you'd find that the goal of advertisers is to make you think you cannot live a full life without their product. Product users are always smiling, usually look phenomenal and give off the illusion that they have a perfect-beyond-perfect life.
The wealthy don't fall for that lie. They have a clear understanding of what truly makes them happy and they know "stuff" isn't part of the answer.
Neglect Their Savings Account
This report shows us that the Average American saves 5.7% of their income. And you know that since that is the average, it means that many people aren't saving at all. In fact, this report shows that 62% of Americans have less than $1,000 in savings.
Adversely, the wealthy save as much as 51 percent of their income. While you might say "Well, yeah, they can afford to save that much of their income – duh!" there is another factor to their wealth and their plush savings accounts – they started saving early (usually as teenagers) and they formed a habit of putting money in savings every month – no matter what.
The study linked in the last paragraph found that one of the key factors in their willingness to save was that their parents taught them the importance of building a savings habit from an early age. Ironically, many of these young teen savers also starting investing a portion of their savings in the stock market while very young.
Stop Learning
Eighty-eight percent of wealthy people read non-fiction books every day for at least thirty minutes. They have a love for learning and then using what they've learned to reach goals that they've set. They spend very little time in front of the TV, opting instead for bettering their lives and increasing their knowledge via learning.
Make Impulse Purchases
The wealthy make it a habit to avoid impulse purchases. They think through any purchases, determining what – if any – value the purchase will truly bring to their lives before they buy.
Ignore Their Health
Seventy-six percent of the wealthy get some type of aerobic (cardiovascular) exercise such as running or biking four days a week or more. The thing about good health is that it helps you to think more clearly, and to have more energy to work toward the goals you've set.
Live Without a Plan
Seventy percent of the wealthy set at least one goal per year – and then make a plan with actionable steps that will help them reach that goal.
Act with Mediocrity
Speaking of goals, that's another thing the rich never do: they never act with mediocrity. In other words, when they choose to do something, they commit to doing it well. Go big or go home is their theory.
Successful people – whether it's being successful at growing wealth, gaining health or whatever avenue of success they choose – reach their level of success because they do things differently than those who aren't successful. If you're looking to bring more success into your life, consider doing what the successful do and dropping the habits like those mentioned above, as those habits will most certainly lead to unrealized dreams.
How about you all? What are things you are currently doing – and not doing – in order to reach your goals?
Share your experiences by commenting below! 
***Photo courtesy of https://www.flickr.com/photos/togawanderings/5899676716/in/