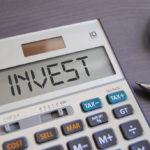 The following is a guest post. Enjoy! 
There is a common misconception that you have to have thousands and thousands of dollars to start an investment portfolio, but that couldn't be further from the truth. There are dozens of ways that you can start investing with $1,000 (or less). It's important that you start investing for your future, but if you've never gotten in the investment waters, it can be a scary jump to make. Luckily, there are several simple ways that you can put your money to use.
Betterment
If you're looking for a simple investment that you can make, without having to pour over different graphs and reports to decide which investment is the best option, then Betterment could be an excellent choice. Betterment is the better choice for anyone that is looking to set it and forget it.
With Betterment, all you have to do is create an account, set your goals, and start investing. After that, their robo-advisors will invest your money based on your risk preference and goals. They will even continue to reinvest your money as you make it, which means that all you have to do is sit back and watch your money grow. You can easily start investing with $1,000 and not have to worry about making the wrong choice for your money.
Motif
Maybe you want a little more control of how your money is invested, then Motif is another excellent option. Motif is an excellent website that allows you to purchase 30 stocks of companies that all revolve around the same idea. For example, you can buy 30 stocks in business that all deal with medical technology.
There are several advantages to Motif, but the most notable is that the trading fees are going to be drastically lower than any other brokerage that you'll find. Motif allows you to invest in the industries that you want, without having to pay the massive fees.
Pay off Debt
Most people don't see paying off debts as a form of investing, but it could be the best option for you $1,000. If you've got credit card bills or lingering student loans that have been hanging over your head, it's vital that you pay those off as quickly as possible.
The amount of money that you'll pay in interest will hinder the amount of money that you can invest. Use any extra money that you have to pay off those debts, then all the money that you save can be invested.
Save for College
If you have kids, you may not be thinking about sending them off to college yet, but that could be the perfect use for your extra dough. If you didn't know, college is expensive. Very expensive. It's important that you start saving as early as possible.
There are several ways that you can start saving for your children's college, but the best way is to open up a 529 Plan. These are special accounts that you can put the money in, but you'll get several tax advantages as long as you use the money for any college expenses.
Set it Aside for a Rainy Day
You never know when something is going to break or need replacing. If your water heater were to go out suddenly, or your car broke down, you probably wouldn't have the money that you needed to pay for that bill, but setting aside the $1,000 is a simple way that you can invest in your future. That's a great way to have a rainy day fund, which can prevent you from having to use a credit card for any sudden bills that you run into. It's not the most exciting way that you can "invest" your money, but investing in your future by having a safety net is one of the wisest things that you can do with your money.
Investing $1,000
These are only a few of the hundreds of different ways that you can put your money to work. It's vital that you make the best decision for you and your money. Investing is going to be the foundation for your future and the security of you and your family.
Take the time to look at all of your different options and decide which one is going to work best for you. It can be scary investing your money because of the horror stories, but thanks to the Internet, investing your hard-earned money has never been easier.
***Photo courtesy of https://www.flickr.com/photos/gotcredit/33502814980/sizes/l