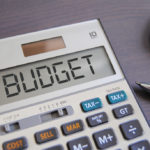 The following is a guest post by Vera. Vera is a blogger trying to lead a frugal (but not frustrating) lifestyle. For her, frugal living does not mean living a life you dread waking up to, or thinking that money controls you, when in fact, it's the other way, you control the money. You can find her at Frugal Frogs.
When it comes to the holidays, most people spend more money than they intended to. Of course, that cuts into other bills, savings or something else that you didn't intend to be affected by your holiday shopping. But you can make your holiday budget work for you with these smart ideas to stretch your budget. You may even have some money left over after the holidays have passed.
Set a Realistic Budget
The first thing that you have to do to make sure that your money stretches far enough to cover your holiday shopping is to set a realistic budget. This is something that many people have trouble with, and it is a common cause of running out of money before the holiday shopping is done.
Make a list of everyone that you have to buy for, and then take a few days to ensure that you have remembered everyone. You will probably have to add a few more names to the list. Once you do that, set a limit on how much you are going to spend for each person.
Some people will have a higher limit than others, and that's fine, but make sure that you don't regard the limit as an "about" amount but as an actual limit. Then you'll know that you won't go over your budget. If you do find the perfect gift for someone and it is a little over the limit, then make sure that you reduce the limit on someone else on your list to keep your budget the same.
Shop Online More Often
You also want to shop online more often, particularly with the site-to-store feature that many department stores are now offering. You can often find a much lower price this way and always check Amazon before you buy anything because they will often have a lower price and if you are a Prime member ($10 a month), you won't have to pay for your shipping ever.
Find and Clip Coupons
This doesn't necessarily mean scouring the local paper and physically clipping coupons. These days, with Groupon and other money-saving websites, coupons are more likely to be found online. There are apps for your phone that give you coupons, even those that check which store you are in and offer you coupons for that store as you shop, as well as member websites that give discounts on most of the well-known chain stores.
Strategize Your Travel
Saving money on travel is just as important as saving money on gift purchases and other holiday expenses. First, if you are traveling somewhere by plane for the holidays, make sure that you get your ticket far, far in advance and at as much of a discount as you can.
Even if you are not traveling any farther than around town to buy gifts, you can still strategize your travel and save money. Figure out which stores you are going to hit and then put them in order by creating a route that will take you to all of them without wasting any gas – which also allows you to spend your time wisely and avoid wasting it running all over town.
Seasonal Jobs
If you want to make your holiday budget stretch a little further a great way to do that is by getting a seasonal job. There are some great part-time gigs out there that last just throughout the holiday season like playing a mall Santa or elf, working at a gift-wrapping counter or hiring on at a store that needs extra help during the holidays. Holiday jobs are easy to find, and the employer usually doesn't care that you plan to quit after you have earned enough extra money to complete your Christmas shopping.
Use Pre-Owned Gift Cards
Believe it or not, you can get gift cards, with the full balance still on them, for pennies on the dollar. There are a few websites out there like Raise.com that allow users to buy and sell their gift cards for any price that they want, even some that hook up local buyers and sellers so that you can instantly get the gift card in your hands when you fork over the cash.
Look for Rewards When You Shop
You want to keep an eye out for rewards and always buy with earning some type of reward in mind. You don't want to go out of your way or spend more money than you would somewhere else, but try to earn credit card rewards, rewards from websites that pay you to shop and rewards from apps that offer everything from prizes to actual cash.
Buy Expensive Gifts Inexpensively
You can visit any of the multitudes of discount websites that offer anywhere from 50% to 90% off the purchase price (and in some cases, have free items that you only have to pay to ship) like Wish.com. These websites sell new items, so you aren't getting something that is used and the person that you are getting the gift for will never know that you got it at a discount.
***Photo courtesy of https://www.flickr.com/photos/gotcredit/33887741275/sizes/l