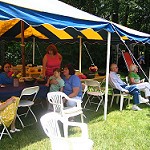 The following post is by MPFJ staff writer, Laurie Blank.  Laurie is a wife, mother to 4 and homesteader who blogs about personal finance, self-sufficiency and life in general over at The Frugal Farmer. Part witty, part introspective and part silly, her goal in blogging is to help others find their way to financial freedom and to a simpler, more peaceful life.
Summer is around the corner, which means families everywhere will be getting ready to throw high school and college graduation parties. If you're preparing to throw a graduation party and have been talking to parents of other grads, you're likely beginning to prepare to spend a LOT of money – or panicking about how a graduation party will affect your family finances.
The good news is that a great graduation party doesn't have to be super expensive. Abandon thoughts of catered dinners and expensive decorations, and consider these ideas for a fun yet affordable graduation party.
Share Your Party
If your graduate has a best friend, family member or significant other who is also graduating, consider doing a shared graduation party. Not only will you be able to split the costs with the other family, but many of your guests will probably know both graduates and will likely appreciate having to only attend one party as opposed to two.
Cut Down on Equipment Rental Costs
It can be expensive to rent party tents, chairs and tables. A cheaper idea may be to rent a local park pavilion or to hold the party at the home of a friend/family member who has a large garage where most guests can be indoors without the need for a tent. Borrowing tables and chairs from family and friends can help cut down on costs there. Since the tables will be covered with tablecloths anyway it doesn't matter much if they don't match.
Keep a Handle on the Food Budget
There are several ways you can make sure the food budget for your graduation party doesn't get out of hand.
Choose Your Party Time Carefully
Know that time of day makes a difference. If you hold your party at lunch time (between 11 a.m. and 1 p.m.) or dinner time (between 4 p.m. and 6 p.m.) people will expect a full meal. However if you hold the party during midday hours, you can get away with serving a lighter assortment of finger foods and appetizers.
Don't Do the Catering Thing
Catering is often the largest expense for graduation party holders, but it's not always a necessary expense. Choosing foods that are inexpensive and easy to prepare, and asking for help from close friends and loved ones will help you save substantially on food costs. Here are some ideas for easy-to-prepare and serve, inexpensive foods.
Go to the warehouse club for maximum savings. They have great specials on deli meat, or if you really want to save you can get pulled pork for about $2 a pound and throw some BBQ sauce on it.
Inexpensive salads. Again, the warehouse club is your friend here. They sell pastas, lettuce and other veggies at amazingly low prices and huge quantities. Look online for salad recipes that are inexpensive yet delicious.
Potato and other chips may not be an adult favorite but kids love them. Warehouse clubs and stores like Aldi sell chips for super cheap.
Fruit and vegetable trays. Instead of buying already prepared fruit and veggie trays, shop at the warehouse club or Aldi and recruit a couple of friends to help you put together a nice array of fruits and veggies along with some store bought dips.
Warehouse clubs such as Sam's Club and Costco sell delicious half and whole sheet cakes for amazingly low prices. You can usually get a whole sheet cake for under $40. If you don't want to go the cake route, have close friends and family members contribute a plate of bars or cookies and have a dessert buffet instead of cake.
Lighter fare. If you're doing a midday party you can get away with deli sandwiches cut into triangles and an assortment of veggies, fruits and chips.
Instead of serving sodas, choose to make punch with any combination of lemonade or Koolaid and add in lemon lime soda or Ginger Ale. Much cheaper, and different too. People drink soda often but rarely get to indulge in punch.
Invitations
Technology has made it very easy to do your own graduation party invitations, either on your home computer system or at a DIY photo system like the ones at Walmart. With pre-made templates to choose from, creating your own invitations will be cheap and easy.
Decorations
Decorations don't have to cost a lot of money. Consider these ideas for a beautiful but frugal graduation party.
Tablecloths
Buy tablecloths at the dollar store in your child's school colors for a colorful but inexpensive addition to your party.
Table and other Decorations
Instead of buying table centerpieces, use photos laid on tables or arranged nicely around the area, or use other items from home that reflect your child's interests and talents. Books arranged nicely with ribbons work well as decorations too.
You can also decorate using your food choices.  Check out this Pinterest board for fun but easy ideas such as Diploma Cookies and Graduation Hat Pops.
With a little creativity and work, your child's graduation party can be fun without draining your bank account.
A Word about Your Home's Appearance
If you're having your child's graduation party at home, you may feel like you've got to remodel and redecorate and have your home looking picture perfect for the party. Know that cleaning, decluttering and a few inexpensive home enhancement decisions like a fresh coat of paint and a few flowers can go a long way. No need to remodel your entire home to impress people for one day. On the other hand, if you've been meaning to remodel anyway and have the cash on hand, an upcoming graduation party can be a great excuse to finally get it done.
How about you all? What are your tips for saving money on graduation parties? Do you have any ideas for inventive graduation gifts? 
Share your experiences by commenting below!
****Photo courtesy https://www.flickr.com/photos/attercop311/3092138753/