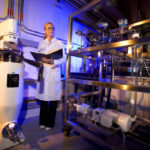 The following is a post by MPFJ staff writer, Toi Williams, who is a professional finance blogger for MarketBeat. She has backgrounds in personal finance, sales, and real estate.
For many students and graduates, the pathway to employment starts with landing the right internship. An internship is program offered by an employer to potential employees that allow interns to work either part time or full time at a company for a certain period of time. The Random House Dictionary defines an internship as:
"Any official or formal program to provide practical experience for beginners in an occupation or profession."
Internships are an essential pipeline for talent for employers and a great steppingstone for students. Many students try to do a few internships throughout college to get a feel for what career they'd like to pursue. Internships are most popular with undergraduates or graduate students who work between one to four months.
Internships allow you to experiment with a career that interests you. Most American internships are work experience internships. There are also research internships, which are more common in scientific fields. Some internships offer college credit for the successful completion of the program.
Internships can be paid or unpaid. Paid internships for college students are less common than unpaid internships. Unpaid internships are usually subject to stringent labor guidelines. U.S. federal law mandates that unpaid interns must not be used to displace the work done by paid employees or benefit the company economically. Some states have additional laws that govern the activities of unpaid interns.
Just about any internship program would be a good entry on your resume, a great way to gain references, and help you with networking. You're not bound to work for your employer after the internship is over. However, a survey by the National Association of Colleges and Employers that polled U.S. employers with interns found nearly 7 out of 10 internships result in a full time job offer after successful completion of the program.
If you're hoping to change geographic location for your internship, there are some things to keep in mind. The first is where you will live during your time with the company. Some internship programs offer housing to students or include a stipend for housing and expenses. Others have developed some financially accessible options so their interns can focus on doing the job rather than worrying about their housing. Make sure you know where you will be living before you make your choice.
Today, employers are being a lot more specific about the skills they need from their interns. These days, interns at some of America's most popular companies are responsible for a wide range of high level projects. Many companies use their internships as trial runs for potential hires or future promotions. Law firms and investment banks have operated like this decades.
According to a new report by jobs site Glassdoor, the 25 best-paying companies for internships generally pay their interns a median of more than $4,500 a month. Those companies are all generally pay their workforces well above average wages. The intern programs at Facebook, Google, and many of the other Silicon Valley companies on the list are notoriously competitive and challenging, somewhat justifying the higher pay.
Topping Glassdoor's list is Facebook, with a median pay for interns at $8,000 a month. Microsoft was next, with a median pay of $7,100 a month. The rest of the list is as follows:
• ExxonMobil ($6,507)
• Salesforce ($6,450)
• Amazon ($6,400)
• Apple ($6,400)
• Bloomberg LP ($6,400)
• Yelp ($6,400)
• Yahoo ($6,080)
• VMWare ($6,080)
• Google ($6,000)
• NVIDIA ($5,770)
• Intuit ($5,440)
• Juniper Networks ($5,440)
• Workday ($5,440)
• BlackRock ($5,400)
• Adobe ($5,120)
• MathWorks ($5,120)
• Qualcomm ($5,040)
• Capital One ($5,000)
• Chevron ($5,000)
• Accenture ($4,960)
• Deutsche Bank ($4,640)
• AIG ($4,616)
• Bank Of America ($4,570)
While New York, Chicago, Los Angeles, and San Francisco are the primary metropolitan areas for internships in the U.S., there are plenty of other locations that offer great unpaid and paid internships for college students. There are hundreds of thousands of internship opportunities available with employers across the country. You can focus your internship search by where you live, by your college major, or by specific company.
There are many avenues available for securing an internship. Internships.com calls itself the largest internship marketplace online, listing "202,897 internship positions from 123,218 companies located in 9,152 cities across all 50 states." Another resource is Indeed.com, which lets you search for internships in your local area or any other US location you are interested in. WayUp is advertised as "the #1 place for college students & recent grads to get hired and launch their careers," listing both available jobs and internships for companies across the nation.
Burning Glass Technologies, a research company that collects employer postings for internships, has released a list of the top 20 fields for internships by number of online postings. Those fields are:
1. Business Operations
2. Marketing
3. Engineering
4. Sales and Business Development
5. Media, Communications, and Public Relations
6. Data Analytics
7. Finance
8. IT Development
9. Arts and Design
10. Project and Program Management
11. Human Resources
12. Science and Environment
13. Health Care
14. Educations and Human Services
15. Database Administration
16. IT Support
17. Economics And Policy
18. Legal
19. Retail
20. Event Planning
Securing an internship will provide you with a wide range of benefits. You get a valuable opportunity to talk to real workers in the fields that you are interested in and experience what working for a particular company would be like first hand. Internships also give you a chance to hone your skills and improve your leadership talents. Employers overwhelmingly point to internship experience as the most important factor they consider in hiring new college graduates for full-time positions. Research shows that 85 percent of companies use internships and similar experiential education programs to recruit for their full-time workforces.
How about you all? Did you use an internship to start your career?
Share your experiences by commenting below! 
***Photo courtesy of https://www.flickr.com/photos/inl/3466738936/sizes/l