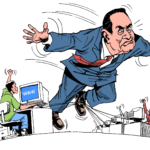 The following post is by MPFJ staff writer, Melissa Batai.  Melissa is a freelance writer who covers topics ranging from personal finance to business to organics to food.  She blogs at Mom's Plans where she shares her family's journey to healthier living and paying down debt.
When you're in your 40s, you may begin to feel a great deal of financial pressure.  Your children are growing up, and the expenses associated with that begin to pile up.  You may find yourself shelling out money for more expensive extracurricular activities, higher grocery bills thanks to your children's endless appetites, car payments so your children can begin driving themselves, car insurance payments, and college tuition.
As if that is not enough to put a strain on your budget, this may also be the time when your aging parents need more support, both financially and physically.  You may be helping them out monetarily or helping them out physically, which may mean less time at work for you as well as less income.
This decade, more than any other, is the one where your choices can make or break your future retirement.  This is partly because if you make a mistake financially in your 40s, there is not much time to recover financially, unlike mistakes you may make in your 20s when you have four or five decades to recover before retirement.
In your 40s, be careful to avoid these financial mistakes:
Refinancing Your Home and Extending the Life of Your Mortgage
Refinancing your home for a significantly lower interest rate is a smart money move.  However, too often, people refinance to lower their interest rate, but then they also extend the life of the mortgage.  True, this can reduce your monthly payment, which may offer you financial relief now, but it can later wreak havoc with your finances and your target retirement date.
Let's say you bought a house when you were 35, and you pay on the loan for 10 years.  You are now 45 and have just 20 years left on your loan; you would own the home free and clear at age 65.  This works out rather nicely as 65 is a time when many people retire.  However, if you refinance at 45 and extend the loan back to the original 30 year term to lower your payment and create some financial breathing room in your budget, your home won't be paid off until your 75.  This can cause quite a strain in retirement.
Many people do not have enough money set aside in their retirement account to comfortably cover a house payment, especially as medical expenses typically increase as you age.
You may say that you won't retire until the home is paid off, but you can't always control that.  Sometimes medical issues make retirement come earlier than planned.
Taking Out a Home Equity Loan
When you feel a financial crunch, your first thought may be to tap the equity in your house by taking out a home equity loan.  After all, the interest rates are usually much lower than a loan you can take out at your bank or a credit card.  You can also extend repayment time, often to 10 or even 15 years, which is typically not available on a loan that you get from the bank.
However, if you're unable to make your home equity loan payments, you can lose your house just as you could if you weren't able to make your mortgage payment.  In addition, if your home loses value during the time you're repaying your home equity loan, you may find yourself underwater, meaning you owe more on the house than the house is worth.  If you need to sell during this time, you would need to pay the difference between the current value of the house and what you still owe between the mortgage and the home equity loan, which is often tens of thousands of dollars.  Too often, people who are underwater are unable to even put their home on the market because they know they won't be able to generate the money needed to pay off the house loan when they sell their house.
Taking Out a Student Loan for Your Child
When your child is ready to attend college, you may feel a natural instinct to help him.  College is expensive, and you may not want your child saddled with student loan debt.  However, there are plenty of alternatives to taking out student loans for your child.
First, let your children know, from the time they are in upper elementary school, that you will not be able to help pay for their college education.  (Does this sound too harsh?  Trust me, your children will be glad when you're retirement age and have enough money to take care of yourself because you made saving for your own retirement a priority.  Your children will be glad that you are not their financial responsibility, especially when they're just starting out.)
By letting your children know this early, they can pick local colleges that will be cheaper, they can apply for scholarships and grants, and they can save money themselves for college.
Yes, if you don't take out loans for your children, they will probably have to take out student loans themselves.  Remember, they are the ones who may qualify for loan forgiveness based on their career.  That will never be an option when a parent holds student loans.  Also, children with student loans can choose an income-contingent based repayment plan; parents can't.
The government takes very seriously defaulting on student loans and will recoup their money if you stop paying.  "Federal payments to borrowers who have not made scheduled loan repayments can be withheld to repay the loan, including tax refunds and Social Security retirement or disability benefits" (US News).
Finally, if you don't take out student loans for your children and you're doing well financially and saving enough for retirement, you can always choose to help your children pay down their student loans faster.
Simply put—don't take out student loans for your children.  Just don't do it.  You and your child will be glad you didn't twenty years from now.
Raiding Your Retirement Account
Once you start to amass a fair amount in your retirement account, you may be tempted to tap into that account when you hit a financial bind, which is likely in your forties.  However, there are significant drawbacks to raiding your retirement fund.
First, you lose the ability for the money you withdraw to continue generating interest and growing your nest egg further.
Second, you'll need to pay a 10% penalty for withdrawing the money if you're under the allowable age.
Third, the money that you withdraw will count as taxable income on your tax returns, so you'll also need to pay taxes in addition to the 10% penalty.
Your 40s can be the time when you secure your retirement funding and can begin to plan for a relaxing, enjoyable retirement.  However, as you face dual financial stress in your 40s from increased financial needs from your growing children and your aging parents, you may feel pressure to find more money to infuse in the budget.  This pressure can lead to any of the above unwise financial decisions that can derail your retirement plans and lead you to a difficult financial position in your 60s and 70s.
How about you all? What financial moves do you suggest people in their 40s avoid to keep their future retirement secure?