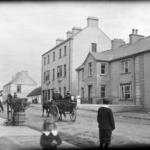 The following post is by MPFJ staff writer, Melissa Batai.  Melissa is a freelance writer who covers topics ranging from personal finance to business to organics to food.  She blogs at Mom's Plans where she shares her family's journey to healthier living and paying down debt.
Do you go out to eat several nights a week?  Do you feel like you're just getting by financially even though you have a decent income?  Do your kids have so many clothes that they can't close their closet doors?  Do you have three cars in your driveway?
Think back in time 100 years ago to 1917.  Our finances and conveniences have changed drastically since then, yet many of us still feel dissatisfied and that we don't have "enough."  Why is this?  Why are we unfulfilled when we have so much more than our ancestors who lived 100 years ago?
Our spending habits have changed dramatically since then, but we're still not satisfied.
Spending Habits in the Year 1900
The Atlantic put together an eye opening article about how drastically our lives have changed since the year 1900.  Back in 1900, "A quarter of households have running water.  Even fewer own the home they lived in.  Fewer still have flush toilets.  One-twelfth of households have gas or electric lights, one-twentieth have telephones, one-in-ninety own a car, and nobody owns a television."
Just stop for a minute and imagine being without these things.  If a 1900 household didn't have to pay utilities, make care payments, or purchase a television, cable, Netflix, etc., how did they spend their money?
According to The Atlantic, "Families [in 1900] spend a whopping 80% of [their money] on food, clothes, and homes."  Eighty percent!   More precisely, this breaks down to approximately 43% for food, 14% for clothing, and 23% for housing.
Undoubtedly, life in 1900 was simpler in some ways, but a family needed to be diligent with their money just to take care of the necessities of life.  There was very little leftover for extras and "fun money."
Spending Habits Now
Thanks to outsourcing our textile industries to foreign countries, our annual apparel cost is only 4% per year, and yes, that includes those big spenders who have many, many more clothes in their closet than they will ever be able to wear.  Thanks to big company farms, our food costs are now only 13% of our annual income (The Atlantic).
While it cost 57% of an annual income to pay for food and clothing in 1900, now those same categories only require 17% of our annual income.  That's a lot of extra money left over.
In 1900, housing costs were 23% annually, while they are now 33%.  That accounts for some of the difference.  Health care is now 6% of our annual spending; it was 5% in 1900.  Another category that is now costing us more is transportation.
However, there can be no denying that our interpretation of "necessities" has changed.  We now consider many luxuries necessities, and that mindset is squeezing our budgets.
How Americans' Attitudes Toward Spending Have Changed
My husband and I like nice stuff as much as the next person, but for the 16 years of our marriage, money has always been tight.  We've always been a one-income family.  First, I worked full-time while my husband attended graduate school full-time.  Then, when he graduated, I stayed home with the kids while he worked full-time.
Thanks to student loan payments and a fairly average income while living in a high cost of living area (Chicago), we've always had to live on a fairly tight budget.  That means we were a one car family until this last fall.  For 15 years of marriage, we made do with one car.  That car is now 12 years old and has nearly 180,000 miles on it.
We rented until we finally bought our first house 2.5 years ago.  In many ways we were more like a 1950s family than a family living in the 21st century.
In the book, The Overspent American, Jennifer Lawson, who participated in a focus group on spending said:
"In the fifties, growing up in upstate New York, my parents were considered middle-class pillars of the community. My father was an accountant. It's a fairly poor rural area, and most people worked in a factory or waitressed or something. My dad was actually a professional person with a sign out in front. [My parents] had one car, and they drove it until it fell apart, and then they bought a new one, usually a station wagon. They had a fairly modest house. We took a vacation as a family for two weeks and rented a little cabin in Maine. And drove–nobody flew anywhere. I can't remember anyone who had a second car. Everyone walked everywhere; children certainly didn't have $100 sneakers. It amazes me now that my younger brother, who still lives there and who has a job that's roughly equal to the job my dad had when I was growing up … he has three teenage daughters. And since they were about nine, they've each had their own color TV, and they have their own CD players, they all have their own telephone lines, because they complain about calls not being able to get through" (The New York Times).
Our lifestyles have changed dramatically since the 1950s, even more so since the 1900s.  What we now consider necessities—two cars per family (at least), exotic vacations, designer clothes, Internet access and cable tv, college education, just to name a few—were not priorities, or even available, in earlier times.
Another phenomenon of spending is that the U.S consumer is quickly bored by what he has.
We can see this phenomenon whenever new electronic devices are released.  Even though their current smartphones, iPads, etc. are working just fine, people are eager to get the newest release.  Never mind that it may cost hundreds of dollars that they really don't need to spend.
The same mindset is present when people choose to lease a car rather than buy it so that they can continually have a "new" car to drive every few years.  Never mind that leasing costs them much more than buying a car, especially if they buy a used car.
People also frequently redecorate their homes, even though what they have is working just fine.  When they redecorate, they often buy all new towels, couches, etc., depending on what room that they're "updating."  Now, we tend to replace long before an item is worn out.
This is a luxury that people in the 1900s didn't have.  My grandmother, who lived through the Great Depression, regularly washed out plastic baggies over and over again.  Rather than throwing them away, she would get 5 to 10 uses from each bag.  If something like a kitchen towel got a hole, she didn't throw it away; she mended it.  We've lost that bit of frugality that earlier generations developed out of necessity.
Undoubtedly, many in the middle class are feeling a financial strain.  While some of that is due to modern day high costs (such as earning less money because our employers have to take so much out for taxes and insurance costs), much of it is also due to our increased expectations and standards.
The next time your budget feels unbelievable tight, look around your house and see how much you have compared to what your ancestors had 100 years ago.
How about you all? Is there a "necessity" you can do without to find more room in the budget?  Can you be content without the latest new electronic upgrade?
***Photo courtesy of http://www.idpinthat.com/edit/5340