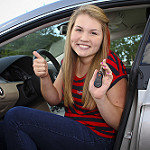 The following post is by MPFJ staff writer, Laurie Blank.  Laurie is a wife, mother to 4 and homesteader who blogs about personal finance, self-sufficiency and life in general over at The Frugal Farmer. Part witty, part introspective and part silly, her goal in blogging is to help others find their way to financial freedom and to a simpler, more peaceful life.
One of the biggest parenting – and child – milestones is when your child becomes old enough to start driving on their own. Driving and car ownership are big responsibilities in many ways. Along with the responsibility to drive safely on the road, kids need to be taught the financial costs of driving and car ownership as well. Here are some tips on how you can prepare your kids for the financial impact of owning and driving a vehicle.
Calculate the Costs with Them
It's important to teach your children a good deal ahead of when they get their license that driving and vehicle ownership costs money. When they become old enough to get their learners permit, sit down with them and start having discussions about what kind of car they want to drive, the costs of purchasing the car, purchasing gas, the cost of car maintenance and repair and the cost of insurance.
Since you're spend-tracking (you are spend-tracking, right?), go over your own transportation costs with them so they can get a real-life idea that driving and car ownership costs money.
Don't Pay for Everything
This is just my personal opinion, but I'm a huge believer in having kids pay for at least part of their transportation costs, even while they're still under eighteen. Kids tend to hold more respect for that which they've worked hard to pay for.
Whether it's a car, a college education or whatever, there can be a lack of understanding with kids regarding the work that it took to be able to pay for those things. When you give some or all of the responsibility for paying for car costs to your child, you help them to appreciate the privilege of driving, to learn real-life lessons about how the world works and you help them prepare for the transition to independent adult.
Set Rules for Driving Preparedness
It's helpful when kids and parents have a mutual understanding of how vehicle ownership and driving responsibilities will work in your home. For instance, if your child wants to have their own car, show them how to set some money aside for a car maintenance/repair fund. Make sure they have enough money saved for an insurance deductible in case of an accident.
If your child will drive a family car, set clear rules about when they can use the car, when they can't, and who will pay for what portion of gas, insurance, etc. It's important too to have a clear discussion about what the consequences will be if the house driving rules are broken, who will pay the fine if your child gets a ticket and so on. When your child knows clearly how the rules work beforehand, there will be less pushback when a consequence needs to be administered or when they're handed the bill for the increased insurance premiums due to getting a speeding ticket.
Other Driving and Vehicle Ownership Suggestions
There are other responsibilities that go along with driving besides the financial ones. For instance, one of our house rules is that we don't push our kids to get their license right at the legal age of sixteen, instead allowing them to determine when they're emotionally ready for the responsibility. It's important to teach your children these rules as well:
Never talk, text or browse on your phone will driving. Pull over in a safe place if you have to make a call or text
Obey all traffic and driving laws at all times (this will be easier for kids if they see their parents doing the same)
The better you take care of your car, the less it will cost you
Make sure to insist that those who ride in your car wear seat belts at all times and stay calm while on the road so that they don't distract you as you drive
Always be attentive, cautious and defensive when you drive, watching out for other drivers who may be distracted or aggressive
Avoid confrontations with other drivers by being polite on the road and heading to the nearest police station if there's trouble
For tips on what to do if your vehicle breaks down on the road, check out this AAA Auto Checklist.
Driving and car ownership are big responsibilities, both financially and otherwise. The more you can teach your kids ahead of time on how to be prepared for those responsibilities, the better they'll be able to handle all of the tenets of driving.
How about you all? What other suggestions do you have for teaching your kids about driving responsibilities?
Share your experiences by commenting below!
***Photo courtesy https://www.flickr.com/photos/statefarm/7979445278/